Ohio State Game 12 View from the Couch – Ohio State vs TTUN (The Game)
For those of you who are first-time readers, welcome to this autopsy. Here is a link explaining my process of how I recap Buckeye games while paying respect to the rich historical tradition of the team I love, The Ohio State Buckeyes.
A Different Path
Some things will be different this time around. Many of the points that are normally made are not applicable after a game like this. There are no 2014, 2002, or 1968 Moments as those teams all beat that team up north, and the 2022 team did not.
You can't quietly do your job like Dane Sanzenbacher, because when you lose, there is always more of your job you could have done. Nor can you be like Archie Griffin, because he was undefeated against that team to the north with a 3-0-1 record. There definitely is no part of the glass that is full, there is never a Brightside to losing this game.
No newcomer showed that he was going to have a great career today like Ryan Shazier and Devin Smith did over a decade ago. Even when they lost in Ann Arbor as freshmen, they fought to the end. Bouncing back as Taylor Decker did in his career has to be very obvious in a game that was still lost and there was no such performance out there today.
The man that made Fedoras famous in Columbus and followed in the steps of the legend Woody Hayes never had a losing record to the team in blue, even with only being one game above .500. Earle Bruce was 5-4 against them, and never had a losing record the way 1-2 Ryan Day does now. They used to call Coach Bruce "Old 9-3" joking about how many 9-3 seasons he had. 9-3 is lightyears ahead of 1-2. No one filled the big shoes left for them by the likes of Urban Meyer, Justin Fields, and J.K. Dobbins.
Likewise, the worst Jim Tressel did in The Game was 2-1, and his answer to that was seven straight wins over the school to the north. When asked about his 9-1 record shortly after his 37-7 final win in the rivalry, Coach Tressel proved again his understanding of its importance and the culture of winning it. He said when he thought of 9-1 he thought of how much he wished he could have that 1 in 9-1 back. The Sweater Vest from Youngstown, Ohio got it. The man from New England does not.
Coach Hayes and his famous Horned Rimmed Glasses never lost consecutive games to that team up north in his first 25 seasons as head coach at Ohio State. Only in his final three seasons of 1976-1978 did Coach Hayes drop back-to-back games to the rival. Hayes was 16-11-1 in The Game.
Boulevard of Buckeyes' Broken Dreams
Ohio State's nine-game home winning streak versus that team up north was snapped. Ohio State is now 31-2 in the Big Ten under Ryan Day, those two were losses to that team up north. Buckeye fans would gladly trade 31-2 to 2-31 with wins over those guys. Ohio State had been beating opponents by an average of 29.5 points this year, they lost by 22 today.
Marvin Harrison Jr.
He's the only Buckeye who showed up completely today and he's the only receiver in the nation to have 1,000 yards receiving and zero dropped passes. I hope Buckeye fans savored Marvin Harrison Jr. because one couldn't blame him if he took the Ja'Marr Chase route and sat his junior year. He's still good enough to be a first-rounder like Chase. Or, and this would be even tougher to deal with, hit the transfer portal like standout receiver Jordan Addison did last year after winning the Biletnikoff at Pitt before going to USC.
A Losing Legacy
Stroud talked like this was his last game in the Horseshoe and that's sad if true because this is his legacy. 0-2. Being ranked second in the nation and favored to win and still losing by more than two touchdowns, twice. Being outscored 87-50. It won't be a record-breaking Rose Bowl, or 70 touchdown passes. It'll be this. 0-2. Today showed me that he's not ready for the NFL. I don't blame him though, he just hasn't been coached to be ready. He had the same problems today he had a year ago. And that's where the buck, or in this case the Buckeyes, stop.
Day's Disasters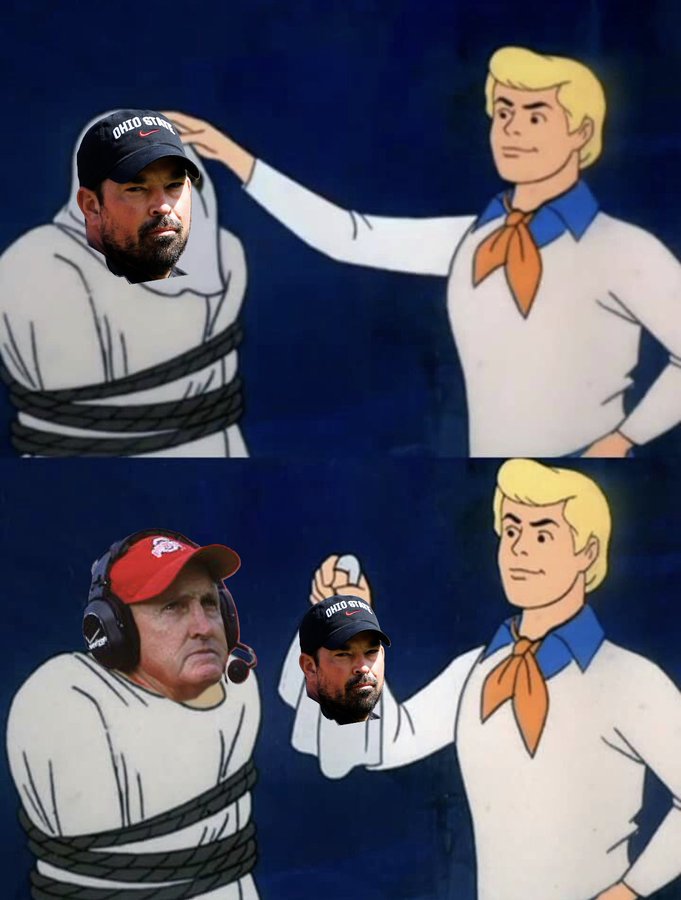 Ryan Day did every bad thing he'd been criticized for all year long in this game. The Buckeyes kept trying to run wide, and when they did run between the tackles, the staff abandoned the rushing attack until it was too late. Inexplicably, Dallan Hayden who had two great games against Maryland and Indiana was only given two carries in this game and they both came too late to make a difference. Linebacker and fifth-string running back Chip Trayanum led the Buckeyes in rushing with 14 carries for 83 yards and he too wasn't given a chance to get traction in the running game.
The wolverines didn't even control the clock this time as they did last year, as the Buckeyes had the time of possession advantage. Again, they did not attack the portion of the field defended by linebackers and safeties. The middle of the field wasn't taken away by the other team, it was taken away by the Buckeyes. Again. He didn't utilize the best receiver in America and continued his team's awful performance in the red zone which can be traced back to his first year in 2019 when they settled for three field goals in the playoff loss to Clemson.
You have the potential #1 overall pick at QB for two seasons and don't win anything of value. It's time to fire Ryan Day.

— OT (@OTBuckeye) November 26, 2022
Another problem from last year that showed back up today was Coach Day's inability to contribute to his defense. The Buckeyes were getting gashed early and often, and Coach Day just let Jim Knowles keep rolling that way. No adjustments were made to stop the big plays. None to try and keep things in front of them. Which is on Coach Knowles but more on Coach Day because he's the only boss Coach Knowles has. (Ironically enough I root for two teams who have the opposite problems, Ohio State attacked too much, and BYU just sits back and lets teams nickel and dime them down the field). This led to Ohio State giving up five plays of 45 yards or more and never having the issue corrected
The worst of it is that this team folded when down but not out. Just like last year. They were down, but in it, late and you could see on their faces that they were done. When down 31-20 and in the red zone and they settled for another field goal you could see the dejection of a loss on the faces of these players with still almost a quarter of football to be played and in a one-possession game. It felt over, and so it was.
On Thanksgiving Night in the Egg Bowl, Mississippi State had first and goal to go late in the fourth quarter with an eight-point lead but Ole Miss didn't quit. A Bulldog fumble, a Rebel touchdown drive, and Ole Miss despite being in an arguably worse position than the Buckeyes, fought to the end and were a two-point conversion away from forcing overtime. The Buckeyes were done. And that is a problem at the top.
Rivalry Watch: 22 years.
Ryan Day leaves the field after his second straight loss to Michigan pic.twitter.com/eHUj7V417L

— Griffin Strom (@GriffinStrom3) November 26, 2022
For the first time in 22 years, the Buckeyes have lost back-to-back to the evil to the north and lost in Ohio Stadium to them. After two decades of establishing a culture at Ohio State that begins and ends with beating that team up north, Ryan Day has not maintained that culture. The standard at Ohio State should be that if you don't have a winning record in The Game after three attempts, you should get your walking papers. If Nick Saban decided to coach Ohio State but dropped his most recent two of three to that team to the north he'd be calling his real estate agent. That should be the standard at Ohio State. It's what was built by Jim Tressel and Urban Meyer.
Urban Meyer wins this game 38-10

— Mekka Don (@MekkaDonMusic) November 26, 2022
I've heard some predicting the Buckeyes somehow get into the playoff. That would be nasty. It would be almost as ugly as this day was. Even Coach Day weighed in when asked about that after his team had the worst game the program has had since before Woody Hayes. "If we were able to get a shot in the top four, we'd be a dangerous team." I can not believe how out of touch this is with what just happened. You just presided over iconic, historical losses that you were specifically hired NOT to lose and that's your response to that question?
I can understand his thinking there, it's to pull off what Georgia did last year when they beat Bama when it mattered the most. This ain't that. The Big Ten isn't going to get two teams in. You're not going to get a chance to keep the mob from your door and calling for your job if you're the coach that just led the program to it's biggest two blunders in 25 years if not all-time.
Coach Day, might have, and I emphasize MIGHT have, had an argument if the game had ended at 31-23 or 45-42. But his team quit on him. For the second year in a row. Not only would they not be dangerous, but they also don't deserve it anyway. If you lose by a touchdown, you might have an argument, you lose by 22, and after losing by 15, you should be worried about your job, not talking playoffs! Ohio State fans remember the 1990s and won't tolerate a decade like that again!
— Jonathan Butts (@JonathanButts54) November 26, 2022
John Cooper used to say the same thing about The Game. That it doesn't define you. It's why he lost. It's why even 25 years later his name is synonymous with failure in the state of Ohio. It's harsh but true. The fact that Stroud doesn't get that whether he likes it or not this game does define him, is a huge part of the problem. Because if doesn't get the fact that it does define him, he can't win it, and it's Ryan Day's responsibility to make sure that he does.
Ryan Day should be gone. He is not the right fit for Ohio State. He doesn't get it. Talking about the playoff after a three-touchdown loss in the most important game of his career is proof. Spending all offseason working to bring in new coaches and players and proclaiming you're doing that to improve for this game, just to win this game, and then to lose The Game worse than you did last year is proof that you aren't the guy to coach this program because you clearly can't maintain it's culture. Seeing defeat on the faces of everyone on the Ohio State sideline while settling for three to cut the lead to eight instead of going for it speaks to where this program is. The RedZone problems the team has had over four seasons are proof. This result is not worth the people of Ohio paying him nine million a year.
While I do think Coach Day should go elsewhere to Coach and Ohio State should find a coach who will uphold its culture, I do not see it happening. I believe the Ohio State administration will give Coach Day three more years, and no less, even if he losses the biggest game of the year like this again next season. The booger eater of the north was right about some people being born on third base and thinking they hit a triple. Ryan Day now has as many losses to the team up north as Jim Tressel, Luke Fickell, and Urban Meyer did combined. But the worst part of this is you'll see the exact same show on November 25th, 2023 in Ann Arbor.
Read about Ohio State's long road to ruin in 2022.
For More Great Football Content
Follow us on Twitter at @GridironHeroics for more great content. We appreciate you taking time to read our articles. To interact more with our community and keep up to date on the latest in Football news, JOIN OUR FREE FACEBOOK GROUP by CLICKING HERE
Checkout our latest podcast!
[powerpress_playlist limit=1]