Game 7 View from the Couch – Ohio State vs. Iowa
For those of you who are first-time readers, welcome! Here is a link explaining my process of how I recap Buckeye games while paying respect to the rich historical tradition of the team I love, The Ohio State Buckeyes.
-Favorite Stat of the Game: Buckeye scoring against the Hawkeyes.
Iowa allowed a combined 59 points through their first six games. In their seventh game today, they gave up 54. Iowa had given up five touchdowns all season. Ohio State scored five touchdowns on them today. This was the largest win over Iowa Ohio State has had since 1975. For the first time in the history of their playing each other, Ohio State scored in every quarter against Iowa in this game. Finally, Ohio State became the first Big Ten team since 1903 to score 45 or more in six straight games.
-The Brooklyn Dagger Award: Stroud's touchdown pass to Marvin Harrison Jr.
The Buckeyes had a lead that in the end would've survived Iowa before this play, but this play is what did Iowa in. Once the Buckeye offense got rolling what small chance Iowa had, to begin with, was snuffed out. Stroud and the Buckeye offense would get three more touchdowns en route to their 54-10 clobbering of the Iowa Hawkeyes.
-Dwayne Haskins Award: Tommy Eichenberg.
It's not often a defender is the player of the game for the Buckeyes but Tommy Eichenberg is it. When the Ohio State offense struggled early, Eichenberg and the defense faced a problem that haunted them last year when the Buckeye offense struggled early. This defense kept their poise, didn't panic, and took over the game until the offense could get back online. Eichenberg led the way in doing that with seven tackles, a tackle for a loss, a pass breakup, and an interception returned for a touchdown. The toughness and discipline Tommy Eichenberg has displayed this season has been a bright light for the rest of the defense and they have followed their captain.
-Chase Young Defensive Player of the Game: Lathan Ransom
Eichenberg was backed up by great play on defense by defensive back Lathan Ransom. Ransom led the team with eight tackles and forced an Iowa fumble and recovered a fumble. His good game was up there with Eichenberg's as the Buckeyes held Iowa to only 158 yards of total offense and three points for the game.
-Ryan Shazier-Devin Smith Award: Caden Curry and Cody Simon.
Caden Curry is going to be a problem for opposing defenses as his career goes on. Curry had three tackles, 0.5 tackles for a loss, and 0.5 sacks. He also stuffed a fake punt by Iowa. The freshman from Greenwood, Indiana is going to be a Buckeye star sooner than later. Cody Simon is a junior but he too showed he could be a future (maybe immediate future) star for the Buckeyes too. Playing against an Iowa team that is determined to run the ball, Ohio State started three linebackers instead of two and Simon was the third. He made the most of his time in the game with six tackles, two tackles for a loss, and a sack. The Buckeyes will need that third linebacker to play this well if they hope to stop the rushing attack of that team up north and Simon has to have them feeling a little more confident after this game.
-Dane Sanzenbacher Award: Jerron Cage.
Jerron Cage has been a great interior defensive lineman for the Buckeyes. He had five tackles, 1.5 tackles for a loss, and 0.5 sacks today against the Hawkeyes. He only had three tackles and a sack coming into this game but his role has been to disrupt the front to let Eichenberg, Ransom, and Chambers make tackles which he has. Hats off to Cage for quietly doing his job and it's great to see him make plays where his name is called especially when he usually is opening up the game for his teammates.
-Taylor Decker Award: C.J. Stroud.
Stroud shook off a rough early start after he was sacked, fumbled, and had that returned for a score, and then threw an interception early in the second half. C.J. Stroud bounced back from those setbacks in a big way. He was 20 of 30 for 286 yards and four touchdowns. Stroud set the Ohio State record for the most games with four touchdown passes with 12. He has moved up to second all-time in Ohio State history with 72 touchdown passes and against Iowa moved into fourth all-time in passing yards with 6,458. Stroud is working to be one of the best passers in Buckeye history.
-Fedora Award: Julian Fleming, Marvin Harrison Jr., and Emeka Egbuka.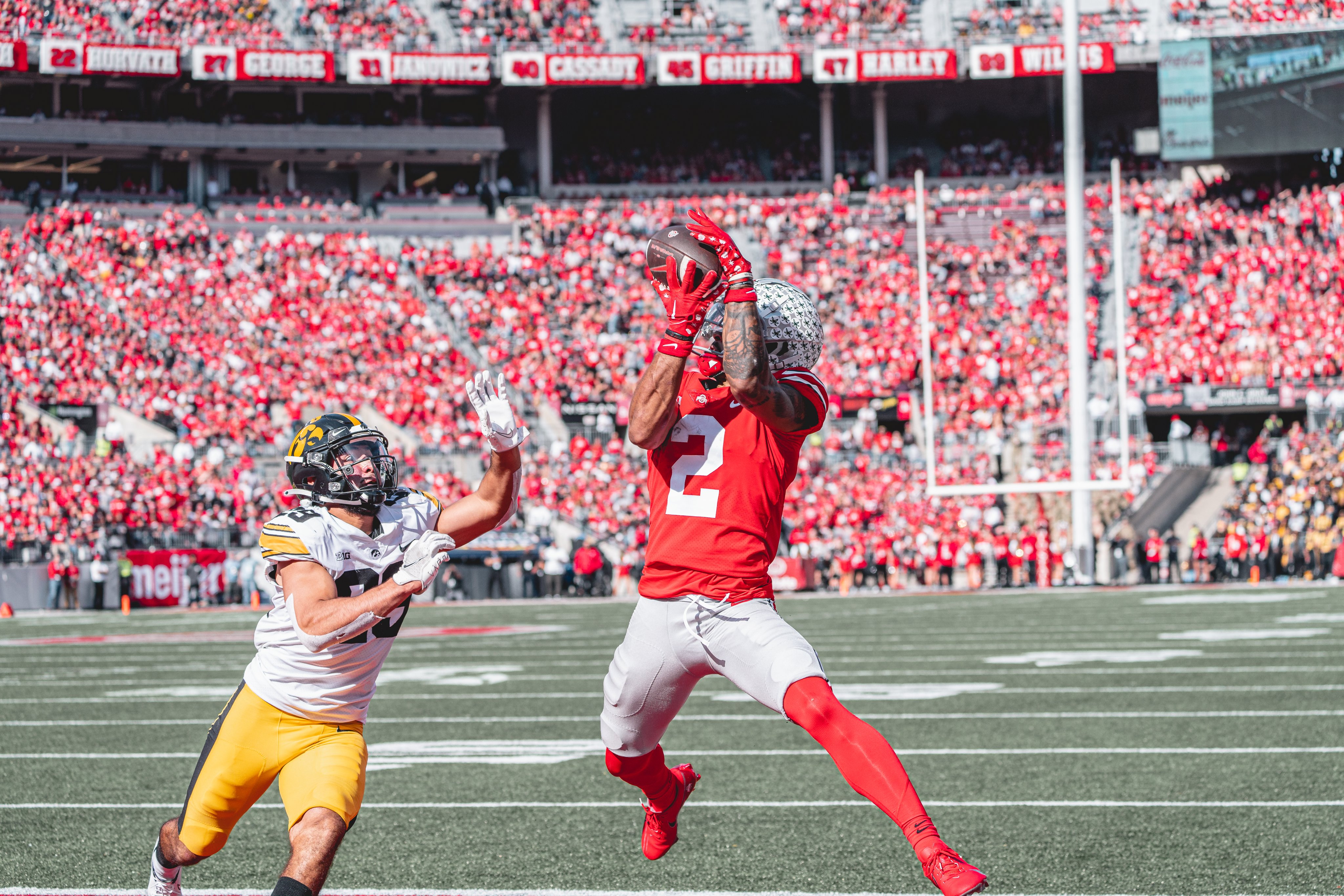 With Chris Olave, and Garrett Wilson in the NFL, and Jaxon Smith-Njigba sidelined with injury these three have had some huge shoes to fill. They have done just that without missing a beat. Against the Hawkeyes, these three had 15 catches for 247 yards and three touchdowns. As great as Olave, Wilson, and Smith-Njigba were last season, Fleming, Harrison, and Egbuka are playing even better this year.
-Sweater Vest Award: Noah Ruggles
#95 hadn't been called upon that much this season other than for extra points. Which is how the Buckeyes would have it be. But when he was needed today he stepped up. After only being asked to kick three field goals in the first six games of the year, Ruggles had to kick four today and he didn't miss one of them. To have a kicker that had played so little be able to come in and be that reliable is a huge asset for the Buckeyes as this season marches on.
-Archie Award: C.J. Stroud.
Usually, this segment focuses on a player playing with good sportsmanship, showing class, or the fans giving the Buckeyes love. This time, I'm going with the poise C.J. Stroud showed in this game, particularly in the second half. After throwing an interception early in the second half Stroud maintained his composure and cool and went 10 of 12 for 182 yards and four touchdowns after that interception. That's the kind of poise that wins tough games and wins championships.
-Horned Rimmed Glasses Award: Mitch Rossi's score.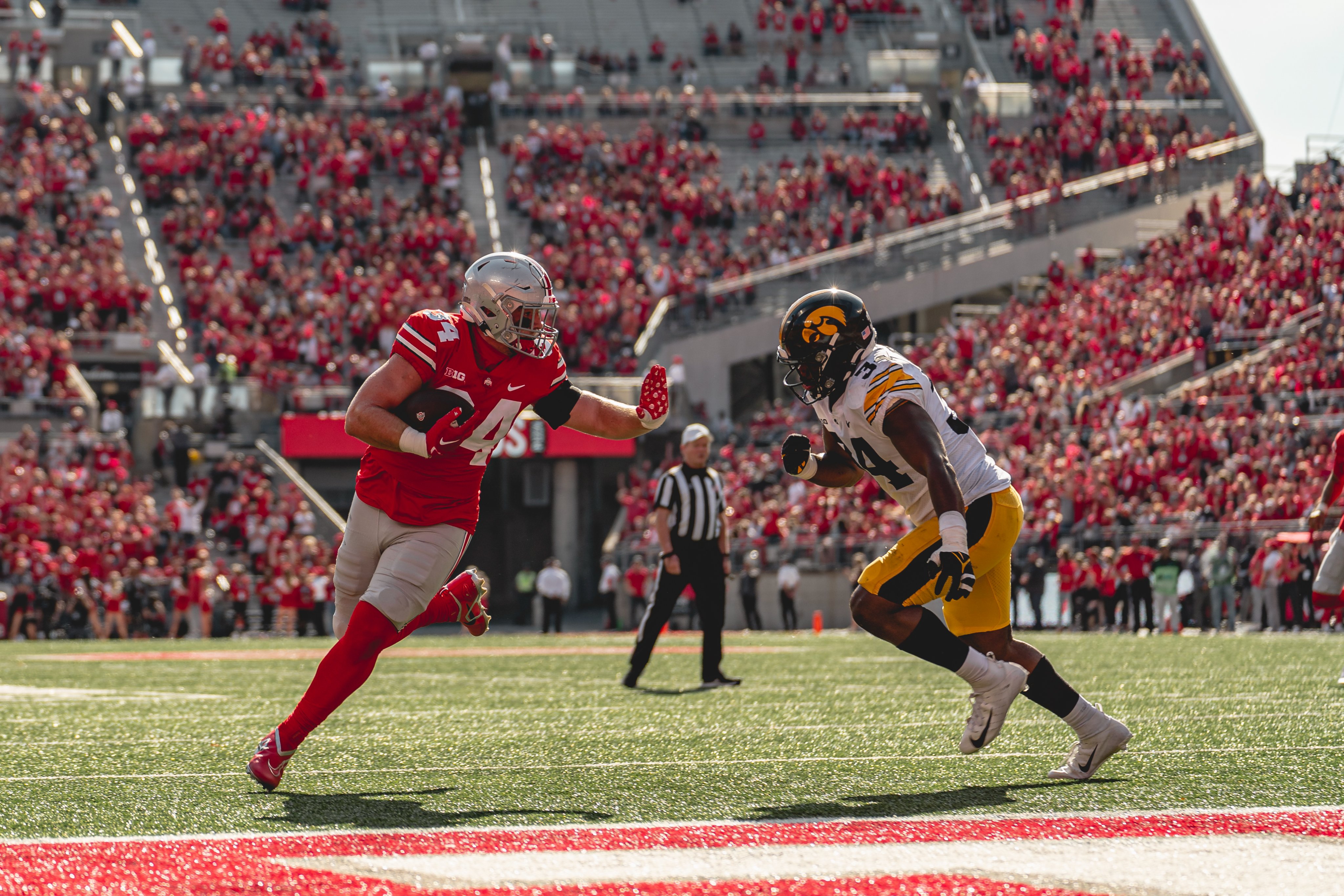 Mitch Rossi is the definition of a team player. He just does whatever is asked of him and Coach Hayes' would have loved that aspect of Mitch Rossi the football player as much as he would have loved that Mitch Rossi is an old-school, tough, hard-nosed fullback. His scoring plays that he's made this year aren't just token thanks to a hard-working player but are one more problem for opposing defenses to have to watch out for.
-Coaching Moments of the Game: What Ryan Day's offense did to the elite Hawkeye defense.
Ryan Day coached a great game against a great Hawkeye defense. Iowa had the third-best scoring defense in the nation giving up only 9.8 points a game. Ohio State put 47 on them. The Hawkeyes were seventh in the nation in yards allowed per game with 264.7. The Buckeyes put 360 yards on them. Iowa was third in the nation in passing yards, with 154 yards allowed per game. Ohio State put 294 yards on them. They were first in the nation in touchdowns allowed on the season with only five. Ohio State put six (five offensive, one defensive) on them in the game. Scoring 37 more points, gaining 94 more total yards and 150 passing yards, and scoring more touchdowns in the game than they had given up all season are how you avenge an ugly loss from 2017!
-Mr. Brightside:
The bad news is that the offense struggled early against the strong Iowa defense. The Buckeyes turned the ball over a couple of times. Their RedZone offense which had scored 27 touchdowns on 29 trips (and two field goals on the other two) was forced to settle for field goals on three of their seven trips to the RedZone. The Buckeyes couldn't run the ball, gaining only 66 yards on 30 carries. The Buckeyes have only one win over a team with a winning record, and that's Toledo. A slow start against Penn State, RedZone troubles against that team up north, running the ball poorly in December or January and you're going to lose against good teams.
The good news is the defense played as well as they should have against Iowa's inept offense. They had five sacks, they had three interceptions, three fumble recoveries, and held Iowa to only 158 yards and three points. No matter who you're playing against those are some great things to have going in your favor. Ohio State can't control how well the teams they have played play in the rest of their games. All they can do is win and improve and they're doing that every week. Controlling their play and doing what they can do.
-2014 Moment: Fleming's touchdown.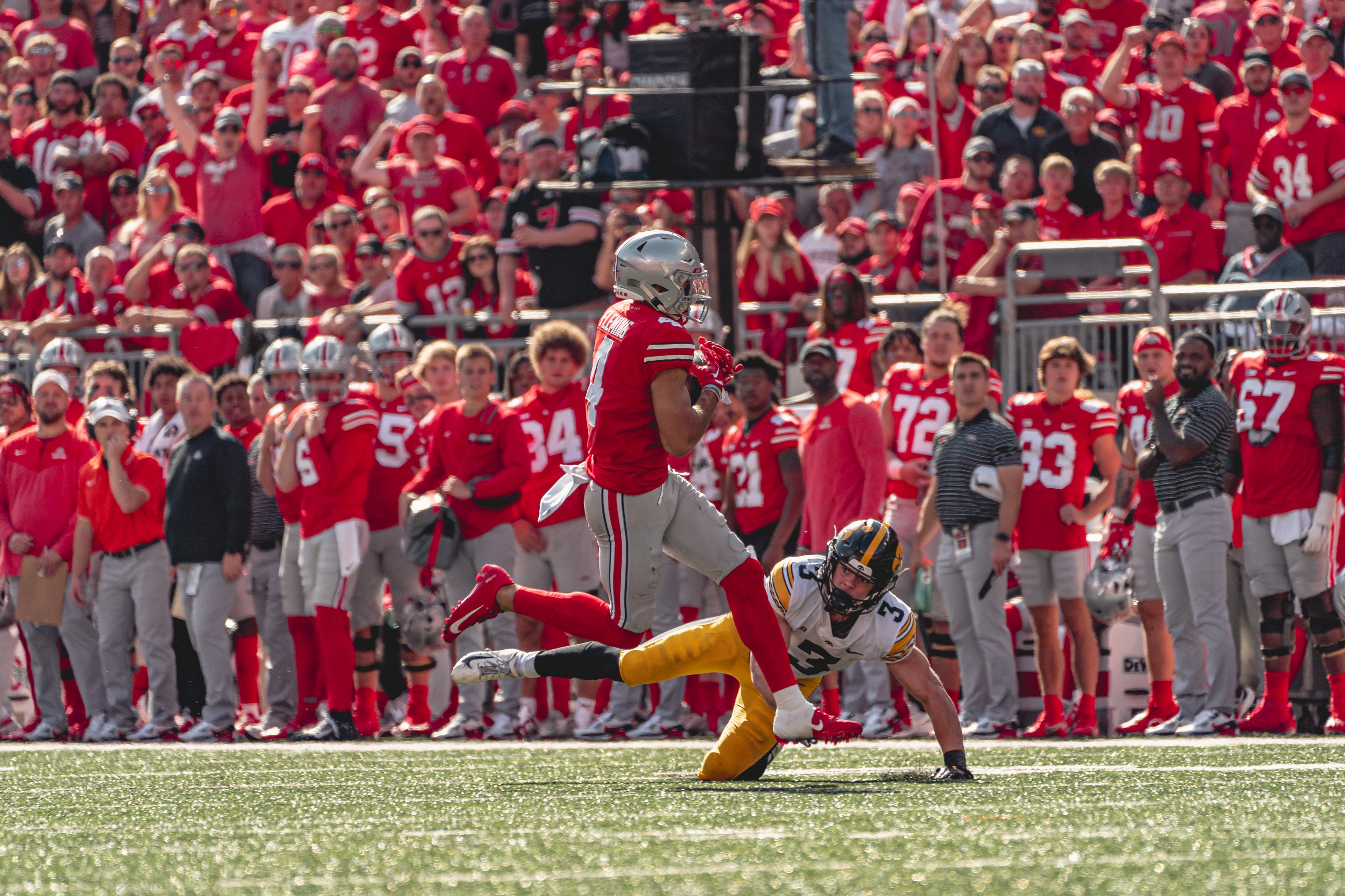 I loved this play because it was most likely the longs throw Stroud has made on the season and the deep ball does so much for your offense. It backs up the defensive backs, which opens up the running game and the underneath passes. It makes a defense have to hesitate for that fraction of a second and that can be the difference in games, seasons, and decades. It was a big weapon for the 2014 National Champion Buckeyes for all of those reasons. Fleming catching a 79-yarder is a facet of the passing game the Buckeyes will use to open up and attack against Penn State and that team up north to win those big games against big teams.
-2002 Moments: Tanner McCalister's interceptions.
Because he wore #2 during his time at Oklahoma State, McCalister reminded me of Buckeye legend Mike Doss (who was honored today at Ohio Stadium for being inducted into the College Football Hall of Fame). Today he played like it again. Doss was always near the football and making key plays on the ball. Tanner McCalister did that today with two big interceptions. He was the first Buckeye since 2009 to make two interceptions in one game. McCalister, Ransom, Hickman, and Proctor are playing safety like Doss, Nickey, and Allen did in 2002.
-1968 Moment: The Buckeyes redzone offense.
Lost in the Buckeyes having to kick three RedZone field goals today was the fact that on the season the Buckeyes are still perfect at getting points when they get inside the opponent's 20-yard line. They are 36 of 36 with 31 touchdowns and 5 field goals. That's a quality that goes a long way toward winning championships. That efficiency will give your team confidence, and hope, and wear on your opponents when they defend you.
-Rivalry Watch:
The Buckeyes beat Iowa 54-10. The wolverines beat them 27-14. Still, plenty of folks in the peanut gallery said that the game in Iowa City was a test for Jim Harbaugh's team and yet said today was a bumpy road for Ohio State. Iowa was the first team to have played both of the big two of the Big Ten. Next Week Michigan State and Penn State will be the second and third teams and we'll have even more to look at in comparing these two heavyweights. In the meantime here are some numbers to compare. Ohio State is scoring 49.6 points per game while that team up north is scoring 42.7 per game. Ohio State is giving up only 11.9 points per game to the wolverines' 12.1. These numbers are too close for the comfort of this Buckeye fan.
Read about all the Ohio State games so far this season!
For More Great Football Content
Follow us on Twitter at @GridironHeroics for more great content. We appreciate you taking time to read our articles. To interact more with our community and keep up to date on the latest in Football news, JOIN OUR FREE FACEBOOK GROUP by CLICKING HERE
Checkout our latest podcast!
[powerpress_playlist limit=1]