For those of you who are first-time readers, welcome! Here is a link explaining my process of how I recap Buckeye games while paying respect to the rich historical tradition of the team I love, The Ohio State Buckeyes.
-Favorite Stats of the Game: Ohio State was plus-four in the turnover margin.
44 points is the most ever given up by Penn State in a loss at home in the 52 year history of Beaver Stadium. That is quite the feat at that notoriously difficult place to travel to and win.
The Buckeyes had quite an up-and-down game, but forcing four turnovers and committing none is a huge upside in any game against any opponent. I know they needed some luck to not have any of their own but forcing four was critical to this defense, and most critical to the Buckeyes' victory.
Another Buckeye stat I love to see is Ohio State has now scored at least 20 or more points in 69 straight games, tying the football bowl subdivision record. If they score 20 or more next week to make 70, they will move alone into the lead for that record.
-The Brooklyn Dagger Award: J.T. Tuimoloau's pick-six.
J.T. Tuimoloau had a huge game and no play was larger than the fourth quarter40-yard interception that he returned 14 yards for a touchdown. Penn State was on the ropes at this point down 37-24 with less than three minutes to go and this was the knockout punch that put the Nittany Lions on the mat and they didn't get back up.
-Dwayne Haskins (Player of the Game) Award: J.T. Tuimoloau.
J.T. Tuimoloau was easily the best player on the field in this game and that says a lot about the talent that both of these programs put out there. He was a five-star, super-hyped recruit and proved why today. He did everything for the Buckeyes and it can't be stated enough how much he led this team to their best win of the season.
-Chase Young Defensive Player of the Game: J.T. Tuimoloau.
Appropriately this was the best performance by a Buckeye defender since Chase Young was wearing the scarlet and gray. It was that level of dominance that Chase Young would have in his record-setting season of 2019. He picked the perfect time to have a career game and can be a huge weapon for the Buckeyes going forward.
-Ryan Shazier-Devin Smith Award: J.T. Tuimoloau.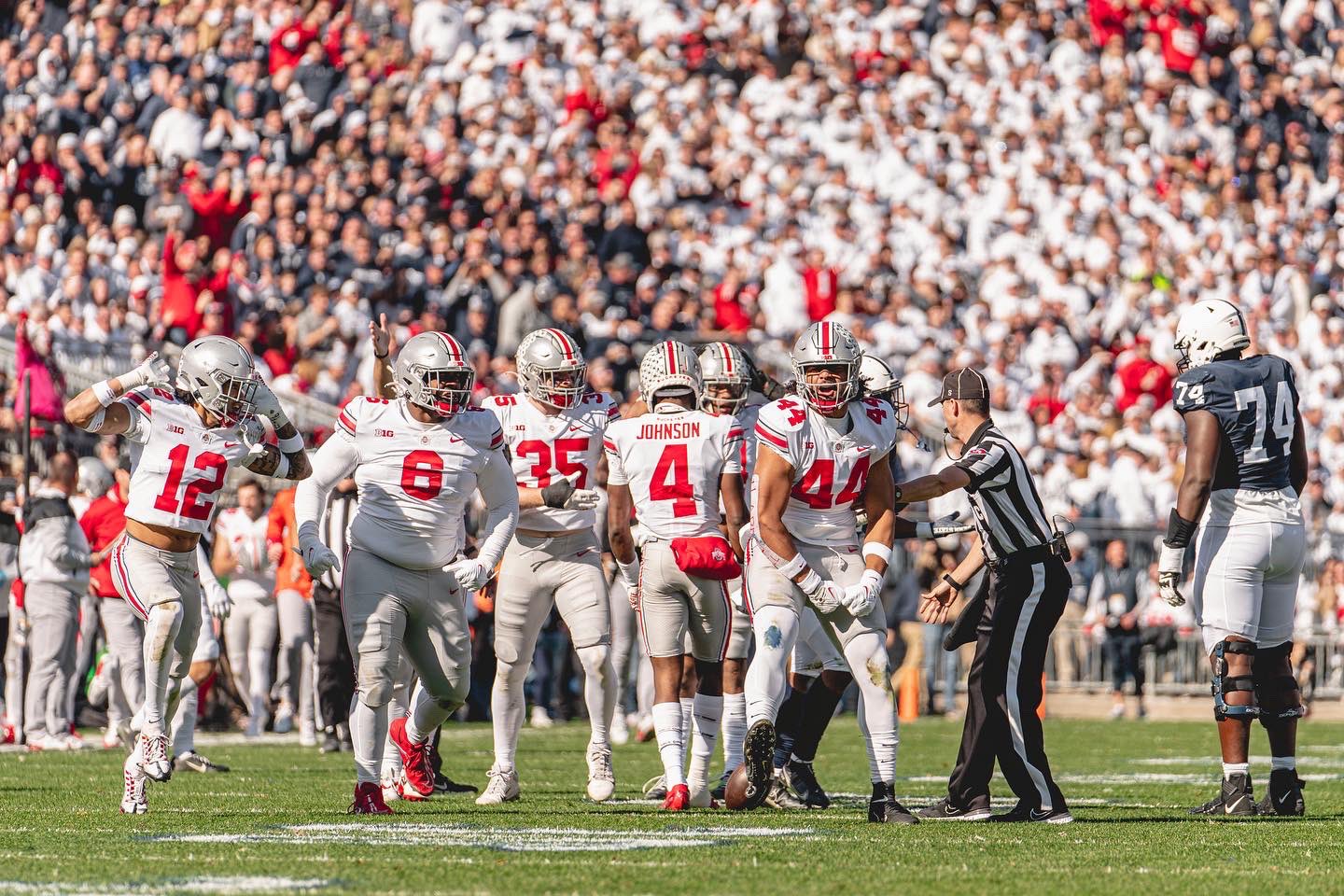 This was a debut to be a known name on the national stage. Opposing offenses will have to know where J.T. Tuimoloau is every snap for the rest of this year and next. Tuimoloau had insane stats. He had six tackles, three tackles for a loss, two sacks, a fumble forced, a fumble recovered, and two interceptions, one of which he returned for a touchdown. Tuimoloau broke out in his sophomore season on the road against Penn State like the great Chase Young. The sky is the limit for J.T. Tuimoloau.
-Dane Sanzenbacher Award: Cade Stover.
Cade Stover had a fantastic game both receiving and blocking. He threw the biggest blocks on TreVeyon Henderson's 41-yard touchdown run. That score gave the Buckeyes a 23-21 lead which they would never relinquish. On the next Ohio State possession, Stover himself would take a 24-yard C.J. Stroud pass into the endzone for a touchdown. He has quietly done his job all season and is having one of the best years for a tight end in Buckeye history.
-Taylor Decker Award: TreVeyon Henderson.
This game started rather roughly for Henderson. He started the game with only 28 yards on 10 carries. He bounced bag big and finished with 57 yards on six carries and two touchdowns for a total of 16 carries 78 yards and two touchdowns. Henderson's fighting back kept the running game in as a threat for Ohio State and was a big part of the victory. The Buckeyes will have to depend on #32 a lot for the rest of the year as they are thin at running back. Henderson however, has the shoulders, skill, and character to carry the load.
-Fedora Award: Zach Harrison.
Zach Harrison had been expected to be the next Chase Young and fill those giant shoes when he came to Ohio State. His career has been solid but not the all-American caliber expected from fans and Harrison himself40-yard. In his senior season, Harrison has come alive in the past two games. Against Iowa and Penn State he has six tackles, two tackles for a loss, a sack, two quarterback hurries, a pass broken up, a forced fumble, and an interception. Harrison is coming into his own at the perfect time for him and the Buckeyes.
-Sweater Vest Award: Noah Ruggles and Jesse Mirco.
Checking in on the Buckeyes Special Teams and despite a rare miss (only his third ever as a Buckeye) by Noah Ruggles, he and punter Jesse Mirco played well. Ruggles was three of four, missing a 53-yard kick and he is 9 of 11 on the season. Mirco averaged 52 yards a punt on his three punts, including one that pinned the Nittany Lions inside their own 20-yard line.
-Archie Award: The Rushmen.
I made comparisons between J.T. Tuimoloau and Chase Young. This defensive line as a unit, (affectionately known to Buckeye Nation as the Rushmen) is better in 2022 than they were overall in 2019. That was the last time the Buckeye defensive line was playing this well. That year, they were all Chase Young, and rightly so. This year it has been the whole line. Michael Hall Jr., the Buckeye Aaron Donald, was the biggest threat early in the year. Zach Harrison has come alive over the past two weeks. Jerron Cage played well last week. Tyleik Williams played well returning from injury today. Taron Vincent and Jack Sawyer have played well and I look to see Larry Johnson's guys doing even better after today from J.T. Tuimoloau. It shows a lot of class and poise from these guys that they only care about helping the team, not their own stats, and they're improving every week.
-Horned Rimmed Glasses Award: This defense.
The defense had plenty of struggles today and plenty of things for them and Jim Knowles to work on for next week. The biggest being they gave up 482 yards of total offense. The good outweighs the bad as this unit played old school, bend but don't break defense. After some early success for Penn State, the Buckeyes stuffed their running game limiting them to 3.3 yards per carry. The Buckeyes forced four turnovers, including intercepting Sean Clifford three times. Despite being on the field for 80 Penn State offensive plays, the defense didn't break. They kept their offense in the game giving them timely turnovers and stops. This is something that they would not have done, or the very least not as effectively done last season. Even when they struggle, they are showing improvement over where they were a year ago.
-Coaching Moments of the Game: Ryan Day's second half adjustments.
Ryan Day's play-calling was a little stubborn for the Ohio State offense in the first half. Day seemed determined to run the ball off tackle and on stretch plays and to throw to the sideline and never more than five yards downfield. Day essentially took the middle of the field away from Ohio State without Penn State doing anything to make him do that. Penn State keyed on this and had their linebackers creep up to stop the Buckeye running game and their safeties move toward the sidelines to help their corners. Day, to his credit, made adjustments as the second half rolled on. The Buckeyes started throwing the ball inside the hashes and running it behind the center and guards. This led to the success of Henderson and Stover and turned the tide back to the Buckeyes. I give Coach Day all the credit for this since I gave him all the criticism at first and because I've seen plenty of coaches in the game of football beat their heads against the proverbial brick wall and not adjust and change their game. Credit to Coach Day where it was definitely due.
-Mr. Brightside: Very vulnerable to a team that plays like that team up north or Georgia.
The bad news is we gave up 482 total yards and let Penn State run 80 plays on us defensively and on offense struggled in the RedZone against a quality opponent with two touchdowns and two field goals on five trips. These are things that can not happen on November 26th or any game after that or they will lose. Plain and simple. On offense, you can't start the game by already ceding a portion of the field to the other team. Make them stop you from doing something before you stop yourself just because they looked good on film stopping others. It's crazy to think that at 8-0, we're still not sure HOW good Ohio State really is.
The good news is it is clear that they are REALLY good. They forced four turnovers and committed none. Marvin Harrison Jr. is as good as the three guys starting last year if not better. C.J. Stroud is still playing really well. It was a less-than-stellar game for him and he still was 26 of 33 for 354 yards and a touchdown. Jim Knowles' defense is lightyears ahead of the defense of 2021 with virtually the same men who are improving with every game. The Buckeyes are really good. And with plenty of opportunities to show just how good they are left on the schedule, it looks to be an interesting November.
-2014 Moment: Cade Stover's day.
Cade "Country" Stover played like Jeff Heuermann and Nick Vannett. He is a real threat in the middle of the field in the passing game and is a great blocker in the running game, just like those two were when that elite offense won a national championship eight years ago. Stover not only had a big block to lead the way for a TreVeyon Henderson but he had six catches for 78 yards and a touchdown in the passing game too including a huge 24-yarder in the fourth quarter when barreled over three Penn State tackles like one of the John Deere tractors he advertises for. He has become a difference-maker for the Buckeyes.
-2002 Moment: Marvin Harrison Jr.
This is usually reserved for something to match the '02 Buckeyes defense but Marvin Harrison Jr. reminded me of someone from that team who was just as important as that defense to their national title and that was Michael Jenkins. Harrison had 10 catches for 185 yards. EVERY SINGLE CATCH was for a first down. Every one. He was Mr. Reliable and kept drives and the game alive for Ohio State. Harrison is having one of the best years I've seen from a Buckeye receiver and that says a lot. He has 48 catches for 783 yards and 10 touchdowns and is just outstanding for Ohio State.
-1968 Moment: Ronnie Hickman played like Jack Tatum.
Lost in the great game from the Buckeyes' defensive front was the solid game Ronnie Hickman had. Hickman had six tackles and forced a fumble but deflected three passes, jarring them loose with solid hard hits. Hickman played like the greats before him such as Jack Tatum and Mike Doss. He is a weapon in the secondary the Buckeyes will need to make any late and postseason noise this year.
-Rivalry and Championships Watch:
There are two things Ohio State has not changed that led to their defeat against that team up north last year. There is no threat of running from the quarterback. And the running game from the running backs of Ohio State still focuses on slow-developing running plays, mostly to the outside, when they need to be able to run behind the center and guards when necessary. Against Penn State late was the first flash I saw of that middle rushing attack and it worked! When Kenneth Walker III ran all over that team up north last year, his touchdowns and most yards gained came from straight-ahead runs. The Buckeyes will also need the deep threat on offense. The importance of a quarterback rushing attack is the same as the deep passing threat. It can take the top off of a defense, put them on their heels, and not allow them to rally to where they may have a weakness. And finally, the up tempo offense is still the best way wear down a great defense in college football. I hope the Buckeyes run it and work hard on it and have it ready for The Game.
As Joel Klatt noted in analyzing the game against Penn State earlier this week, the blueprint (pun intended) is still there to beat Ohio State. Dominate the running game both offensively and defensively. Tackle in space. Hold them to RedZone field goals. Penn State did that for three quarters until Ohio State adjusted and attacked where Penn State had become vulnerable. A good thing the Buckeyes showed was that they could at the very least slow down their opponent's rushing attack (they couldn't in their two losses last year) and get off the field enough to give the offense a chance. There's plenty to worry about but the Buckeyes are moving in the right direction, and with stars like Tuimoloau getting brighter every week, so do their chances of taking home a national championship. But first, and always; beat that team up north!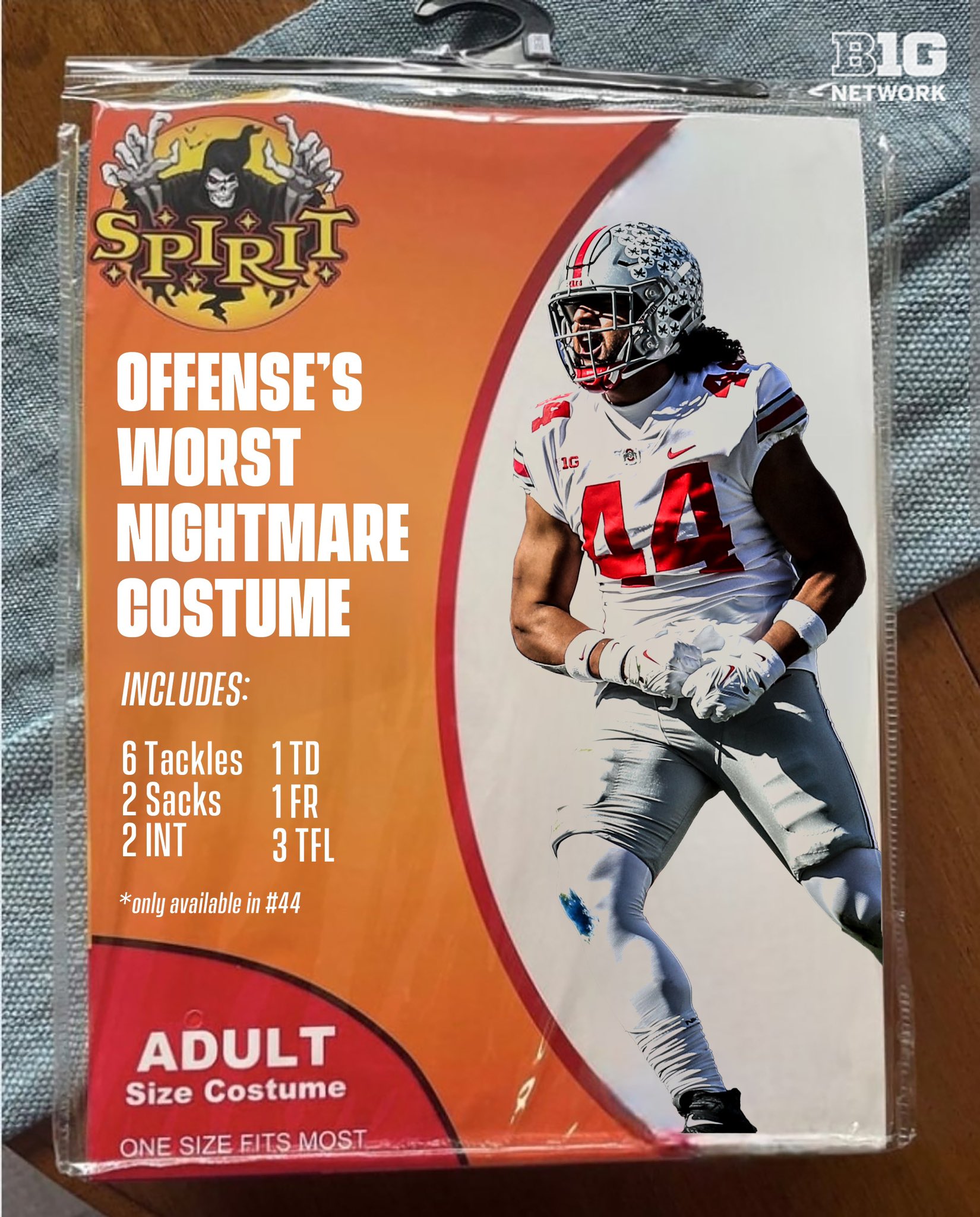 Read about all the Ohio State games so far this season!
For More Great Football Content
Follow us on Twitter at @GridironHeroics for more great content. We appreciate you taking time to read our articles. To interact more with our community and keep up to date on the latest in Football news, JOIN OUR FREE FACEBOOK GROUP by CLICKING HERE
Checkout our latest podcast!
[powerpress_playlist limit=1]