Ohio State Game 11 View from the Couch – Ohio State at Maryland
For those of you who are first-time readers, welcome! Here is a link explaining my process of how I recap Buckeye games while paying respect to the rich historical tradition of the team I love, The Ohio State Buckeyes.
Favorite Stat of the Game: All 11 wins by double-digits.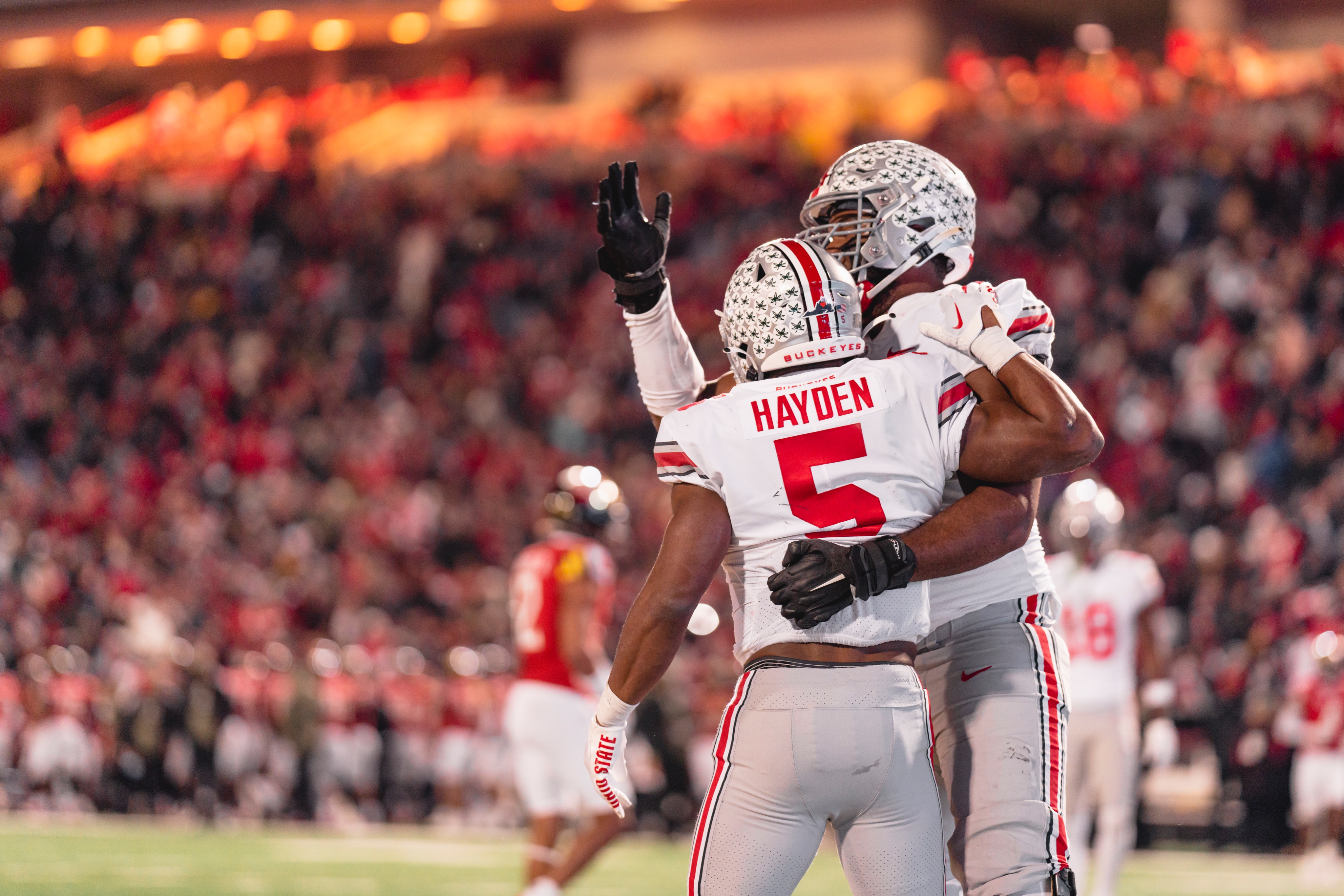 The Ohio State Buckeyes have won all of their 11 games this season by at least 10 points. That is baffling to me because of the way they've done it. This is a fantastic football team, but I have yet to see them put together a complete game this season and they've still won every game by double-digits. It's a paradox.
There has always been a rather glaring problem for them in every game. Whether it's a certain phase has been out of sync, injuries, or coaching decisions; there has been something every single game that the Buckeyes themselves and Buckeye Nation has been able to see and say: "I KNOW they can do much better than this. Will this cost them at the end of the year?" That moment of truth is up next. The Game has arrived.
The Brooklyn Dagger Award: Zach Harrison and Steele Chambers.
Down six with less than a minute to go, the Terrapins had the football at their own 16-yard line and were ready to play spoiler. Even after a sack, Taulia Tagovailoa was ready to sling it. Then Zach Harrison happened. The senior from Dublin, Ohio got to Tagovailoa who coughed up the football and linebacker Steele Chambers was there and took it into the end zone. Game over, the Buckeyes win.
CHAMBERS TO THE 🏠, BUCKEYES MAKE IT A TWO POSSESSION GAME.@steeleC22 | #GoBucks pic.twitter.com/FnLsjqoAYW

— Ohio State Football (@OhioStateFB) November 20, 2022
Dwayne Haskins Award: Dallan Hayden.
Amazingly the man of the day for the Buckeyes wasn't C.J. Stroud, TreVeyon Henderson, Miyan Williams, or Marvin Harrison Jr. it was Dallan Hayden. The true freshman came in for a hobbled but valiant TreVeyon Henderson and put the game on his shoulders. He had 29 touches for 156 yards and three touchdowns. Like this award's namesake did four years ago. Hayden took over in college park and won the game for the Buckeyes.
3⃣ TDs means 3⃣ celebrations.

@DCH__2 | #GoBucks pic.twitter.com/YsPTpncEP4

— Ohio State Football (@OhioStateFB) November 19, 2022
Chase Young Award: Zach Harrison.
Zach Harrison delivered in a big way for the Buckeyes. As a team, they got after the quarterback with five sacks. Harrison led the way with five tackles, 2.5 tackles for a loss, two sacks, and a forced fumble. The timing of his sacks couldn't have been better. They were back-to-back when Maryland had its last chance to take the lead and they ended the game with the forced fumble on the second one that was returned for a touchdown by Steele Chambers.
Ryan Shazier-Devin Smith Award: Dallan Hayden
This is the moment a star was born in Dallan Hayden for Ohio State. This is the kind of game that jumpstarts a career. He had three rushing touchdowns in the second half, the last time a Buckeye freshman running back scored three touchdowns in a half was 20 years ago with a guy named Maurice Clarett and a team that won a national championship.
Dane Sanzenbacher Award: Noah Ruggles.
Ruggles had a quiet good game to the tune of scoring 13 points, the margin of victory for Ohio State. Ruggles was three of three on field goals and four of five on extra points (one was blocked, not his fault). He's 12 of 14 on the year in kicking field goals and has been Mr. Reliable for the Buckeyes.
Taylor Decker Award: The Buckeye Linebackers.
The Buckeye linebackers struggled and were much maligned for the team's defensive woes last season and so it can't be said enough how much they've improved to this point. While next week will be their defining moment like it was last season, they're in much better shape this year than last. Eichenberg is leading the way. Eichenberg has 105 tackles, 12 tackles for a loss, 2.5 sacks, one interception returned for a touchdown, two pass breakups, and five quarterback hurries. None will be bigger than the ones he may make next week.
Fedora Award: Marvin Harrison Jr.
No one could've filled in for Jaxon Smith-Njigba better throughout the season. He has 65 catches for 1,037 yards and 11 touchdowns. He had a modest 5 catches for 68 yards against Maryland, but he kept their defense honest. He will be needed to get over the century mark and at least one touchdown if the Buckeyes are going to win The Game.
Sweater Vest Award: Lathan Ransom (Again) and Denzel Burke.
Lathan Ransom blocked a second punt in as many games and the Buckeyes quickly turned it into points and a lead in the second half that the Buckeyes would never relinquish. He had seven tackles, one for a loss, a pass deflection, and the blocked punt that start Ohio State to victory in the second half. If he is a force in every aspect of defense like he has been, against the pass, the run, and on special teams, the Buckeyes will have a very good shot to beat that team up north.
Archie Award: Bigger than Football.
With all the talk about The Game next week and the uproar about Ohio State facing their rival when both are undefeated, it's easy to forget that it's just a game. It's a game we all love, it's a way of life. But it doesn't hold a candle to life and death. The deaths of Devin Chandler, D'Sean Perry, and Lavel Davis Jr. are a tragedy beyond this writer's descriptive ability.
It was a nice gesture by the Buckeyes and college football teams across the country to honor those young men. It's more important that we keep their families in our hearts and prayers, and do so when the football fields are silent until another fall, and that we honor them by loving one another as Jesus encouraged us to and try to make our world a little kinder in their honor.
Horned Rimmed Glasses Award:
Coaching Moments of the Game:
Someone needs to tear the stretch runs with zone-blocking plays out of the playbooks, burn them, exorcise them, and scatter the ashes to winds bound for Ann Arbor. The Buckeyes coaches have beaten their heads against that wall all year and it hasn't given way yet. No need to try to again when it's the biggest game of that staff's careers.
Dallan Hayden and Xavier Johnson may need to be the starting backs from kickoff next week.  I love Henderson and Williams but they at less than 100% are not as good as Hayden and Johnson at 100%. To Coach Day's credit, he leaned on Hayden heavily in the second half.
Mr. Brightside: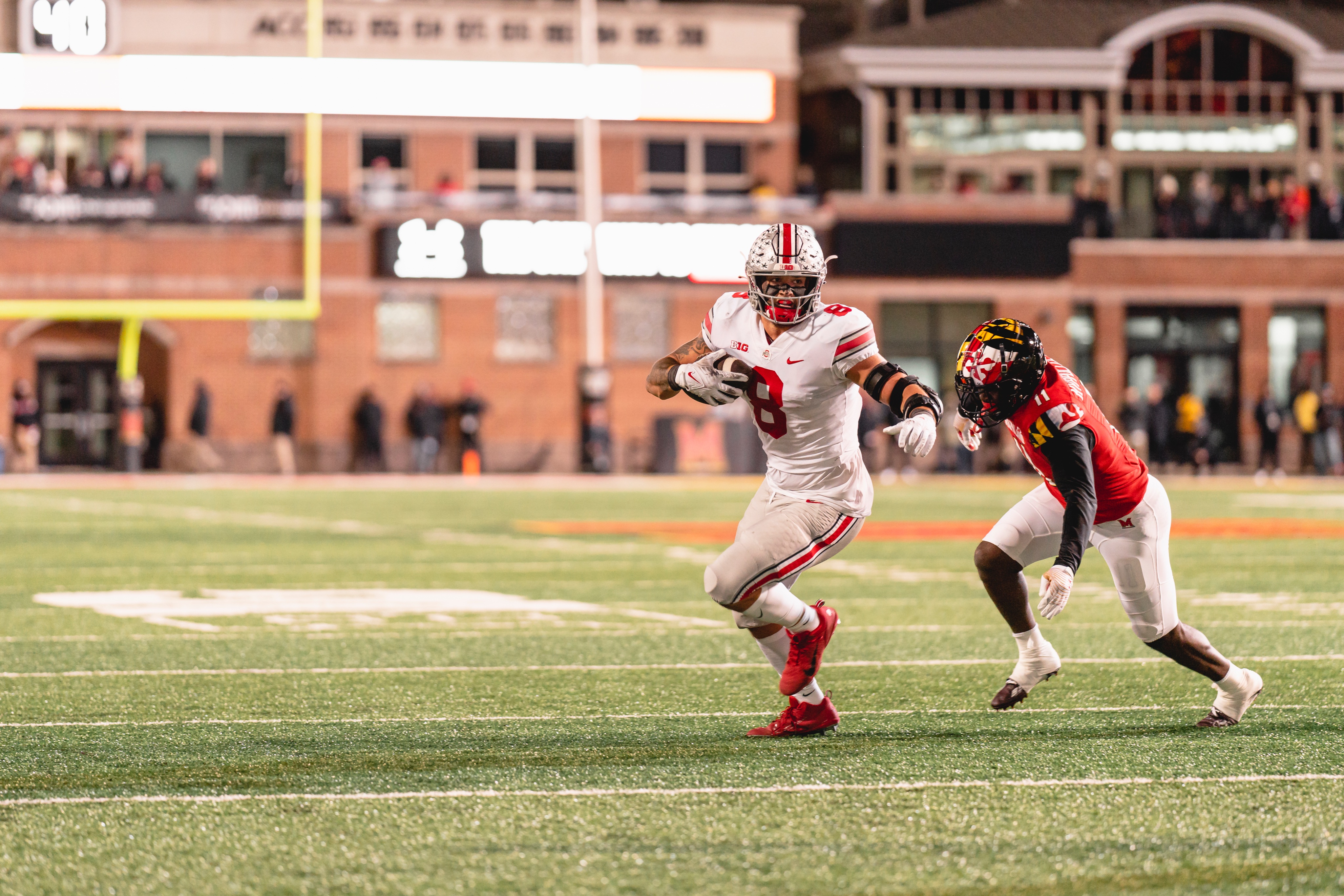 -Downside
The Buckeyes have a lot to worry about. They have inconsistency in getting a push off the ball with the offensive line, their cornerbacks are young and unproven, their offensive tendencies to not attack all of the field and to run in ways that haven't worked, and to top it all off they've got a lot of injuries.
-Upside
The good news is they have 11 wins by double digits, they're playing in the Horseshoe, Jim Knowles has revamped the defense, Stroud's playing his last home game and Dallan Hayden can run the ball and Marvin Harrison Jr. is the best receiver in the nation.
2014 Moment: Win November.
Urban Meyer believed that November was the most important month of football for a team. Coach Meyer was 26-2 in November and Coach Day is 12-1. To win November the Buckeyes need a lot from #7 next week. This week C.J. Stroud was 18 of 30 for 241 yards and a touchdown. He is 204 of 277 for 2,991 yards and 35 touchdowns. One thing that Stroud is doing very right this year only shows up in his stats a little bit. He doesn't force things into coverage and that way has only thrown four interceptions all year and the last was against Iowa on October 22nd. They'll need Stroud to be turnover free to win November.
2002 Moment: Zach Harrison's back-to-back sacks.
I was having flashbacks to 20 years ago when the Terps got the ball back with around a minute to go and needed a touchdown to take the lead and win and a tired defense was all that stood in their way. Zach Harrison answered the bell like Will Smith, Mike Doss, Chris Gamble, and Kenny Peterson of old did. He had back-to-back sacks to end the game in the Buckeyes' favor.
1968 Moment: Dallan Hayden in for TreVeyon Henderson.
The Buckeyes had to set aside egos and go with whatever would help them win the game and that was why it was a big deal and the right call when Dallan Hayden came in for TreVeyon Henderson and led the team to victory. Overcoming injury is the hallmark of a championship team and if the Buckeyes win next week they will have overcome more than their fair share of injuries.
Rivalry Watch: It's here. War.
The reason for the Rivalry Watch being added to my Buckeye coverage has been because the rivalry is lived every single day. Ohio State's previous success under Jim Tressel and Urban Meyer was because they both understood its importance. They emphasized how much it mattered and what they would do on any given day to prepare for it and respect it. So how will it look when the dust settles?
Ohio State has more questions about their team than the wolverines do. Will they attack the middle of the field on offense? Will their offensive line consistently get push? Will they keep running wide futilely instead of between the tackles? Will they stretch the field and defense with good downfield passing?  Will their cornerbacks be stout and stable in pass coverage? How will the defensive front do against their best opponent in a year?
These are questions that can't be easily answered and that that team up north doesn't have as many to answer for themselves. That gives them the edge in The Game this year. I hope I'm, I hope I'm eating a big plate of crow by next Saturday, but the Buckeyes are rightfully the underdogs this Saturday.
Former head coach Urban Meyer said it best about The Game when asked in his first season if there was anything he enjoyed about the traditions leading up to his first battle against that team up north Meyer surprised the media when he gave an emphatic "No," in response to that question. Meyer summed up my feelings exactly ten years ago when he said about The Game; "The only good thing about it is winning the d*** thing." Urban Meyer was right. It's time for war. Beat that team up north!
THE GA❌E. pic.twitter.com/BiURUIQ6nM

— Ohio State Buckeyes 🌰 (@OhioStAthletics) November 20, 2022
Read about all the Ohio State games so far this season!
For More Great Football Content
Follow us on Twitter at @GridironHeroics for more great content. We appreciate you taking time to read our articles. To interact more with our community and keep up to date on the latest in Football news, JOIN OUR FREE FACEBOOK GROUP by CLICKING HERE
Checkout our latest podcast!
[powerpress_playlist limit=1]