For those of you who are first-time readers, welcome! Here is a link explaining my process of how I recap Buckeye games while paying respect to the rich historical tradition of the team I love, The Ohio State Buckeyes.
-Favorite Stat of the Game: Miyan Williams outgaining Rutgers 189 yards to the Scarlet Knights' 187 yards.
Williams was the man of the day in the state of Ohio. He tied a record held by Buckeye greats Pete Johnson and Keith Byars with five rushing touchdowns in a game. Miyan Williams had 21 carries for 189 yards to go with his five touchdowns, amazingly outgaining the entire Rutgers offense by two yards.
-The Brooklyn Dagger Award: Miyan Williams' second touchdown of the day.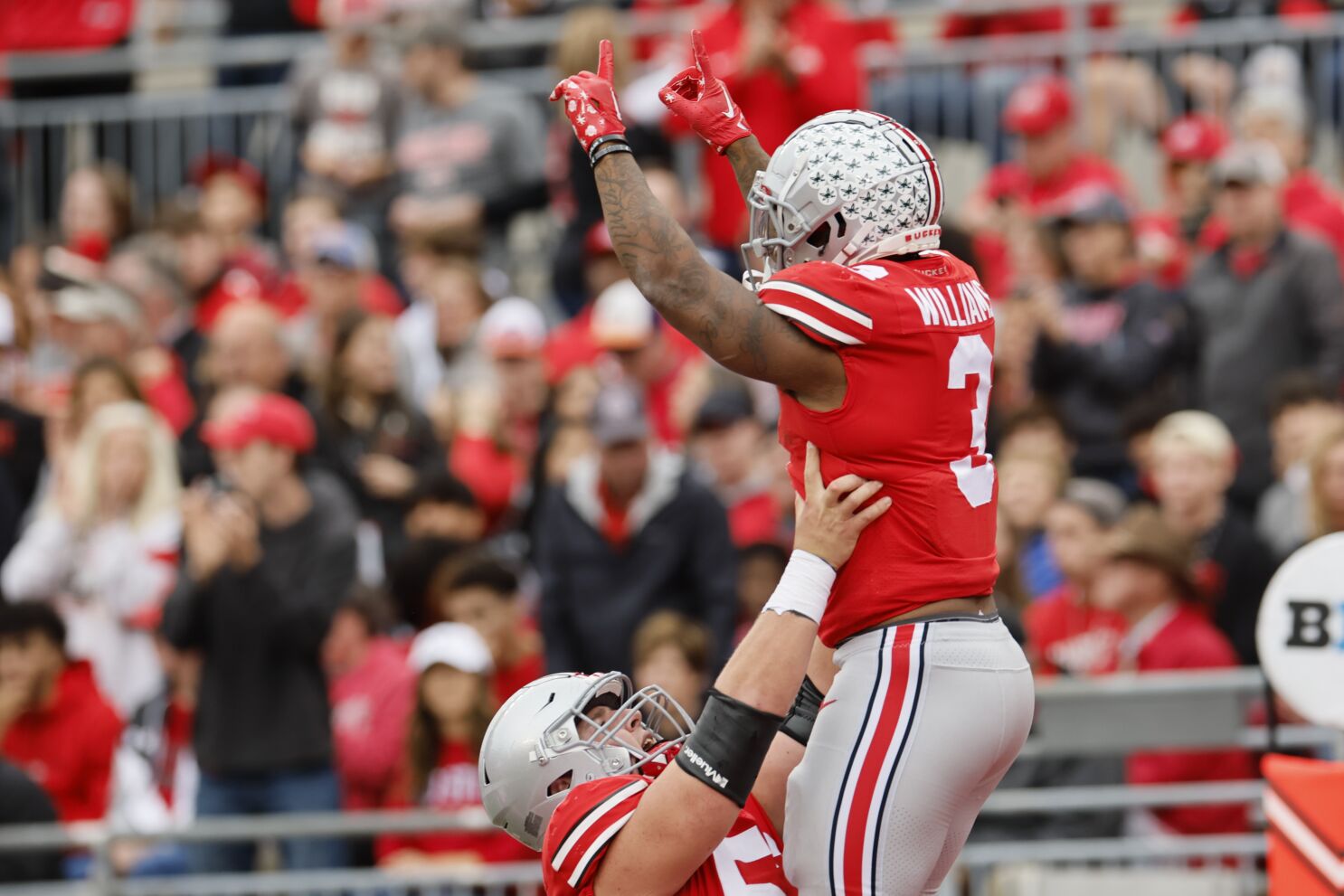 Even though he would end the day with five, Miyan Williams only needed two to exceed how many points Rutgers would score. Williams would average nine yards per carry, for the day consistently grinding down the Rutgers defense through the entire game.
-Dwayne Haskins Award: Miyan Williams.
Williams is the player of the game because he had FIVE touchdowns (a stat worth repeating). Williams's 21 carries for 189 yards and five touchdowns bring his season totals to 72 carries for 497 yards and eight touchdowns, averaging 6.9 yards per carry.
-Chase Young Defensive Player of the Game: Steele Chambers.
The former running back turned linebacker had the best game of his career today and showed how good he can be. Chambers had 11 tackles, eight of them solo, two tackles for a loss, one quarterback hurry, and one interception. Chambers is a ballhawk who is always near the ball and is a sure tackler. On the season he has 40 tackles, four tackles for a loss, a sack, and an interception.
-Ryan Shazier-Devin Smith Award: Julian Fleming.
He was here last week and earned a spot here again. This week Fleming had four catches for 51 yards and a touchdown. While helping fill in for an injured Jaxon Smith-Njibga for the last three games, Fleming has had 11 catches for 141 yards and four touchdowns. It's amazing that even without JSN the Buckeye receiver production hasn't fallen off even a little.
-Dane Sanzenbacher Award: The Ohio State defensive line.
These guys are having a great year and even though it's not showing up huge in the stat line it's showing up to people who watched this defense the previous two seasons. They are implementing Jim Knowles's defensive scheme which is designed to get tackles for a loss and get off the field on third down. Today they led the way for the defense to get six tackles for a loss and a sack. On the season they have 36 tackles for a loss and 10 sacks. The most telling figure of that for the victory over Rutgers is that the Scarlet Knights were 1 of 11 on third down and 0 for 2 on fourth down. So when the Buckeyes had the chance to get their offense back on the field they succeeded in doing so 12 out of 13 times.
-Taylor Decker Award: The Ohio State offensive line.
I know I've said this about the Buckeye offensive line before but they have improved light years from last year. They plowed the way for Williams today and have been doing so all season long. They've done so to the tune of 182 rushes for 1,131 yards and 6.2 yards per carry. They've also protected C.J. Stroud. Through the first five games opposing defenses have only gotten to Ohio State's quarterbacks three times. This offense would not be the lethal machine it is without the play of this fantastic offensive line.
-Fedora Award: Miyan Williams.
TreVeyon Henderson was out with an injury today and with the team already thin at running back, Williams asked to carry the lion's share of the load. He had 21 of Ohio State's 34 carries and his backup Dallan Hayden had nine when he relieved Williams when Coach Day pulled the starters in the fourth quarter. Williams was asked to fill the big shoes of Henderson while also still contributing his normal amount of production. He did all of that and then some.
-Sweater Vest Award: Jesse Mirco.
Miyan Williams's five touchdowns were the story of the game. The next story of the game happened well after it was decided and was thanks to Jesse Mirco. The stellar punter for Ohio State started a dust-up when he took the snap and rolled to his right to punt and seeing no Rutgers player within 30 yards of him took off running. After a 22-yard gain, Mirco was hit with a cheap shot by the Rutgers return man who kept Mirco out of the end zone, by hitting him with his head out of bounds on the Ohio State sideline. This made Mirco's teammates come to his defense with some nasty shoves.
This was only made more interesting when Rutgers coach and former Buckeye defensive coordinator Greg Schiano came running all the way over from his sideline to the Buckeye sideline and he and Ryan Day were shouting at each other. Rutgers thought the play was a fake punt and Ohio State was trying to run up the score. Ohio State didn't appreciate a cheap shot hit on one of their players. After the game ended both of the former Urban Meyer coordinators shook hands and explained their points of view. Both coaches worried about their kids and understood each other's point of view.
-Archie Award: Miyan Williams.
On the weekend of the 50th anniversary of Archie Griffin emerging onto the college football stage and breaking the school single-game rushing yards record, Miyan Williams put his name into the Buckeye record books with his five-touchdown performance. Somewhere the only two-time Heisman winner was smiling and enjoying watching Williams tote the rock.
-Horned Rimmed Glasses Award: 100 years of Ohio Stadium.
Ohio State is celebrating 100 years of Ohio Stadium, the Shoe (after its original Horseshoe shape). With it's 49-10 victory over Rutgers, Ohio State had it's 600th win inside the Horseshoe. Which is the best way to honor their home. Woody Hayes loved honoring history and he would be glad to see the Buckeyes still playing in the concrete temple of football he coached in, 100 years after it was built. Ohio Stadium's original capacity was 63,000, and critics 100 years ago said they would never fill it consistently with so many seats. Now expanded to over 102,000 and it is full every Fall Saturday that the Buckeyes take the field.
-Coaching Moments of the Game: Ryan Day willing to take what the defense gives him.
Coach Day couldn't be happy with his team having six penalties or not winning the turnover battle but he has to be happy overall with how his team played. The Buckeyes dictated how they wanted to move the ball and Ryan Day was not afraid to stick with the running game when it got off to a fast and hot start. It is a testament to his coaching ability that he is willing to break tendencies and attack opposing defenses in ways they don't expect him to.
-Mr. Brightside:
The Buckeyes banged up team. Jaxon Smith-Njigba is still out. TreVeyon Henderson was out. Cam Brown and Cameron Martinez were out in the secondary. Denzel Burke and Emeka Egbuka played hurt. Tanner McCalister got hurt. The secondary is thin and the offensive line doesn't have a ton of depth. They struggled to pass the ball against Rutgers and the pass rush isn't always there.
Despite all of this, they're doing exactly what is expected. Clobbering the teams they should. The offense is playing as it should and the defense showing improvement. The schedule is tough but winnable. Oh and we still have #7 slinging the football. This team has yet to play its best but is reassured its best will be on display by November.
-2014 Moment: Marvin Harrison Jr.'s touchdown.
It's easy to make a comparison between the way he plays to the way his father played. Harrison Jr. however reminds me of another NFL All-Pro who suited up for the scarlet and gray. He reminds me of Michael Thomas. He'll get open and runs great routes just like Thomas. His touchdown catch was a good example of how he's not the biggest or the fastest but he plays as the best.
-2002 Moments: Steele Chambers and Tommy Eichenberg.
Between the two of them, Chambers and Eichenberg looked like and played like Matt Wilhelm and Cie Grant from that vaunted 2002 defense. Together they had 20 tackles, 2.5 tackles for a loss, two quarterback hurries, and an interception. They led the defense to 67 tackles, six tackles for a loss, one sack, three passes defended, and three quarterback hurries. Together on the year, they have 72 tackles, 9.5 tackles for a loss, three sacks, and three quarterback hurries. Those are legendary numbers that Wilhelm and Grant would be proud of.
-1968 Moments: The defense.
There is something different about this defense. They have a different attitude this year in the way they hit, tackle, and play and the way they carry themselves. Last year, the same guys had a look of frustration as they played games, especially tight games in which they were needed the most. This year they have confidence that says they will not let the losses of last year repeat themselves. And I love it!
-Rivalry Watch:
That team up north won 27-14 at Iowa in Iowa City today. They struggled against Iowa's very good defense as I think most teams would, and they shut down the inept Iowa offense as most elite teams would. Blake Corum had another day of running the ball very well, and J.J. McCarthy had a solid day passing. The Buckeye defense is ready to not let Corum repeat what happened last year, but they need to show they can consistently rush the quarterback and pressure a quarterback like McCarthy. The offense will be fine. The best defender TTUN had last year was that they limited the Buckeye opportunities by keeping Stroud on the sideline and the Buckeye defense on the field. I don't see that happening this year. Not guaranteeing a win. They are tough buggers. But I don't see The Game being played out the way it was in 2021.
Sevyn Banks
I have to express my love for Sevyn Banks, a cornerback who played at Ohio State for four seasons. Now at LSU, Banks was injured making a tackle on the opening kickoff of LSU's game against Auburn. Banks made a hit leading with his head and crumpled and fell to the ground. With injuries being at the forefront of the news this week, and everyone wanting to do better, Banks was stretchered off and taken to a hospital in Alabama. He has since been released. The next time you wonder about targeting, think about any player being taken off in a stretcher and remember that's why that penalty is so strictly enforced.
Read about all the Ohio State games so far this season!
Ohio State running back Miyan Williams celebrates a touchdown against Rutgers in Ohio State's 49-10 victory on Saturday, Oct. 1, 2022, in Columbus, Ohio. (Photo by Ohio State Athletics)
For More Great Football Content
Follow us on Twitter at @GridironHeroics for more great content. We appreciate you taking time to read our articles. To interact more with our community and keep up to date on the latest in Football news, JOIN OUR FREE FACEBOOK GROUP by CLICKING HERE
Checkout our latest podcast!
[powerpress_playlist limit=1]