For those of you who are first-time readers, welcome! Here is a link explaining my process of how I recap Buckeye games while paying respect to the rich historical tradition of the team I love, The Ohio State Buckeyes.
-Favorite Stat of the Game: This is a bit of a hidden gem that my father pointed out to me. Ohio State held Arkansas State to 5 of 20 on 3rd down. Last week they held Notre Dame to 3 of 13 on 3rd down, making them 8 of 33 on the season. Getting off the field on 3rd down was a huge problem for this team last year, in fact, it is THE reason they lost the two games they did. I know it's early and the barometer of how strong the two teams they held to this are, is hard to gauge, this is a team turning around improvement at the moment.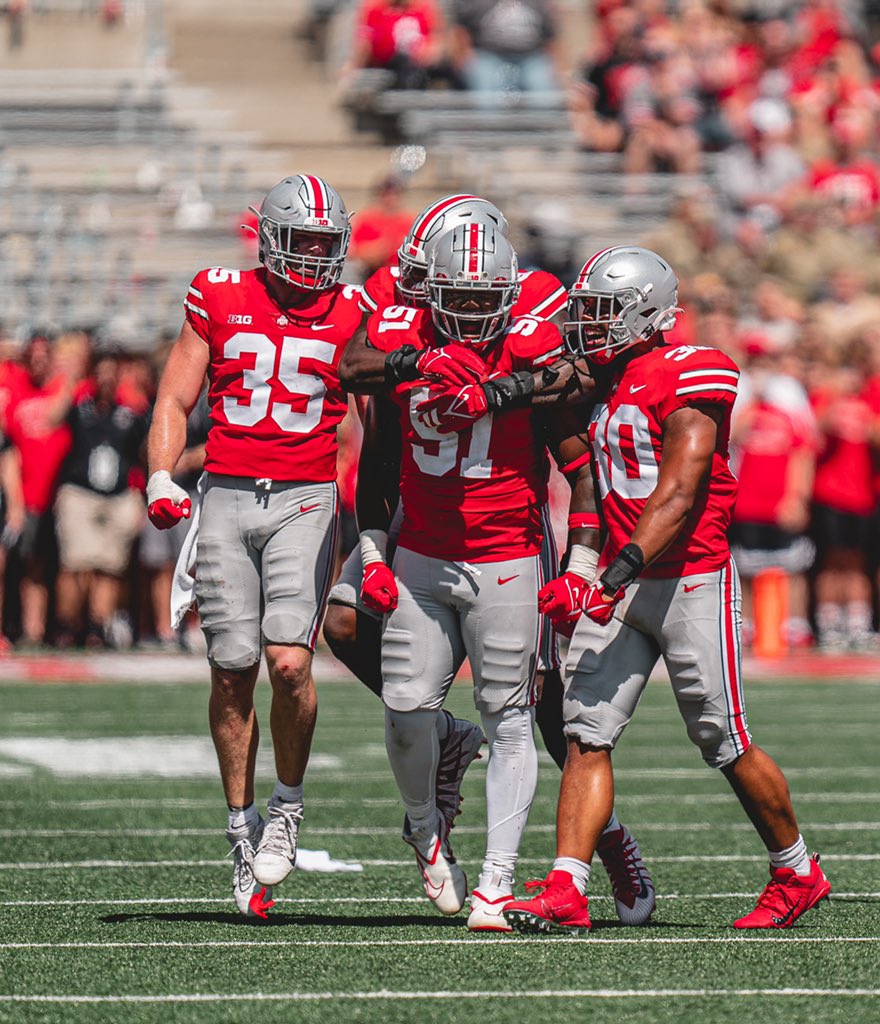 -The Brooklyn Dagger Award: TreVeyon Henderson. When Henderson took the handoff 8 yards into the end zone to make it 14-3 Ohio State, that was all the Buckeyes would need to beat Arkansas State as the Red Wolves would only score 12 for the game.
-Dwayne Haskins Award: Marvin Harrison Jr. Marvin Harrison Jr. proved he can be the number one receiver for Ohio State when he needs to be (and he probably will be in 2023) as he filled in for Jaxon Smith-Njigba and had a near repeat of his Rose Bowl performance. Harrison had 7 catches for 184 yards and 3 touchdowns and was the Dwayne Haskins player of the game.
-Chase Young Defensive Player of the Game: Michael Hall Jr. This guy is unreal. He had 3 tackles today, 3 of them for a loss and a sack. The way he disrupts an opposing offensive line is like Aaron Donald or Ndamukong Suh. Which is high praise and scary for opposing teams. Hall had the biggest impact on the game of any defender today and it'll be interesting to watch him as other teams start to double him up as the season goes on.
-Ryan Shazier-Devin Smith Award: Michael Hall Jr. You can't say enough about this guy and the impact he's had on the defense this season. Hall only had 2 tackles in all of 2021 as he redshirted. Through a pair of games in 2022, he has 7 tackles, 5 tackles for a loss, and 2 sacks. It's incredible to think how new he is to playing time when you see his dominance. Another young man picture below Hall who had a good showing in the time he was allowed on the field was Caden Curry. Number 92 had 3 tackles all around the line of scrimmage and one for an outright loss. Curry and Hall look to be fun young guns to watch this year for Ohio State.
-Dane Sanzenbacher Award: Emeka Egbuka. This one goes to Emeka Egbuka for the second straight week. Marvin Harrison Jr. got the highlights and stats and rightfully so, but having a viable threat out there to keep the Red Wolves from double teaming was a big reason why. Again, Egbuka quietly did his job. This week it was to the tune of 4 catches for 118 yards and 1 touchdown. that's over 200 yards and 2 touchdowns in 2 games for the guy many thought would be the third-best receiver for the Buckeyes this year.
-Taylor Decker Award: Noah Ruggles. He didn't have to bounce back much and not in a big way but after only a second miss in his time at Ohio State, Ruggles hit his only attempt today. Reliable Ruggles looks to be back to his old form and will likely be asked to make clutch kicks for the Buckeyes. It was good for him to get back into splitting the uprights.
-Fedora Award: Marvin Harrison Jr., Emeka Egbuka, and Cade Stover. Harrison, Egbuka, and Stover had to replace Chris Olave, Garrett Wilson, and Jeremy Ruckert. That's a tall order, especially like most of last week and today without Jaxon Smith-Njigba in their ranks and no Julian Fleming to give them depth. But These three answered the call today. They had 13 catches for 342 yards and 4 touchdowns. That's pretty good when you're filling the shoes of school record holders and first-round NFL draft picks.
-Sweater Vest Award: The Buckeye special teams had a solid game. Noah Ruggles made the only field goal he attempted and Jesse Mirco, Ohio State's latest Aussie punter, had another good day of pinning the opponent deep. He had 5 punts for 219 yards for a 43.8-yard average and 2 punts inside the Arkansas State 20. The sophomore from Fremantle, Australia is turning into quite the effective weapon for Ryan Day and the Buckeyes. Jim Tressel believed special teams' won championships and so far early in 2022 the Buckeye special teams are performing at a championship level.
-Archie Award: C.J. Stroud, Emeka Egbuka, Donovan Jackson, and others. It was great to find pictures of Buckeye players making extra time for their fans with autographs and high fives after a game. It's always been a class move to give the hat tip to the people who cheer for you but especially these days when (unless I'm mistaken) due to new NIL opportunities, players can get paid for their autographs now.
-Horned Rimmed Glasses Award: Woody Hayes believed in his 3-yards-and-a-cloud-of-dust offense. So he would be very happy with how Ohio State's running backs are toting the rock. TreVeyon Henderson and Miyan Williams had a combined 18 carries for 133 yards and 2 touchdowns. Coach Hayes would have loved to have either of these two standouts carry the ball for his team.
-Coaching Moments of the Game: This game was very well coached by Ryan Day and his staff. This team was out to achieve balance offensively. 26 rushing plays and 28 passing plays prove that point. As well, Day seemed to be more committed to balance early. Where last week the offense seemed to start pass happy and run late, this week the team tried to mix up the run and pass early and throughout the game.
-Glass Half Empty: The Buckeyes had lots of penalties. 9 penalties for 85 yards. I'm sure Ryan Day will remind his guys of this all week and challenge his team and help his team to be more disciplined. If you have this many penalties against the tough Big Ten schedule the Buckeyes have you'll take a loss that your goals of championships may not be able to afford.
-Glass Half Full: This defense is legitimate and this team is resilient. With no Jaxon Smith-Njigba, the offense had their next men step up across the board. The defense and those pesky penalties let the Red Wolves get into Buckeye territory a few more times than they would like, especially early, but the defense didn't break. They stood tall and forced field goal attempts. That's something this defense had a lot of trouble with last season and that they have shown light years of improvement with this season.
-2014 Moments: Go to C.J. Stroud. Stroud was firing on all cylinders going 16 of 24 for 351 yards and 4 touchdowns. This offense was cruising as well as the 2014 squad ever and it was in huge part because number 7 was having a great day.
-2002 Moment: I've already talked about the defense in their resilience of not letting the Red Wolves score touchdowns when they moved the ball themselves or with the Buckeyes' help with the penalties. I've talked about how well they have gotten off the field on 3rd down. But there is one more hat tip for this unit today. They held Arkansas State to 53 yards rushing on 34 attempts for an average of 1.6 yards per carry. Stuffing the run was a hallmark of that 2002 defense and it's great to see the 2022 team following in their footsteps early in this season.
-1968 Moment: Doing what is expected of you. The Buckeyes beat Arkansas State exactly as they should have. Winning 45-12 is what they should do. An effective balanced offense and a tough, bend but don't break defense is what they should be. It's what they are. And even with the luster of their Notre Dame win wearing off after the Irish lost to Marshall, Ohio State is exactly where every Buckeye expects them to be. These men are on the right track. They are out to make their own history. Their own legacy. And as a Buckeye, I absolutely love it.
For More Great Football Content
Follow us on Twitter at @GridironHeroics for more great content. We appreciate you taking time to read our articles. To interact more with our community and keep up to date on the latest in Football news, JOIN OUR FREE FACEBOOK GROUP by CLICKING HERE
Checkout our latest podcast!
[powerpress_playlist limit=1]