For those of you who are first-time readers, welcome! Here is a link explaining my process of how I recap Buckeye games while paying respect to the rich historical tradition of the team I love, The Ohio State Buckeyes.
-Favorite Stat of the Game:
There were lots of stats to love from this game. Stroud's stat line of 21 of 26 for 361 yards and six touchdowns is up there. Ohio State out gaining Michigan State by 412 yards is another. My favorite though is that the Buckeyes had three different drives of over 90 yards. The Spartans special teams would pin them deep and the Buckeyes would say no problem and land knock out punches of drives of 98, 91, and 96 yards.
-The Brooklyn Dagger Award: Emeka Egbuka's 69-yard touchdown catch.
When C.J. Stroud had a bad miscommunication with his receiver and threw an uglier than most pick-six, the Buckeyes responded big and responded fast. As he would do all game Stroud saw a hole in the Spartan coverage and off the snap got it to his receiver as quickly as he could release it and Egbuka trucked it the rest of the way for a touchdown. I know this wasn't the deciding score, but it showed that the bad interception was an aberration and not a sign of how C.J. would play.
-Dwayne Haskins Award: C.J. Stroud.
Stroud is my player of the game (again) not because of his stat line. While 21 of 26 for 361 yards and six touchdowns through less than three complete quarters is super impressive it's how Stroud handled throwing an early pick-six, and how he handled pressure and blitzes from the Spartan defense. His throw for a 51-yard touchdown in the second quarter was in the face of pressure and whenever it arrived that's how Stroud handled it today.
-Chase Young Award: Tommy Eichenberg and Michael Hall Jr.
These two have been the stories of the year for the Ohio State defense. Eichenberg is everywhere making tackles and Michael Hall Jr. disrupts the middle and pressures the quarterback. That's what they did in East Lansing on Saturday. Eichenberg had eight tackles, 0.5 sacks, 0.5 tackles for a loss, one pass break-up, and one quarterback hurry. Hall had three tackles, 2.5 sacks, and 2.5 tackles for a loss. These two are the beating heart of this revamped Ohio State defense.
-Ryan Shazier-Devin Smith Award: Dallen Hayden.
Dallen Hayden is our future Buckeye star of this game. He has been called upon more than anyone could have expected this year. With Williams and Henderson both battling injury, and Evan Pryor being out for the year Hayden has had to do more than any running back who was projected to be fourth on the depth chart. He had 14 carries for 70 yards against the Spartans and Hayden is showing that the future is as bright as the present at the running back position for Ohio State.
-Dane Sanzenbacher Award: The Buckeye offensive line.
These guys keep getting this award week after week and rightly so. While I've talked about their past struggles and current improvements I've got some stats that'll do my talking for me this week. They paved the way for 614 total yards of offense today. They've led the way for 45 or more points for five straight games.
-Taylor Decker Award: TreVeyon Henderson.
Henderson returned from injury with something to prove and with Miyan "Chop" Williams out he had a chance to prove it all by himself and he did. TreVeyon Henderson had 19 carries for 118 yards and a touchdown. Henderson is good because he makes the right read while making the right cut and hitting it with tremendous speed. Henderson is RB1 for a reason and showed plenty of them against the Spartans.
-Fedora Award: Marvin Harrison Jr.
After the Rose Bowl it was clear that Jaxon Smith-Njigba and Marvin Harrison Jr. were going to be C.J. Stroud's top two targets in 2022. Harrison had seven catches for 131 yards and three touchdowns, showing that he can be just as good as Jaxon Smith-Njigba. He's more than filled JSN's shoes this season as Smith-Njigba battles an injury.
-Sweater Vest Award: The Buckeyes third down defense.
Coach Tressel not only loved special teams but team efficiency. Getting off the field as a defense maximizes your offenses chances to have the football. Which in turn wears out the opposing defense. Making it easier for the offense to have success moving the ball and scoring which in turn keeps the defense fresh and able to make more plays to get the offense back on the field. The Buckeyes thrived at that today holding the Spartans to only 3 conversions on 11 third down attempts.
-Archie Award: TreVeyon Henderson.
In a hard run for a 13-yard gain TreVeyon Henderson had a nasty collision with Spartan Jaden Mangham. Mangham had to be carted off the field in a five minute stoppage of play. As Mangham was removed from the field, Henderson had some kind words and a handshake for his foe before he left the field. It was a show of class that both teams can be proud of. Hopefully the Spartan medical staff was just exercising warranted caution in wanting to make sure Jaden Mangham is okay. Injuries are the worst part about football and we can all root for them to be defeated.
-Horned Rimmed Glasses Award: The Running Game.
Woody Hayes' teams were known for his three-yards and a cloud of dust offenses. He loved to run the football and then run it some more, and then make sure to stuff the other team's running game. This year Ohio State, through six games has 1,368 yards rushing on 228 carries and 16 touchdowns. As a team they are averaging 6.0 yards per carry, and 228 yards per game. The Buckeyes opponents have 559 yards on 188 carries and four touchdowns. They are averaging 2.97 yards per carry and 93.1 yards per game. Woody would be proud.
-Coaching Moments of the Game: Ryan Day's offseason changes.
Ryan Day's offseason changes that the Buckeyes needed to win. Improve the run defense. 93.1 yards a game and 2.97 yards per carry; check. Improve the offensive line. They've given up only four sacks and on track to rush for 400 more yards and 8 more touchdowns; check. Improve on third down. The Buckeye offense is converting 58% as opposed to 52% in 2021 and the defense is holding their opponents converting only 27% of their third downs as opposed to 41% in 2021.
My favorite improvement is that in 2021 Ohio State was 64% at scoring touchdowns in the Red Zone and in 2022 the Buckeyes are 27 of 29, 93% of scoring touchdowns when they get into the Red Zone. If these improvements are sustained, they're the kind of improvements that take an 11-2 to team to a playoff winning team.
-Mr. Brightside: 
The bad news is that the best team the Buckeyes have beaten in the first half of the season is 3-2 Notre Dame. They also have injuries with star running back Williams missing this game and TreVeyon Henderson getting injured in it. The corners in the secondary are banged up and having tough games. Freshman JK Johnson has looked like the best of them but as a defense they don't look back to make a play on the football and it's biting them.
The good news is they have two weeks before Iowa comes to Ohio Stadium. Hopefully in that time they can heal some or most of those injuries. And while I've been talking about it for years, they never have had their defensive backs look back for the ball when it's in the air. Most importantly all the areas in which they were trying to improve from last year keep getting better every week. The glass is more than half full!
-2014 Moment: Julian Fleming's 51-yard touchdown reception.
Julian Fleming catching a touchdown deep down the middle reminded me of Buckeye great Devin Smith's game he had in East Lansing in 2014. Fleming made four catches for 81 yards and a touchdown as the Ohio State offense looked as explosive as it ever has in any season in program history. Everything is clicking. Every kind of pass, every kind of run, and the only team that looks like they can stop Ohio State is Ohio State.
-2002 Moment: Lathan Ransom's interception.
Ransom's interception and how stout the safeties have been despite the corners struggles is a direct reminder of the 2002 National Champion defense. Ronnie Hickman, Lathan Ransom, and Tanner McCalister are playing like Mike Doss, Donnie Nickey, and Will Allen did for Ohio State 20 years ago. This defense has yet to give up more than 21 points something that the 2002 team did until the final game in double overtime against the dynasty of the Miami Hurricanes.
-1968 Moment: Distributing the ball.
There seem to be very few egos on this football team. You have stars like C.J. Stroud, Jaxon Smith-Njigba, Miyan "Chop" Williams, TreVeyon Henderson, Marvin Harrison Jr., Emeka Egbuka, and Julian Fleming. However the Buckeyes are willing to let whoever needs to be, be the guy who wins the game for them. Much like the '68 squad that had Rex Kern, Leo Hayden, Jim Otis, Bruce Jankowski, John Brockington, Jan White, and Bill Long. Doesn't matter which star shines as long as the team wins.
-Rivalry Watch: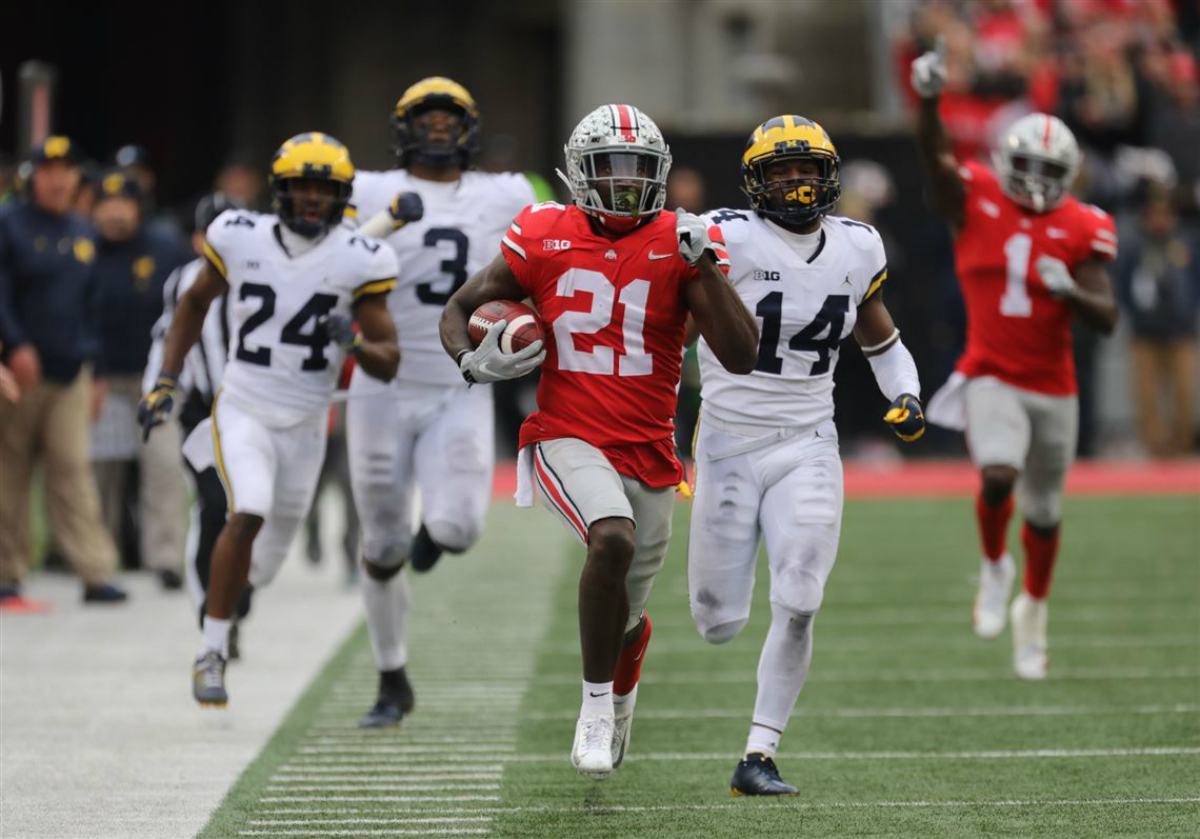 Through three quarters that team up north had their hands full with Indiana. They led the Hoosiers 17-10 going into the final stanza. The good news is that the wolverines look mortal that bad news is they keep winning these games where they get punched hard, take it, and hit back twice as hard to win. The two teams seem to be on a collision course for an undefeated matchup like in 2006. Except, I think both Ohio State and their rival are better than their respective 2006 brothers. Looks to be a clash of the titans on November 26th.
Read about all the Ohio State games so far this season!
Give me a follow on Twitter and Facebook!
For More Great Football Content
Follow us on Twitter at @GridironHeroics for more great content. We appreciate you taking time to read our articles. To interact more with our community and keep up to date on the latest in Football news, JOIN OUR FREE FACEBOOK GROUP by CLICKING HERE
Checkout our latest podcast!
[powerpress_playlist limit=1]