Colts Players Display Successful Mindsets This Season
Success is a mindset that is prevalent on the Indianapolis Colts roster, and it can present itself in many different ways. Having one of these successful mindsets is a key to exceling in the NFL and other professional sports. Through adversity, such as injuries, changing teams, and criticism, athletes develop this mindset. Many current Indianapolis Colts have overcame difficulties. These victories drive them to better themselves while also bettering the team.
With a Successful Mindset, Parris Campbell Will Never Give Up
Parris Campbell is more than familiar with the rehab process. There is no need to go into that history. These set backs have given Campbell a unique and powerful outlook on life. He now has a strong successful mindset. When Campbell was asked about a possible future injury, by Bob Kravitz from The Athletic he had an incredible reaction.
"I would persevere again, to be honest with you," he said. He continued, "We've been through so much the last couple of years, but the way I see it, you can throw the whole kitchen sink at me and I'll persevere."
"I can't give up now. If I did, what would this all be for?"
Exactly, giving up is not on the table for Campbell. His determination will eventually lead to success on the field.
Yannick Ngakoue has Fully Embraced Indianapolis
Yannick Ngakoue has stated that he already feels a positive difference in Indianapolis. He is already a fan favorite and has done everything he can do immerse himself in the community. From engaging fans and Colts podcasters on Twitter, to taking local kids on a Back-to-School shopping spree. Ngakoue is all in for the Indianapolis Colts.
Ngakoue has been a bit of a journeyman. Indianapolis is his fifth stop in four years. Wherever he goes, pass rushing comes with him. Picking up and moving your life over and over can be trying on a person. Being shipped from one team to the next can cause a feeling of unwantedness, but Ngakoue doesn't let this slow him down.
He spends time before practice working with tackle Matt Pryor, the man who he battles with everyday. They work on technique and strategy to help Pryor strengthen the offensive line. Ngakoue has a motor that is unmatched, he goes his hardest on every snap. He plans to make the Colts the best team they can be.
Colts Linebackers have Mindsets Built for Success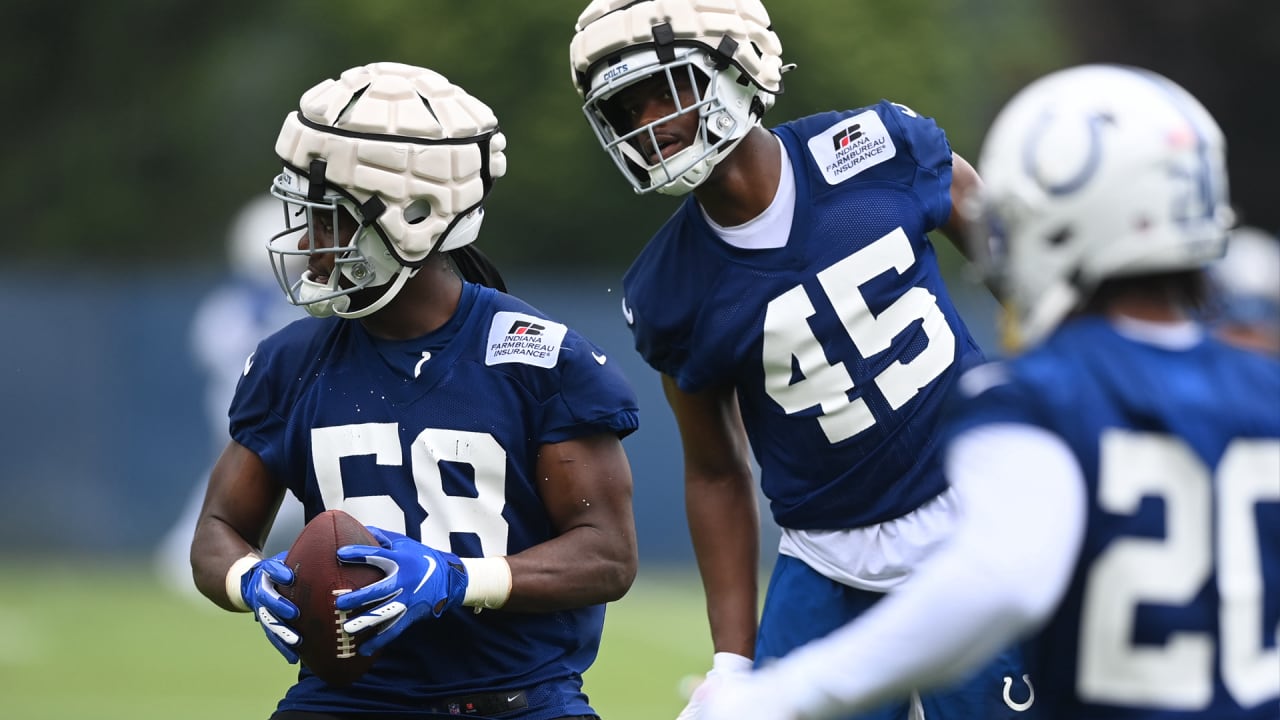 The Indianapolis Colts linebacker core has stepped up in the absence of Shaquille Leonard. Zaire Franklin got praise from Gus Bradley immediately upon his arrival.
"When I got here, everybody talked about his leadership, his presence amongst the team – not only in the linebacker room, but you feel him," Bradley said.
Franklin earned his roster spot in previous seasons through spectacular special team's play. Special teams are full of players that grind hard and get less recognition. These players like Franklin are totally dedicated to the team's success. He has now earned himself a big role in the defense highlighting his successful mindset.
Franklin spoke about fellow linebacker Shaquille Leonard and his hunger to return to play.
Franklin said, "I know it kills him not to be out there with the guys, but I keep telling him, 'Man, get right so you ain't gotta get right no more.' So we definitely can't wait to have him back." Check out the full quote in the tweet below:
Colts LB Zaire Franklin on Shaquille Leonard's rehab:

"I know it kills him not to be out there with the guys, but I keep telling him, 'Man, get right so you ain't gotta get right no more.' So we definitely can't wait to have him back."

Full quote below:

📸 me pic.twitter.com/PfIjeyCdLX

— James Boyd (@RomeovilleKid) August 16, 2022
Shaquille Leonard is rehabbing and keeping a successful mentality through it all. His work does not go unnoticed. His teammates and coaches see him putting in the effort.
"He's doing a lot of extra work, and he's getting his mind right, ready to play," Reich said. "The player's got to think he's playing as soon as he can, and then we've all got to get together, trust the process and figure out what's right."
This Team's Mindset is Going to Lead to Success
Leonard is a leader of this team, and it is clear that his mindset has became the normal. It feels like the entire team is bought in, and ready to make sacrifices to achieve their goals. There are many players who are expanding their roles into special teams in hopes of securing a roster spot. Whichever players end up filling the last spots on the roster, I'm confident that they will do all they can to better the franchise. Exactly like the rest of the squad.
For More Great Football Content
Follow us on Twitter at @GridironHeroics for more great content. We appreciate you taking time to read our articles. To interact more with our community and keep up to date on the latest in Football news, JOIN OUR FREE FACEBOOK GROUP by CLICKING HERE
Checkout our latest podcast!
[powerpress_playlist limit=1]