While the opposing teams are always finding ways to steal play call signals, a few sample of teams in college football have been very comedic or sometimes daring with their play card creations. Let's take a look at the Top 10 Play Cards in College Football over the Years.
A big difference between college football and the NFL is how the plays are being called.  Whereas quarterbacks may retrieve the call through a radio in the pros, college is a bit more creative in directing the calls from the sidelines. Historically, the quarterbacks are wearing wrist bands, which makes it easier for the coach to signal in the play.
But now, with the uptick in spread no-huddle offenses, teams began to develop a more creative and complex system with play cards.
Wrist Bands
The one issue with figuring out a call with a wrist band is that it can waste too much time. Many wrist bands can hold up to 84 various plays, which means a quarterback has to spend useful seconds to find the right play on their card.
Next, the quarterback has to convey the play to his teammates. As an option, many players might wear their own wrist bands to privately decode the play.
What ever way is more useful, we know that using wrist bands to decode play is much slower with today's tempo-offenses.  Coaches need to find a quicker way to discuss their offensive game plans. One that didn't include huddling up between plays. That is non-sense.
How the Card System came about
About a decade ago, then Oregon Ducks head coach Chip Kelly invented the spread no-huddle offense that we see being run by every team in all three-levels of college football today. It actually started earlier in high school.
The no-huddle is an offense that uses fast tempo and quick play calling without gathering to huddle. In order to kick his offense into even higher gear, Kelly created a new form of play dialogue, one by having assistant coaches hold up signs on the sideline.
The signs typically have patterns of words, symbols, and pictures on them. From the Crying Jordan meme, to well-known video games stars; (Mario Bros) or Hollywood personalities (Britney Spears), (Sylvester Stallone), etc.  To fans and opposing squads, the cards have a foreign meaning to them.
In spite of what fans think, players have been instructed to relate each image with a specific call, which involves high brain power.
Even so, when installed accurately, play call signs immensely make communication time faster, hence permitting coaches to read and react to defenses in actual-seconds.
Fans have tried to learn how to embrace reading and decoding sign symbols whenever they show up on tv. It's actually kind of fun to try to figure out the teams next call.
Let's take a look at the "Top 10 Play Cards over the Years" (in no particular order)
1. Penn State (2015)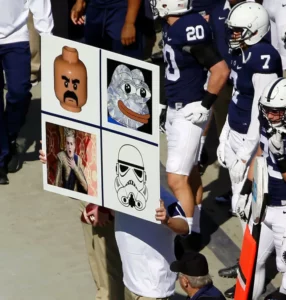 2. SMU (2015)
3. Tennessee (2013)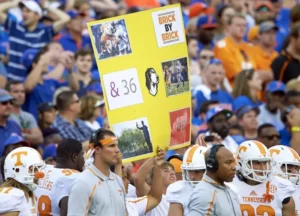 4. Kansas (2011)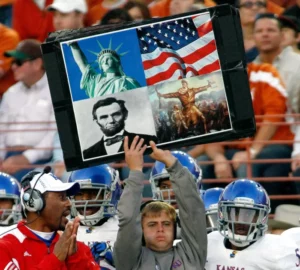 5. Jacksonville State (2011)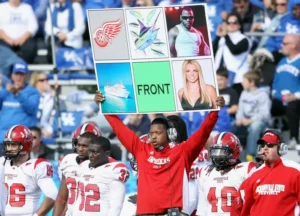 6. North Texas (2011)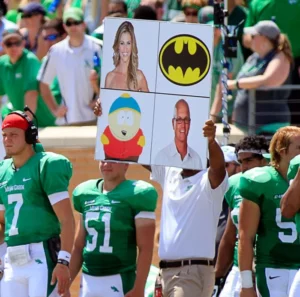 7. UCLA (2011)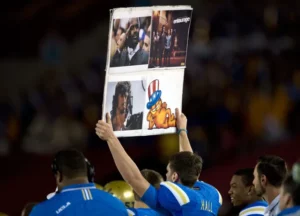 8. Auburn (2011)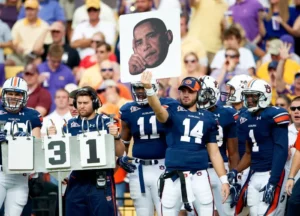 9. Oklahoma State (2014)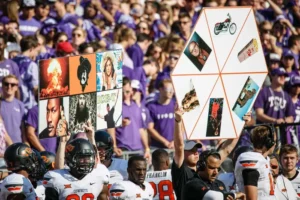 10. Clemson (2019)
Let me know what your favorite one is?
For another great College football story, please check out:
https://gridironheroics.com/notre-dame-beats-south-carolina-in-gator-bowl/
For more College football and Twitter Content, please check out:
For More Great Football Content
Follow us on Twitter at @GridironHeroics for more great content. We appreciate you taking time to read our articles. To interact more with our community and keep up to date on the latest in Football news, JOIN OUR FREE FACEBOOK GROUP by CLICKING HERE
Checkout our latest podcast!
[powerpress_playlist limit=1]