The Tennessee Titans announced today that QB Will Levis will be the starting quarterback going forward. Veteran QB Ryan Tannehill started this season but has been out with an ankle injury since Week 6. At 35 years old, one has to wonder where Tannehill goes from here. Let's look back at his career and what options he has left.
Ryan Tannehill's Career
Tannehill was originally drafted in the first round by the Miami Dolphins in the 2012 NFL Draft. He was originally overlooked, considering that the draft produced quarterbacks such as Andrew Luck, Russell Wilson, and even Robert Griffin III. During his Dolphins tenure, there was even debate as to if he was a bust.
He spent seven years with the Dolphins but missed the entire 2017 season due to a torn ACL during training camp. Tannehill averaged about 12.5 interceptions per season in his first six active seasons. He also did not have 3,000 passing yards in 2016 or 2018.
Because of this, the Dolphins gave up on Tannehill and chose to go in a different direction. That led to Tannehill landing with the Tennessee Titans for the next chapter of his career. This transition arguably saved Tannehill's career.
Marcus Mariota was the starting quarterback for the Tennessee Titans when Tannehill arrived on the scene. However, it was his fifth year with the team, and Tennessee was facing a difficult decision as to if they were going to move forward with Mariota. Tannehill gave them the insurance needed for that position.
He ended up starting 10 games that season and retained the starting job. Tannehill even led the Tennessee Titans to an AFC Championship appearance as a surprising wild-card team during his first season in 2019. They would fall to the eventual Super Bowl champion Kansas City Chiefs.
The 2020 season was arguably the best of Tannehill's career. The Tennessee Titans went 11-5. Tannehill had 3,819 passing yards, 33 touchdown passes, and just seven interceptions.
However, his 2023 season has been disappointing. Tannehill has just two touchdown passes and six interceptions through six games. His ankle injury opened the door for Levis to step in. Just like Tannehill in 2019, Levis is not going to give up that position.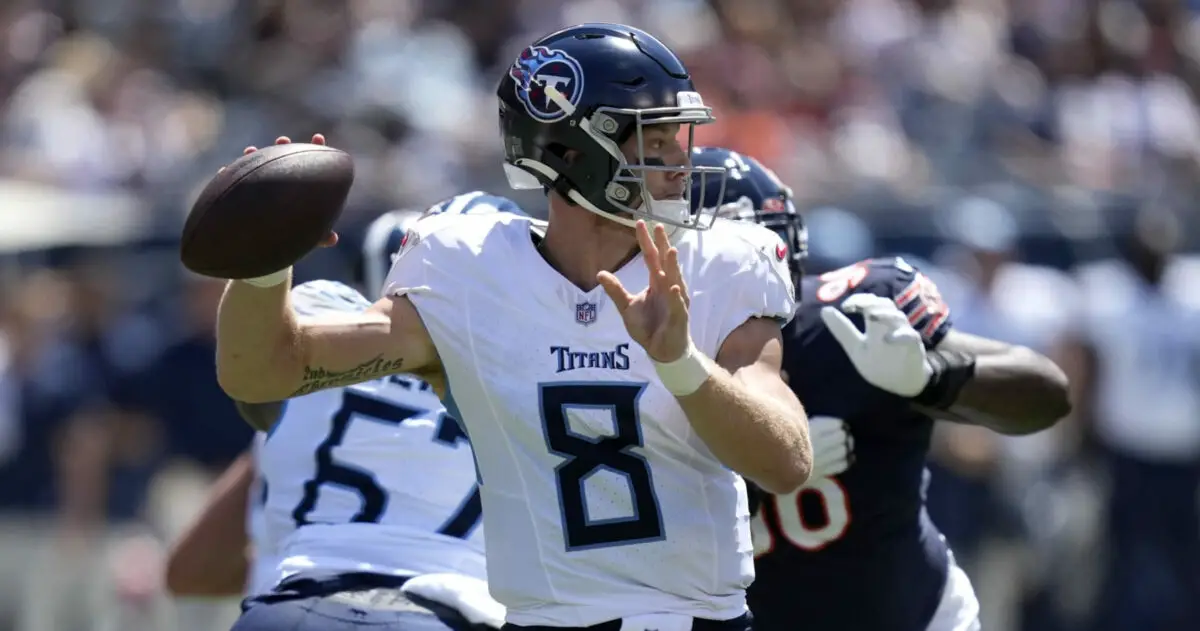 Where Does Tannehill Go From Here?
Tannehill is a free agent after the 2023 season. At 35 years old, it is reasonable to question just how much time he has left in the NFL. Does he have options around the league?
Part of this will depend on how well he recovers from this ankle injury. He may need to show other teams that he is still mobile once he has fully recovered from this injury. If not, that alone could end his career.
Assuming he is healthy enough, there are likely going to be teams looking for a veteran quarterback. Will Green Bay have an opening, given the current status of Jordan Love? How about the Atlanta Falcons, who are currently dealing with their own quarterback controversy?
Stranger things have happened in the NFL. However, unless there is a sudden injury, Tannehill may have to be reduced to a backup role next season. If that is the case, he could end up choosing to walk away entirely. Tannehill has played in the NFL for 12 years. So, if this is the last time he puts on a uniform, he can certainly hold his head up high.
Get More Tennessee Titans Content
For more breaking news and trends around the NFL, click here or follow me on Twitter @JohnGalletley. If you want sports betting or fantasy sports advice, check out our Fantasy Sports Heroics podcast.