Recap-Chiefs Atrocious Play vs. Lions in 21-20 Loss
Well, well, well, it looks like Travis Kelce is much more important to the Chiefs than fans and analysts thought, or are the Detroit Lions just going to be that good this season? On Thursday Night Football, in the recap season opener, the Lions took down the reigning Super Bowl Champion Kansas City Chiefs in a tight battle until the end, with a final score of 21-20.
It was very obvious from the get-go that the Chiefs' offense would struggle without star tight end Travis Kelce in this game, struggling to move the ball downfield, and some key drops by wide receivers. On the other side, the Detroit Lions proved that they have a team that can compete with the best of the best on offense and defense. Here is a look into both teams' analysis in the first game of the NFL season.
Kansas City Chiefs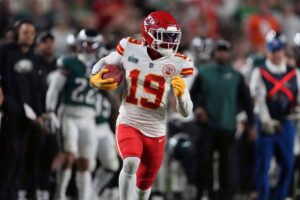 The Chiefs' offense struggled to create big plays to run up the score on the Lions, which proved to be the downfall in their loss. Quarterback Patrick Mahomes went 21/39 on pass attempts, going for 226 yards, two touchdowns, and a pick-six. It was clear early on that Mahomes didn't have great connections with his receivers, with many balls thrown inaccurately, and receivers with wide-open plays not able to catch the football like Kadarius Toney.
The defense for the Chiefs, however, put up a good fight, limiting the damage by the Detroit offense, holding Lions quarterback Jared Goff to 253 yards and one touchdown. This was short-lived, however, as the defense could not get passed the brick wall of the Lions' offensive line towards the end of the game, which ultimately lost the Chiefs their home opener.
Detroit Lions
WOW! What a performance by the Lions! They have set the tone for how they want their season to go in 2023. The offense got in its' grove later in the game, which led them to be able to run out the clock. The rushing attack led by David Montgomery looks like it can be a problem for opposing teams, and the offensive line looks immaculate, allowing just one sack the entire game.
The shocker in this one for Detroit was how well their defense competed with the high-powered Chiefs' offense, especially with cornerback Brian Branch getting a pick-six off of Mahomes, which was a huge turning point in momentum. The defense for the Lions did a great job of holding Kansas City to field goals, only allowing the Chiefs to score two touchdowns the entire game.
It is imminent that the Chiefs offense will struggle without Travis Kelce, and the defense still needs to come up big in crucial moments. For the Lions, they start the season 1-0 as they shock the NFL world and prove that they are going to be a force to be reckoned with.