College Football Playoff Rankings Week 14
Official Rankings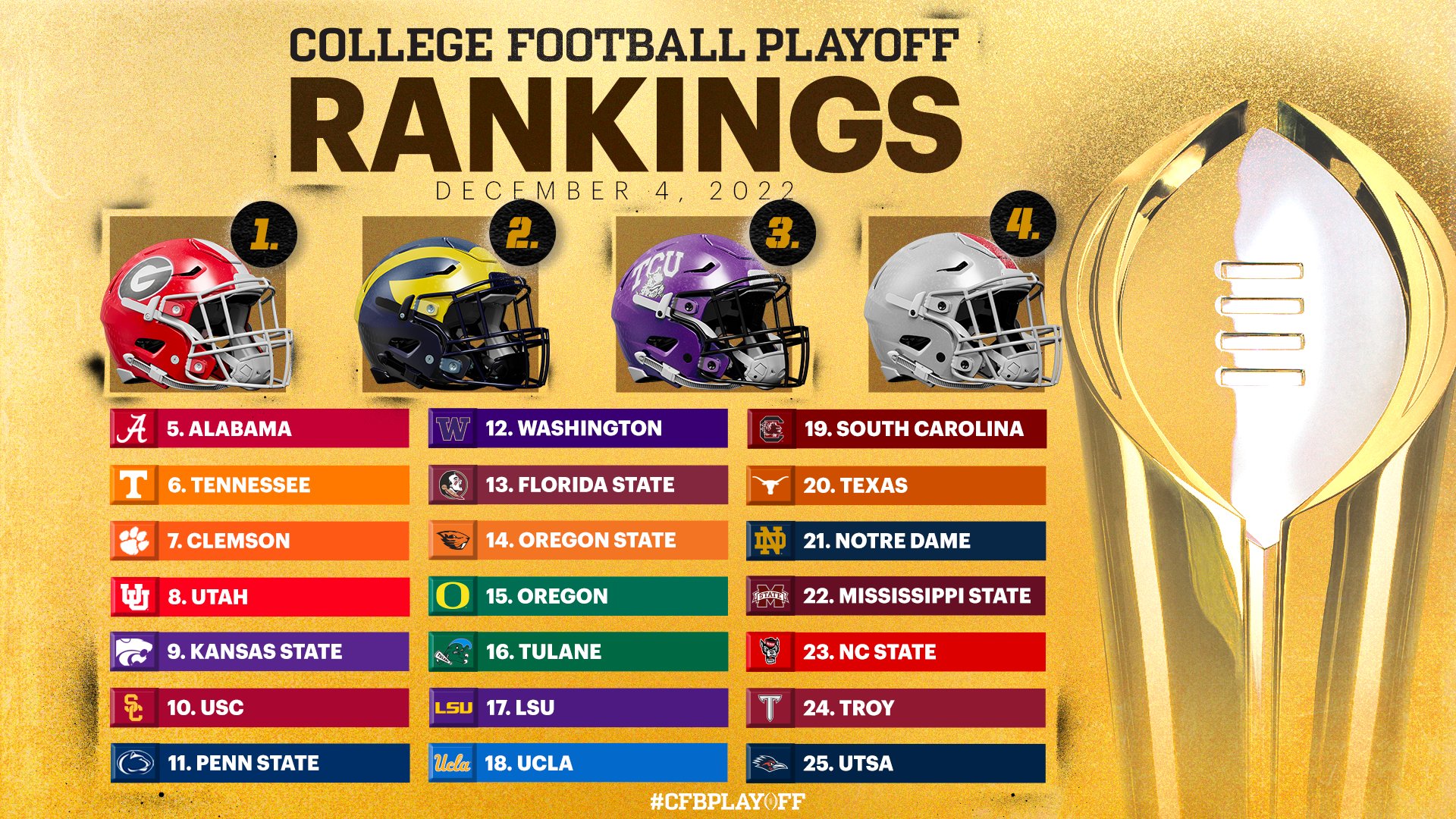 My College Football Playoff Rankings Week 14
My Top 25 and the Committee's Top 25
1) Georgia (13-0) CFP Committee has Georgia at 1)

I don't think there was any doubt that Georgia is the #1 team in the country but whatever slight doubts may have existed after Michigan's win over Ohio State, the Bulldogs erased them as they drubbed LSU 50-30. If Stetson Bennett had played as well all year as he did against Tennessee and LSU he'd be adding a Heisman to Georgia's trophy case. The Dawgs are the heavy favorites to win the national title and repeat as champions.
2) Michigan (13-0) CFP Committee has Michigan at 2)

It's amazing to me how similar Georgia and Michigan are to each other both last year and this year. They run the ball. They play tough defense. And they rely on their quarterback to make big plays when needed. The difference is J.J. McCarthy and Michigan are better at that this year than last. The smart money is on a 2021 Orange Bowl rematch in Los Angeles to decide the title this year.
3) TCU (12-1) CFP Committee also has TCU at 3)

TCU should stay right where they are even after a heartbreaking loss to Kansas State. Unlike USC they split with the toughest team on their schedule 1-1 and since the only two teams with better records are ranked ahead of them, the Horned Frogs should stay right where they are. They are tough and will play anybody for a full 60 minutes behind their tough leader Max Duggan.
4) Ohio State CFP (11-1) Committee has Ohio State at 4)

The Buckeyes deserve to be in a #4. None of the other teams vying for that spot have as good of a resume for it as the Buckeyes do. The only other team to get 11 wins in 12 tries is USC and they lost twice to the same team. 11-1 is better than 11-2 and better than 10-2. That being said (and I hope I'm wrong because I'm a shameless Buckeye fan) I think their second non-conference champion playoff appearance this year will look like their first one in 2016.
5) Clemson (11-2) CFP Committee has Clemson at 7)

11-2 and a conference championship is no easy feat. For me, the reason they don't get in is their two losses to Ohio State's one, and one of those losses was to a team the Buckeyes beat. Still, Clemson is the ACC Champion and is in the Orange Bowl against Tennessee. Not bad at all.
6) Penn State (10-2) CFP Committee has Penn State at 11)

The Nittany Lions are Rose Bowl bound and in a matchup that looks to be a defensive struggle, unlike the shootout Utah was in last year in Pasadena. This team wishes it were 2024 because they would be very dangerous in a 12-team playoff. Rolling into Beaver Stadium, in December in Pennsylvania, against that defense is something no team would look forward to. A Rose Bowl against two-time defending Pac-12 Champions, Utah for their first victory in the Grand Daddy of Them All in 28 years would be a great year for Penn State.
7) Tennessee (10-2) CFP Committee has Tennessee at 6)

As good as Penn State is defensively and you'd want to avoid them in a 12-team playoff this year the same is true of Tennessee on offense. The Vols are an offensive juggernaut even with Joe Milton instead of Hendon Hooker. I had thought they'd go to the Sugar Bowl, but the Orange Bowl against Clemson is just as good. Also, it's absolutely ridiculous for the CFP Committee to have Alabama ranked ahead of a Tennessee team with the same record who beat them on the field.
8) Washington (10-2) CFP Committee has Washington at 12)

My heart breaks for the Washington Huskies as they are likely out of the New Year's Six Bowls with Utah getting the Pac-12's automatic berth. Conference runner-up, USC is likely to take a spot in the Cotton Bowl against the Group of 5 Champion the Tulane Green Wave, and rightly so with an 11-2 record. The Huskies will get a shot at an 11th win when they play 8-4 Texas on the road in the Alamo Bowl.
9) Alabama (10-2) CFP Committee has Alabama at 5)

The LSU loss just kept on hurting the Crimson Tide. Losing to a team that lost four games is a rare thing for Alabama and it hurt them in their hopes to get an at-large playoff spot. I thought the Tide were going to Miami to battle Clemson again but New Orleans against Kansas State might be the tougher match-up just because it's the first time they've ever played each other.
10) Tulane (11-2) CFP Committee has Tulane at 16)

Tulane was 4-1 against teams that will be playing in the Big 12 next season which earned them the right to go to a bowl game in the backyard of the Big 12 as they will play in the Cotton Bowl. With UCF, UC, and Houston gone next year, Tulane could be the next perennial Group of Five party crasher with Willie Fritz at the helm. They will get a quality opponent in the USC Trojans and yet another opportunity to prove themselves.
11) UTSA (11-2) CFP Committee has UTSA at 25)

It's tough ranking UTSA and Troy when they have a better record than like K-State and Utah. Kansas State and Utah are likely playing better ball and are better teams right now but respect must be given to the Roadrunners and Trojans for 11 wins before a bowl game and a conference championship. The Roadrunners and Trojans have won 10 straight games and I give them their due by having them in the top 12.
12) Troy (11-2) CFP Committee has Troy at 24)

Only eight teams end the 2022 season with 11 wins or more. Now two of them will play each other in a bowl game. I didn't have it circled on my calendar that I'd be watching the Cure Bowl this year, but with two 11-2 teams playing, I will be. The winner will likely be a top 10 team of the 2022 season.
13) Kansas State (10-3) CFP Committee has Kansas State at 9)
The Wildcats are Big 12 Champions with a trip to the Sugar Bowl coming up and a chance to get to 11-3. They are a young team that will compete again for the Big 12 next year only they'll have their sights set on something higher. Kansas State and Alabama will be a fantastic game in the Sugar Bowl and the Wildcats will have a chance to finish as a top-10 team.
14) Utah (10-3) CFP Committee has Utah at 8)

I'm a BYU fan almost as much as I am a Buckeye so know that I do not say this lightly, but Utah is a legit and good football team. Cam Rising is a great quarterback and he and Caleb Williams will duel again in 2023 and it will likely be for a trip to New York City as a Heisman finalist. Penn State in the Rose Bowl will have a tall task to stop them, even with their great defense.
15) USC (11-2) CFP Committee has USC at 10)

I had a hard time ranking a team with 11 wins this low but I couldn't put the Trojans ahead of the Utes. Not after two losses to them. Not this year. Lincoln Riley and Caleb Williams are likely to return to Northern Texas in the Cotton Bowl with a chance to go to 12-2. Though it's not how they wanted it to be just a few days ago things are trending in the right direction in Los Angeles for the men of Troy.
16) South Alabama (10-2) CFP Committee has South Alabama Unranked

I'm one of the people who rank teams by how deserving they are and with full knowledge and willingness for them to move up and down until the end of the season. USC could be a top ten team before it's over despite being at 15th and South Alabama could be a top 15 team with 11 wins. Something tells me that the Sun Belt will show out well in their bowls. And the Jaguars will have a chance to do so against the Western Kentucky Hilltoppers from Conference USA in the New Orleans Bowl.
17) Florida State (9-3) CFP Committee has Florida State at 13)
It's interesting to see so many programs resurgent this season. The only teams who are hotter on their return to prominence this season are Tennessee and Washington. The Seminoles aren't too far behind. Mike Norvell and FSU will look to challenge Clemson as the ACC joins the Pac-12 in doing away with divisions. The 'Noles will get Oklahoma in the Cheez-It Bowl in Orlando to close out their resurgent year.
18) UCLA (9-3) CFP Committee has UCLA at 18)

The Bruins are finally getting to where they want to be under Chip Kelly and that's winning at least 10 games a year they now have a good chance to do that as they take on Pittsburgh in the Sun Bowl.
19) Oregon State (9-3) CFP Committee has Oregon State at 14)
One of the Pac-12's many surprise teams the Beavers have a chance to had to a historic season when they take on the Florida Gators in the Las Vegas Bowl. 10 wins, a win in a bowl, and a win over their rival the Oregon Ducks would be quite the feat for a team that four years ago was 2-10.
20) Oregon (9-3) CFP Committee has Oregon at 15)

The Ducks are headed to the Holiday Bowl where they will play the North Carolina Tar Heels. Dan Lanning will look to get win number 10 in year number one as the head coach for the Ducks.
21) Fresno State (9-4) Committee has Fresno State Unranked.

The Mountain West Champions will get their chance at 10 wins in Los Angeles where they play the Pac-12's Washington State in the LA Bowl. Jeff Tedford is a California coach through and through and is keeping the wins coming at Fresno State.
22) Texas (8-4) CFP Committee has Texas at 20)
The Longhorns are fortunate to be playing just down the road in San Antonio but they get a Washington Huskies team that was a USC win away from a New Year's Six Bowl. If the Huskies come out mad, they'll give the Horns a good ball game. If they come out not wanting to be there, Texas will get their ninth win of the season.
23) Air Force (9-3) Committee has Air Force Unranked
The Falcons will get the Baylor Bears in the Armed Forces Bowl. I love Brad Roberts for Air Force, the last of the fullbacks. With the Falcons' triple-option and the Bears', the hard-nosed team Dave Aranda has built them into, this looks to be a slugfest. It will be a fun one too if you love old-school, hard-hitting football.
24) Illinois (8-4) Committee has Illinois Unranked
Illinois will take on Mississippi State in the ReliaQuest Bowl. In the game formerly known as the Outback Bowl, Bret Bielema will get another matchup with an old SEC West foe the Mississippi State Bulldogs. Not only do these teams clash in how they like to move the ball offensively but they have some unique characters as coaches. Both programs exceeded expectations ,this year and will look to finish strong.
25) North Carolina (9-4) Committee has North Carolina Unranked
In a battle of sensational quarterbacks Oregon's Bo Nix will take on UNC's Drake Maye in the Holiday Bowl. This will be the first Holiday Bowl in three years and the matchup between two nine-win teams will be a great one for both teams.
Teams I have ranked that the CFP Committee does not:
16) South Alabama (10-2)
21) Fresno State (9-4)
23) Air Force (9-3)
24 Illinois (8-4)
25 North Carolina (9-4)
Teams the CFP Committee has ranked that I do not:
17) LSU (9-4)
The Tigers will have a shot at double-digit wins as the SEC Runner-up takes on 8-5 Purdue, the Big Ten runner-up in the Citrus Bowl.
19) South Carolina (8-4)
The Gamecocks will take on Notre Dame in the Gator Bowl in a matchup of teams who finished their seasons stronger than they started.
21) Notre Dame (8-4)
Two of the game's young rising head coaches will go head-to-head in the Gator Bowl with Marcus Freeman and Shane Beamer.
22) Mississippi State (8-4)
The Bulldogs will take on Illinois in the ReliaQuest (formerly known as the Outback) Bowl. It will be an of clashing styles as the Bulldogs love to throw and the Illini love to run.
23) NC State (8-4)
The Wolfpack will play the Big Ten's Maryland Terrapins in the Duke's Mayo Bowl.
New Year's Six Bowls
Peach Bowl (Semi-Final) Georgia vs. Ohio State


Ohio State is in, but I'm not so sure they're going to like the result. They've been talking about all the things they're going to do differently after their loss in The Game, but I heard the same stuff after last year's loss in The Game before their shootout against a depleted Utah defense in the Rose Bowl. Georgia has played to their competition this year, both up and down. Whether that was letting Kent State hang around or stuffing a high-powered Tennessee, the Bulldogs have shown up in the big games and will when they play in the Peach Bowl and in the Peach State for the ninth time in 2022.
Fiesta Bowl (Semi-Final) Michigan vs. TCU


TCU may not be Big 12 Champions but they will be in the College Football Playoff. That's where the good news ends as they will play a Michigan team that is on fire and looking for a shot at Georgia. Kansas State plays a similar style of football as Michigan. This is both good and bad. Bad in that only Georgia does it better than Michigan. Good in the fact that TCU has seen this style and traded broadsides with it and will have a puncher's chance.
Cotton Bowl – USC vs. Tulane


This should be a good game between two teams with high-powered offenses. The Trojans should play sharp and eager to get Utah behind them and start 2023 off with a win. If they don't see this game as a springboard for 2023 for their national title and Caleb Williams' Heisman hopes they'll get beat by a very good Tulane team that is eager to keep proving themselves, especially in Big 12 country where they feel they should've been invited to.
Rose Bowl – Utah vs. Penn State


If it's anything like last year for Utah, they'll be in another classic. Having been there just a year ago will give them extra help in focusing on their game plan. Both of these teams will be eager to prove themselves and set themselves up for some big-time runs in 2023. With the Utes aiming for a third straight Pac-12 title and a playoff bid and the Nittany Lions eager to beat Ohio State and Michigan and get back to Indianapolis for a Big Ten title run.
Orange Bowl – Clemson vs. Tennessee


I initially thought this would be another round of Clemson vs. Alabama, Swinney vs. Saban, in Miami but this will be better. It will be another matchup between teams who had a good season but will be aiming higher next year and want to get started sooner than later. Joe Milton and Josh Heupel will want to show Tennessee can do it without Hendon Hooker and Dabo Swinney will want to show he is still a power to be dealt with outside of the ACC.
Sugar Bowl – Alabama vs. Kansas State

I had thought this would be Tennessee vs. Kansas State but the Wildcats getting the Tide in New Orleans is an even bigger opportunity for them and more of a trap for Alabama. The Tide have often struggled in the Sugar Bowl of late, losing three of their last four and both games where they had fallen out of national title contention. Kansas State is no easy foe either. Expect a good game in New Orleans.
Championship Game in L.A. – Georgia over Michigan


There is no doubt that these two teams are the best in the nation in the past two seasons. They've simply gotten it done on the field. They'll meet for the second time in as many years and on the national stage but this time it will be at the national championship and not just for a trip there. These are two very similar teams, in their identities and how they play the game. It'll be strength against strength and it may take you back 40 years. I think it'll be closer than the Orange Bowl last season, but the result will be the same with the Bulldogs winning back-to-back championships.
College Football Playoff Rankings (Nov. 1)
College Football Playoff Rankings (Nov. 8)
College Football Playoff Rankings (Nov. 15)
College Football Playoff Rankings (Nov. 22)
College Football Playoff Rankings (Nov. 29)
For More Great Football Content
Follow us on Twitter at @GridironHeroics for more great content. We appreciate you taking time to read our articles. To interact more with our community and keep up to date on the latest in Football news, JOIN OUR FREE FACEBOOK GROUP by CLICKING HERE
Checkout our latest podcast!
[powerpress_playlist limit=1]