It has been a long time coming, but the Houston Texans have finally made a decision on their QB1 for 2023. It was somewhat of a tight race between rookie sensation C.J. Stroud and incoming third-year quarterback Davis Mills, but in the end, you just had a hunch that the Texans used their No. 2 overall pick on Stroud for a reason.
DeMeco Ryans Officially Names C.J. Stroud as Texans' QB1
The Texans closed out their preseason campaign with a 17-13 win over the New Orleans Saints on Sunday. After the win, head coach DeMeco Ryans confirmed that C.J. Stroud will be the team's starting quarterback when they take on the Baltimore Ravens in Week 1 of the new season:
"C.J. will be our Week 1 starter in Baltimore," Ryans said. "… It's been, over the course of the entire process, the OTAs, training camp, preseason games, seeing the complete product and knowing C.J.'s desire to continue to get better. We know we're not where we need to be as a team overall. We all have to continue to get better, and it's just having a mindset to do that. C.J., along with all our other guys, know that we have to get better in that regard."
Following the preseason finale, #Texans HC DeMeco Ryans says CJ Stroud is QB1, will start opener at Ravens. This was very obvious based on the last month – he started all preseason games & played/practiced with the 1s basically since the pads went on weeks ago. Now it's official. pic.twitter.com/pGxDZt3K6H

— Adam Wexler (@AdamJWexler) August 28, 2023
The Texans also made the announcement official via their Twitter account:
CJ7. QB1. pic.twitter.com/K60OmHOFQT

— Houston Texans (@HoustonTexans) August 28, 2023
C.J. Stroud Reacts to Texans' QB1 Decision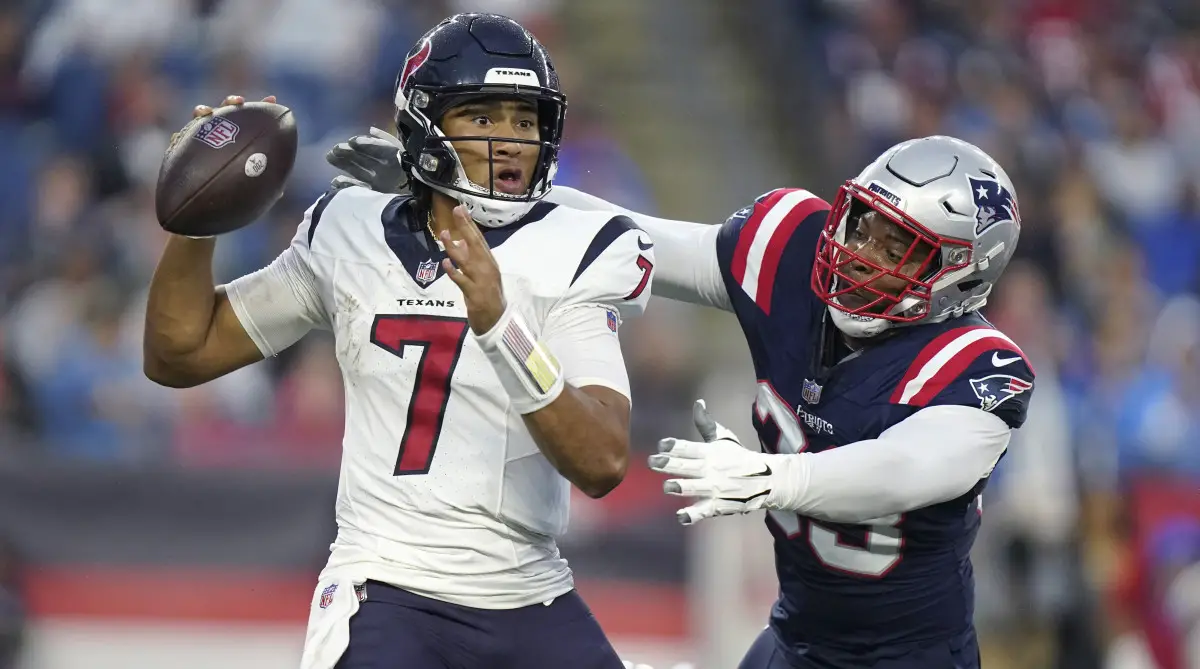 Some folks will argue that Ryans' decision came as a bit of a formality considering how the QB1 job was Stroud's to lose in the first place. Nevertheless, the former Ohio State standout still had to work his butt off throughout the offseason to make sure that he was going to get the nod to start in Week 1.
After the announcement, Stroud was asked to share his thoughts on being the Texans' official starting quarterback, and the 21-year-old gave the perfect response:
"It's a blessing to play this game, especially in the league, man," Stroud said. "Playing in the (Mercedes-Benz) Superdome, definitely was a blessing to be out there.

"It's the same thing — gotta keep working. It was definitely a blessing, something that I think I worked for and definitely earned. At the same time, nothing else really changes. I'm still gonna work the like the way I'm working, even more now. It's a blessing to be able to be a starter at so young in this league. It's not the easiest thing to do but I know my coach has trust and faith in me."
#Texans QB1 C.J. Stroud @CJ7STROUD on being named starter @KPRC2 pic.twitter.com/XOFwgUFUa4

— Aaron Wilson (@AaronWilson_NFL) August 28, 2023
C.J. Stroud clearly isn't taking anything for granted and he knows that he will need to work even harder to keep the QB1 job in Houston. Davis Mills will be breathing down his neck all season long, and it goes without saying that there's going to be a lot of pressure on Stroud from the get-go.
Our Partners
Mayfield Sports Marketing
Call Mayfield Sports Marketing at 262-366-8188 to schedule Green Bay Packers players or alumni for your corporate appearance or product promotion.  Our booking agents will work on your behalf to get you the best price for your desired sports speaker.
Mayfield Sports Marketing has earned a reputation of being the one to call for booking top athletes to speak at events and trade shows. To learn more about Packers players or alumni appearance cost and booking fee, please call us today. www.MayfieldSports.com.
Radtke Sports
Wisconsin Sports Heroics is proud partner with Radtke Sports to offer autographed memorabilia. Brett Favre, Rob Gronkowski, Giannis Antetokounmpo, and MORE Guaranteed Authentic Collectibles and Memorabilia including signed jerseys, photos, and more at www.RadtkeSports.com USE promo code: WSH for FREE SHIPPING on your purchase. Some restrictions may apply.
For More Of My Content
Follow me on Twitter at @PaoloSongcoNBA. You may also reach out to me personally at pao.songco@gmail.com.