The Kansas Jayhawks were represented on day one at Big 12 Football Media Day this year. The Jayhawks sent offensive players such as quarterback Jalon Daniels and running back Devin Neal. Offensive tackle Earl Bostick Jr also attended. On the defensive side, there was safety Kenny Logan Jr., there for Kansas.
Can't wait for fall. #RockChalk pic.twitter.com/2TA4hEyrj3

— Kansas Football (@KU_Football) July 14, 2022
Head coach Lance Leipold had some interesting responses to a few questions at his media day session. Leipold will be in his second season at the helm for the Jayhawks who finished with a 2-10 record last season. One question for coach Leipold involved his QB Jalon Daniels and whether or not Leipold had a definite starter for the season.
Reporter: "Jalon Daniels is here and you didn't name a starting quarterback until right there at the end of last season. Are you ready to name him a starter and if so what does it mean to have a quarterback this early?"
Leipold's response to the above somehow answered the question and created a veil of mystery all at the same time. The second-year head coach simply stated that Jalon Daniels had done enough in his late season performances and during this off season to warrant a spot at Big 12 Football Media Day.
The head coach also made a joke about how still hasn't "officially" named Devin Neal the starting running back. "A year ago if i was sitting here in front of you I wouldn't know. Where we are with the quarterback position in 2022 in July versus last year is a night and day difference and I know we will be able to capitalize off of this."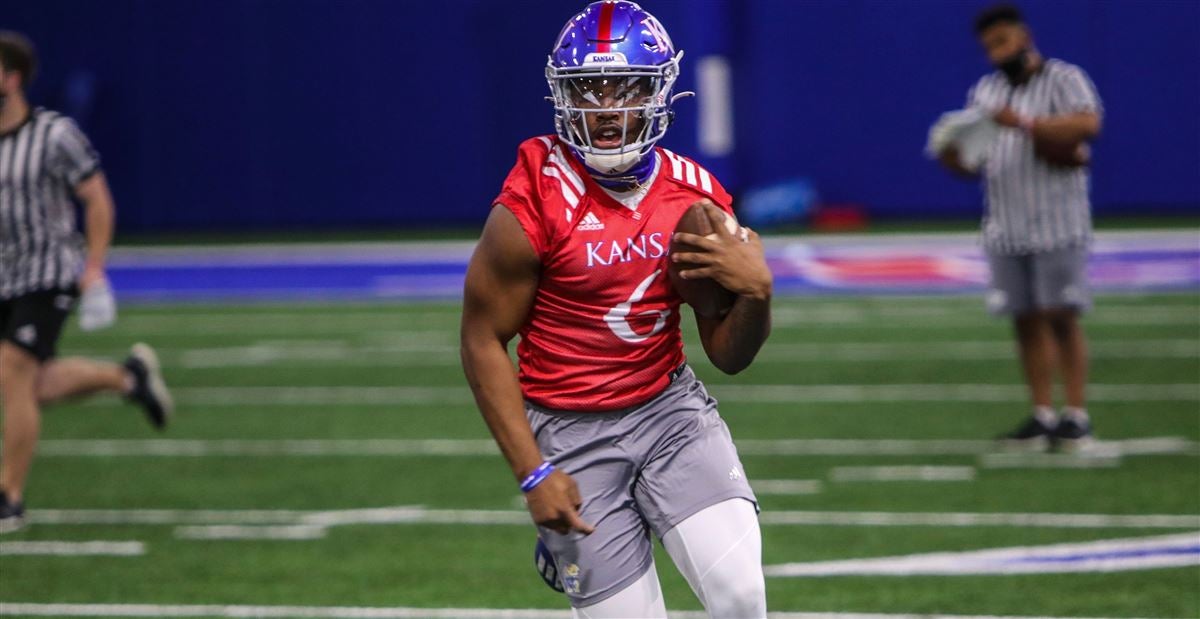 Kansas Jayhawks 2022 Quarterback Competition
What are the implications of Leipold's response for the Jayhawks? Well if you're Jalon Daniels you should feel pretty good about yourself. After all,  Daniels is the QB who helped stun the Texas Longhorns last year in a class CFB game. While he may not be the official starter yet, Daniels seems to be in the driver's seat. Daniels threw for 860 yards in 6 total games last season for the Jayhawks.
The other quarterback mentioned by Leipold in the same response was redshirt senior Jason Bean. Bean was the QB for the first nine games last season, throwing for 1252 yards and six touchdowns. Leipold told the reporter that the team also likes what they're seeing from Bean in the off season.
At the end of the day Jalon Daniels will most likely be the starter. The culture that Leipold is trying to instill in this Jayhawks program is one of competitiveness. The Jayhawks competed in a lot of games last year, and showed signs of excellent football. The ultimate solution for Leipold might be to continue a two-quarterback system, and to utilize the talents of both QBs for this upcoming season.
Check out more of my content here!
For More Great Football Content
Follow us on Twitter at @GridironHeroics for more great content. We appreciate you taking time to read our articles. To interact more with our community and keep up to date on the latest in Football news, JOIN OUR FREE FACEBOOK GROUP by CLICKING HERE
Checkout our latest podcast!
[powerpress_playlist limit=1]