When Los Angeles Rams running back Cam Akers was not activated for Week 2 yesterday, speculation about a trade happening began to come out. Even he was not exactly understanding the decision.
I'm just as confused as everybody else. I'm blessed though 🤷🏾‍♂️

— Cam akers (@thereal_cam3) September 17, 2023
However, he is in the final year of his rookie contract, and the Rams do not seem interested in keeping him long-term.  Akers is making less than $1.5 million this season before becoming a restricted free agent after the year, so this is a great time to get a talented rusher without paying too much.
Which teams should be on the phone with the Rams to get a deal through? Here are three teams that should be calling and making an offer.
Cam Akers to the Green Bay Packers?
The Green Bay Packers have Aaron Jones and AJ Dillon as their top two running backs, but there have been issues. Jones has dealt with a hamstring injury that kept him out of Week 2, and Dillon is nothing too special. With a winnable NFC North and a weakness in the backfield, they can add Akers.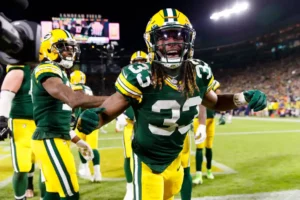 They can use the 2024 Jets second-round pick as well in this deal, but that seems like a steep asking price. When healthy, Aaron Jones and Cam Akers can be one of the top running back duos in the sport. This also helps out Jordan Love, another talented skill position player, to take some pressure off.
Miami Dolphins
Miami has a lot of offensive weapons offensively to help quarterback Tua Tagovailoa get going, and adding Cam Akers would help. After Sunday's game, the Dolphins have four rushing fumbles, and that is double any other team in the NFL. Akers is cautious with the football and provides a lot of experience in terms of being able to find holes.
The Dolphins have been in the market for adding a running back as they were in talks with Dalvin Cook before he signed with the Jets and in the Jonathan Taylor trade talks. This is a running back they do not need to miss out on as it's a cheap one-year deal that can get to more if the two sides like one another.
Baltimore Ravens
The Baltimore Ravens are in win-now mode with quarterback Lamar Jackson and an aging offense around him. They already have lost running back J.K. Dobbins to a torn Achilles tendon, so they need someone to get the bulk of the carries. Baltimore is averaging 144 rushing yards per game, and Akers would be a huge addition.
Akers, behind an experienced offensive line, could be very solid and give the Ravens a chance to audition him before he becomes a free agent after the season. This seems like a no-brainer and continues to give Baltimore more weapons to get going.