BYU Football Top 5 Juniors
The 2022 season has come to an end with this season being a roller coaster.  I am going to do four articles in January one for each class of the BYU football team this season. Top 5 players from this 2022 Juniors Class.
Jaren Hall QB
Jaren Hall 6'1 205lbs Quarterback. The leader of the team this season and also now has declared for the NFL draft. Hall was big for the Cougars and not just in the passing game but picked up some big first downs with his feet. Jaren Hall played in 12 games before exiting with an injury in the final game of the regular season. In those 12 games, he threw for 248 completions with 3,171 yards, six interceptions, and 31 touchdowns. He caught two passes for 28 yards and one touchdown. Hall also rushed for 348 yards and three touchdowns.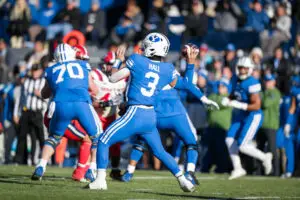 Puka Nacua WR
Puka Nacua 6'2 205lbs also a wide receiver number one and another leader of this BYU football offense. He had 48 receptions for 625 yards and five touchdowns. Nacua also rushed for 209 yards and five touchdowns. Nacua only played in nine games this season due to injuries from early in game one. With him leaving for the NFL someone else will have to pick up where he left off which won't be an easy task but there are some great younger wide receivers on the Cougar Football team.
Payton Wilgar LB
Payton Wilgar 6'3 235lbs linebacker. His final BYU Football season ended short due to an ankle injury. He played seven games where he lead the Cougars on and off the field. He was and stepped up to be a leader on the field when those big plays needed to be made. In those seven games, he had 30 tackles and one pass breakup.
Max Tooley LB
Max Tooley 6'2 215lbs linebacker. He played in seven games before leaving the Liberty game with an undisclosed injury. In those seven games he put up 57 tackles, two tackles for loss, one sack, three interceptions two which were returned for touchdowns, one quarterback hit and one pass breakup. Tooley was made a big difference when on the field for the Cougars and helped win some games with some big plays he made.
Brayden Cosper WR
Brayden Cosper 6'3 205lbs. He played in 12 games this season only missing the Liberty. Cosper had 30 receptions for 363 yards and one touchdown. He was another wide receiver to have a great season and step up when the starters went down. Before the season ended he announced that he was stepping away from BYU football after this season.
For More Great Football Content
Follow us on Twitter at @GridironHeroics for more great content. We appreciate you taking time to read our articles. To interact more with our community and keep up to date on the latest in Football news, JOIN OUR FREE FACEBOOK GROUP by CLICKING HERE
Checkout our latest podcast!
[powerpress_playlist limit=1]