That's right. It is Sunday/Monday, so it is time for the Big 12 power rankings to come out. Each week I tell you the best teams in every conference, The Big 10, ACC, PAC 12, SEC and the one on the title of this article. Now remember, these are power rankings, not who beat who a few weeks ago. This is taking everything that has happened and what I believe will happen. I am usually always right. You can check Units Only Go Up and Spiked College Football Show for references.
Big 12 Power Rankings: Title Contenders
#1 Kansas State
Yes, I know that in the standings they have two losses. One to TCU, but they lost by ten on the road with their third string QB. If Martinez or Howard stay healthy, they easily win that game. The second loss was early in the year to the best group of five team, Tulane. So I don't want to hear the bitching, "Oh, they have two losses." No one cares. This is the Big 12 power rankings; the teams that I believe are the best right now. Do I have to say more about K State? Howard balled out along with Vaughn, all while the Wildcat defenses shut down Spencer Sanders and gave Mike Gundy the worst loss of his career.
Johnny, how the hell do you have the Longhorns at number two in the Big 12 power rankings? I will reference again the first paragraph. Here is how they make the title game, Oklahoma State will lose another game because they are losers and that is just what they do. When that happens, all Texas has to do is win out, beating TCU along the way. Well, Johnny, that would leave TCU and K State. Yes, but we all know TCU is losing at least two more games, and with the head-to-head Texas moves on. They have the best weapon in Ewers, and he will play like a Heisman candidate the rest of the year.
#3 TCU
I guess I'll put the Fraud Frogs here at three. In the very rare case I am wrong, they still have a chance to win the Big 12 title. They still have that horseshoe right up their ass. This is not a good team; it is a lucky team. I pointed out last week, they can not beat a good team when they have their starting QB and that still is true. West Virginia is a bad team and they almost pulled off the upset this week. The final score did not tell the story of that game, that was back and forth all game long. Prove me wrong, Fraud Frogs.
#4 Oklahoma State
I guess mathematically speaking, the Pokes can still win the Big 12 title. That is the only reason they are this high on the Big 12 power rankings. Mike Gundy has not and will not ever win the biggest of games. He lost to TCU when they were up big a few weeks ago. He lost to Baylor last year to win the Big 12 Championship. He always loses Bedlam when OK State has something to play for. Then when they are a top 10 team in the country, they get embarrassed by a backup QB; the worst loss in Gundy's career. They will win a meaningless bowl game like they do every year.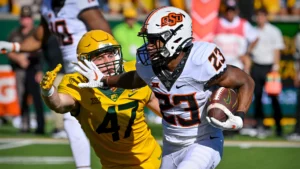 Big 12 Power Rankings: Bowl Teams
#5 Oklahoma
Everyone has been counting out the Sooners this year, especially after that embarrassing loss to Texas. I can't blame the national media on doing that, it has been a down year. They have won two straight since that loss, though, and Gabriel is healthy. The way their schedule is set up, they could be a nine win team. They will have to win Bedlam to do that. I believe that Venables and Gabriel will be able to keep this momentum and finish the season winning their final six games.
#6 Baylor
Baylor is exactly average. They lose to some teams they shouldn't, then beat teams they were underdogs to. They will make a bowl game, probably beat most teams of the same record in other conferences. They are the vanilla ice cream of the Big 12 Power Rankings. Not the best, but not the worst.
#7 Kansas
Again, just like last week, I have Kansas this high because I don't think they will be this high in the Big 12 power rankings for a while. They need one win in their last four to make a bowl. I am not going to lie, the only game they may have a decent shot in is in two weeks at Texas Tech. That is the reason I have them ahead of Tech for now. I think they win that game and go bowling. The down side to this great start of this year is that Leipold is probably going to get a big time offer and leave.
#8 Texas Tech
This might also be a hopeful ranking. Whoever wins the Kanas versus Texas Tech game is going bowling and the other one more than likely is not. They have two guaranteed losses versus TCU and Oklahoma to go. They will beat Iowa State, so that makes the Kansas game a must win to finish 6-6 and go bowling. It would top off a hell of a first year for Joey McGuire's team. A bowl appearance and beating Texas would be a great start to his tenure in Lubbock.
Big 12 Power Rankings: Bad Teams
#9 West Virginia
This is the almost team in the Big 12 power rankings. They almost beat Pitt, TCU, and Baylor. If QB JT Daniels comes back for his senior year and they can keep OC Graham Harrell, this team could be so dangerous. Next year. This year was definitely a learning year for the young wide receivers and the first year in this system for Daniels. An off season working with them and Harrell could make this team very interesting next year. As long as Neal Brown remembers how to coach again.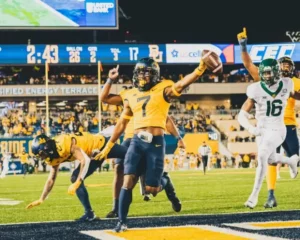 #10 Iowa State
Is Matt Campbell a good coach? They did beat their Big 10 rival in Iowa this year. But what else? Their offense is historically bad, but the defense is good. I don't know what direction this team's future is in, but the present is terrible. One of the worst power five teams in the country.
There you go, all my Big 12 readers. The Big 12 Power Rankings for week 10. I am sure my twitter will have some very happy people, and some people who can't handle the truth. Either way, thanks for reading. Because even when you disagree, I am always right. It is documented!
For More Great Football Content
Follow us on Twitter at @GridironHeroics for more great content. We appreciate you taking time to read our articles. To interact more with our community and keep up to date on the latest in Football news, JOIN OUR FREE FACEBOOK GROUP by CLICKING HERE
Checkout our latest podcast!
[powerpress_playlist limit=1]