Boom, it is Sunday. That means it is time for the ACC power rankings! I am not as enthusiastic as that exclamation mark might presume. This conference sure as hell is not on the same level as the SEC, PAC 12 or Big 12. Definitely on the same playing field as the Big 10 Who is worse? Just so many average teams. It makes this not as fun, but we do it because ranking things in college football is what we do!
ACC Power Rankings: Playoff Contenders
This is obviously the best team in this conference. The undefeated Clemson Tigers have not been getting a whole lot of respect from the national media this year. Yes, DJ was benched versus Syracuse and did not look good. Besides that, the rest of the year he has played pretty damn great. I think there is still a national bias towards DJ and Clemson from last year. They have played a good schedule. Not great, but definitely more difficult than Michigan and Ohio State. Those teams' only good win was the same team in Penn State in which Wake Forest, Florida State and Syracuse would all beat. I trust Dabo to get them to the playoff and surprise someone.
ACC Power Rankings: Good Teams
#2 North Carolina
I am no longer betting against this Tar Heel team on Units Only Go Up or on the Spiked College Football Show. I have learned my lesson, and that is why they are number two in the ACC power rankings this week. The one team I have just been totally wrong on gambling wise. Their offense just always makes up for how terrible their defense really is. Drake Maye is a household name now in the college football world, and will be a future Heisman trophy winner. Can they beat Clemson? And if they do, would they get a real look at the playoff?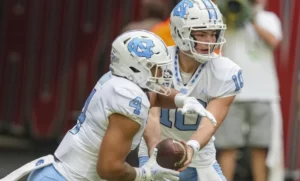 Yes, what happened to Sam Hartman and the Demon Deacons offense was very embarrassing. Shit happens; and in football when it rains it pours. That was a complete outlier with this powerful Wake team. Louisville brought it and all credit to them. This won't happen again to this team, and I think they play with an edge the rest of the way. I still think they are the third best team in the ACC and nobody will want to play them in a bowl game. Next year this team will win the conference and Sam Hartman will be a Heisman contender the entire year.
ACC Power Rankings: Bi Polar Teams
I don't think this is a good team this year. I think they are way too young. I love Oronde Gadsden, Sean Tucker and either QB in Shrader or Del Rio. They just don't have the veteran presence or size to beat real good teams. They get run down later in games, and we saw that versus Clemson and Notre Dame. They can beat most of these teams in the ACC that play finesse, but when it comes to big boy football, next year. I may sound like a hater, sometimes I am; but with the Orange I am just giving it to you straight. This year bowl game, next year maybe contending for the ACC title.
#5 Louisville
This week Louisville is at five in the power rankings. They are here strictly from what they did to what I believe is a great team in Wake. This team can rise up and beat anyone when Malik Cunningham is great, and then they can lose to Boston College and UCF. They are the definition of a Bipolar football team, and I expect them to drop in next week's power rankings; although this is their fourth straight conference win. So, who knows?
#6 Florida State
I think I have them this low in the ACC power rankings because I want to see more. I know they are a good team; I just want more consistency and a statement win. If you haven't seen the Jordan Travis to Johnny Wilson connection you are missing out, those two are dynamic. They are just beating the teams they should but do not have a good win yet. If the Noles win out, they will definitely be in the top four of the ACC power rankings at the end of the year.
#7 Duke
Duke is in this spot of the ACC power rankings because they are better than the teams below, but can not compete with the teams above. They are probably going bowling. They only need one more win. But then again, they could just be the same old Duke. Good thing for them is their basketball team is really good; top ten.
ACC Power Rankings: Good Players, Bad Coaches
#8 Pitt
Pat Narduzzi is infuriating to watch on the offensive side of the ball. His game plan, even when losing by more than 7 late into games, is first down run, second down run, third and long pass. You can not win in college playing football like this. Shit, you can't win in the NFL most times like this. There is absolutely no innovation in the Panther's offense and it costs them games. Their defense is great, but is always on the field due to the offense's lack of efficiency.
#9 Miami
Josh Gattis is the worst offensive coordinator in college football. It is not the players, he is just inept at using talent. This falls on Cristobal as well. He allows this shit to go on. Gattis needs to go and Mario needs to get someone that doesn't run rpo right, rpo left, five wide every single set of downs. Use all those four and five stars. Stop playing offense like you are still in the Big 10.
ACC Power Rankings: THE REAL BAD
#11 The Tech School and Virginia Schools
Not wasting more than two sentences on these teams. They are very bad at college football.
ACC Power Rankings: Really
#14 Boston College
Did you really lose to Uconn? No further questions or comments.
Boys and girls. If there are girls, sup ladies? This took way too much of my time to discuss this conference. First five or so teams okay, but damn the bottom gets really scary. I just bash those teams on my twitter every Saturday, so they don't deserve my words here. Oh well, enjoy, you filthy animals.
For More Great Football Content
Follow us on Twitter at @GridironHeroics for more great content. We appreciate you taking time to read our articles. To interact more with our community and keep up to date on the latest in Football news, JOIN OUR FREE FACEBOOK GROUP by CLICKING HERE
Checkout our latest podcast!
[powerpress_playlist limit=1]