5 Surprising NFL Teams in 2023
As the NFL 2023 season is set to kick off this Thursday, fans and analysts around the globe are wondering who the best team in the NFL will be after this season. Most will predict the Kansas City Chiefs, Philadelphia Eagles, or Buffalo Bills, but there can be a few teams that can surprise the NFL world this season by coming out of nowhere and becoming a threat to everyone in the league. According to Bleacher Report, here are five NFL teams that can become sneaky good in 2023.
5. Carolina Panthers
Although the Carolina Panthers failed to reach the postseason in 2022, they started to look very promising in the last stretch of games, winning five out of their last eight games to finish 7-10 on the season.
With a young defense full of potential with players like Xavier Woods and Brian Burns and a new rookie quarterback with all the hype in the world at Bryce Young, the Panthers have the young talent and potential to make some noise in 2023. Carolina also has a very favorable schedule this season, with the fifth easiest slate of games in the entire league.
With the NFC South being one of if not the easiest division to play in this year, don't be surprised if Carolina makes a run for the playoffs, and possibly wins the NFC South division. Will Bryce Young be worth all the hype, or will they continue to search for an answer to success?
4. Denver Broncos
As much as a disappointment the Denver Broncos were last season, they cannot get any worse in 2023. New Head Coach Sean Payton will look to completely turn this team around and start making good things happen.
In 2022, the Broncos finished 21st in overall offense amongst the NFL, recording 325.1 yards per game, and only 16.9 points per game. However, the Broncos' defense was among the best last year, finishing seventh overall,  allowing 320.0 yards per game and only 21.1 points per game. The Broncos have the 11th toughest schedule in the league, so this year will definitely test their adversity.
If Sean Payton can get quarterback Russell Wilson back to his normal self and the offense starts to get hot, this can be a scary team to face in 2023. The question is, does Sean Payton still have that contagious fire in him to win games?
3. Cleveland Browns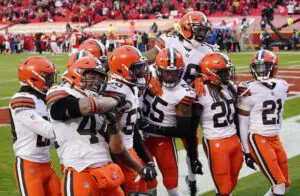 Although the Cleveland Browns did not make any notable moves in the offseason, they certainly have a well-rounded roster. The Browns have lots of talent on both sides of the ball that can really disrupt their opponents' game plans.
Cleveland, in last season's campaign, ranked 14th in total offense, amounting to 349.1 yards per game, and 21.2 points per game. They also ranked 14th in overall defense, allowing 331.2 yards per game, and 22.4 points a game. Going into this season, Cleveland will have the 19th easiest schedule, which plays in their favor.
With stars like Deshaun Watson, Nick Chubb, and Amari Cooper on offense, and playmakers like Myles Garrett and Denzel Ward, the Browns most certainly can make a playoff push in 2023. One question for Cleveland remains: can Deshaun Watson get back to his normal form?
2. Detroit Lions
Now, this is a team fans and analysts alike are very excited about. The Detroit Lions put the league on notice with the way they competed with the top teams last season, falling just short of a playoff berth.
In 2022, the Lions ranked fourth overall in total offense, racking up 380.0 yards per game to go along with 26.6 points per game. Where Detroit's struggle lies has nothing to do with the offense, but everything with the defense. The Lions defensively were ranked dead last in the NFL, allowing 392.4 yards a game, along with 25.1 points per game. Although the Lions need to fix their defense, they showed some promise in creating turnovers, with a 7+ turnover differential, ranking fourth in the league. Detroit has been handed the 18th easiest schedule for 2023, which should be favorable for them.
With stars like Aiden Hutchinson on the defensive side of the ball and progressive quarterback Jared Goff, along with the best offensive line in the league, The Lions are poised to breakout in 2023, as long as they can stay consistent.
1. Pittsburgh Steelers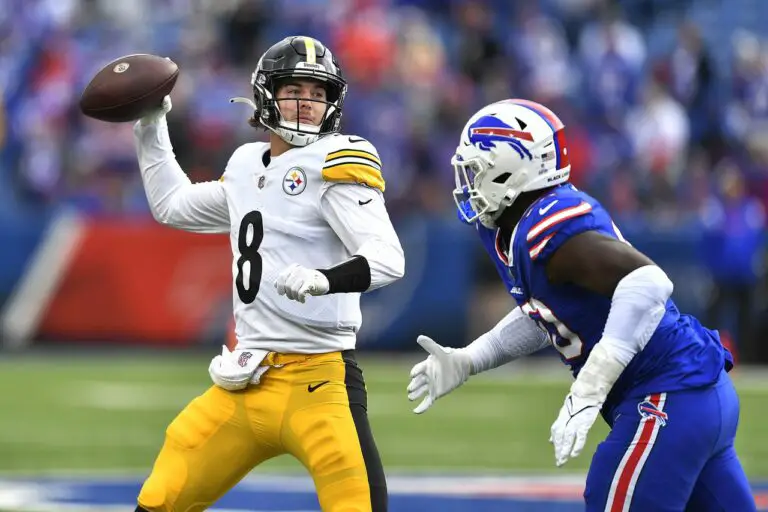 The Pittsburgh Steelers have always been a competitive team since head coach Mike Tomlin took over. He has never had a season below .500 going into his 17th season as a head coach.  With all the young potential the Steelers possess, this team is bound to make a statement in 2023.
In 2022, the Steelers ranked 23rd in overall offense, gaining 322.6 yards per game, while scoring 18.1 points per game. On the other side, Pittsburgh ranked 13th in total defense, allowing 330.4 yards a game, and 20.4 points per game. Although these are not the best standings by any means, Tomlin still managed to get his team above average as far as their overall record.
In the presence of a young quarterback in Kenny Pickett and star receiver Diontae Johnson, this offense has the potential to compete with the best in 2023. Along with their star-studded defense, with players like T.J. Watt and Minkah Fitzpatrick, the Pittsburgh Steelers are destined to make the postseason and surprise the NFL world with how good they will be.