The Detroit Lions could play against the Kansas City Chiefs Thursday night with Chris Jones on the Lions roster if a trade proposal from an NFL writer were to go through in the next few days. The Lions and Chiefs face off on Thursday Night Football in Week 1.
The Chiefs shouldn't expect their star defensive tackle to be in uniform Thursday. Jones has been holding out this summer as the Chiefs and Jones have been unable to agree to a long-term deal after Jones' monster 2022 season. Jones registered 15.5 sacks in the regular season and added two more in the Chiefs postseason run to winning the Super Bowl.
The Chiefs have stated publicly they have no intention of getting rid of Jones. However, rumors have hovered this summer the Chiefs could trade Jones if they think his price will be too high for them to agree to.
The Detroit Lions could trade for Chris Jones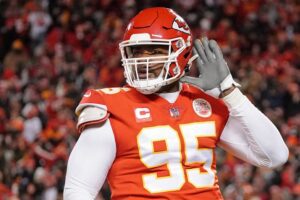 Brad Gagnon with Bleacher Report named the Detroit Lions a logical trade option for the Chiefs and Jones. Adding Jones to the Lions roster could help them in their bid to win the NFC. Gagnon's idea of a first-round pick to the Chiefs could send Jones to Detroit in time for a theatrical TNF game in a few days if the trade happens shortly:
The Detroit Lions are legitimate contenders. This year's roster is certainly stronger than the 2022 squad that posted a top-10 DVOA (defense-adjusted value over average) at Football Outsiders, and the NFC North looks to be wide open.

So with more cap space than all but eight teams, why not make a dynamic defensive duo out of Jones and 2022 No. 2 overall pick Aidan Hutchinson? John Cominsky is a solid player but he's not a star and they don't get much pass rush from him, Alim McNeill or Isaiah Buggs.

Jones would change that immediately, which might even be worth a first-round pick for a team that would have the talent to ensure that selection comes near the bottom of Round 1. Having an extra third-rounder next year at least softens that blow a little bit.

Jared Goff still has to deliver for the offense, but considering the trajectory on defense, this is the kind of move that could put the Lions over the top. And they now have enough defensive depth to throw an active player Kansas City's way.
Will the Lions trade with the Kansas City Chiefs for Jones?
The Lions have every reason to go all in on this trade, especially since it is for a position of weakness on this year's team. Jones would immensely make Aidan Hutchinson much better on the Edge. A first-round pick would be worth it, as Jones could help the Lions have a legitimate chance to win a Super Bowl this season.
The Chiefs don't seem like they're in a rush to trade Jones. Many teams would be willing to offer a first for Jones. The Chiefs don't seem ready to pawn off Jones in time for him to play Thursday.
However, if Jones continues his holdout into the season, the Chiefs and Lions could make a swap if Detroit looks like a legitimate contender nearer the trade deadline.
For More Football News:
Follow me on Twitter at @JordanSig. You can also reach out to Jordan Sigler via email at jordanmsigler@gmail.com. To read more of our articles and keep up to date on the latest in college and NFL news, click here!