It's time for the NFL playoffs. The cream has risen to the top, as the sports cliche goes. And the teams that didn't qualify are pondering why — and positioning themselves for the NFL Draft.
The Buffalo Bills are coming back from adversity, but are refocused with positive news about Damar Hamlin, and are raring to go. With their record now at 13-3, the Bills now look forward to facing their AFC East rival, the Miami Dolphins at 9-8 in the Wildcard Playoff round. As always, they will look to ,"Squish the Fish".
 GridironHeroics previews all of the NFL teams that open postseason play, and we'll continue it through the entire playoffs.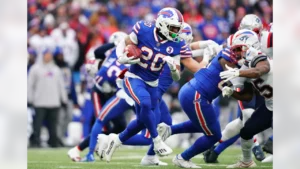 ---
NFL TEAM: Buffalo Bills
2022-23 RECORD: 13-3 (played 16 games due to Damar Hamilin situation cancelling Bills-Bengals Monday Night Game (1-2-2023
WEEKEND OPPONENT: Miami, Sunday, 1:00 P.M. (ET)
TRENDING?: Buffalo was hit with tragedy and adversity on Monday, January 2, 2023. Damar Hamilin suffered a cardiac arrest when he was hit in the the upper body and fell to the ground. All week long the entire league came together to pray for Damar and his family.
When they got the good news that Hamlin was conscious, the Bills were motivated to go clinch the #2 seed at home over the New England Patriots. The Bills won the game 35-23 and are trending up this week as they are a double-digit home favorite against their wild card rivals the Miami Dolphins. It also helps that the Dolphins are starting a rookie quarterback in Skylar Thompson since Tua Tagovailoa did not clear concussion protocol.
If the Bills take care of business on Sunday and if the Cincinnati Bengals beats the Baltimore Ravens on Saturday, then expect a rematch against the #3 seed Bengals in the Divisional round.
WHAT IS GOING RIGHT? The Bills in my opinion are the best team in football and can beat anybody they line up against. Quarterback Josh Allen is unstoppable and is continuing to improve as both a runner and as a passer. He proved it last week with a pretty deep ball to Wide Receiver Stefon Diggs to seal a 35-23 win over Bill Belichick's New England Patriots.
WHAT IS GOING WRONG? The only things that have gone wrong have been 3 unlucky losses this season in which they could be undefeated and would have easily earned the #1 seed and a first round bye in the playoffs. Also,  Allen has been "turnover prone" in the red zone.  He has thrown some costly interceptions that may have turned a few of those losses into wins.
SURPRISE STAR THIS WEEKEND?  James Cook shares the field with Devin Singletary and Nyheim Hines. In an offense where the Bills use a running-back by committee format, Cook has started to blossom the last 5- games. Cook already has the bloodlines and the talent to be a great back, he just had to wait for the game to slow down for him and it has shown with his first 100+ yard rushing performance coming in a week 15 win over the Chicago Bears. We are hoping he has a killer performance this weekend.
THE KEY MATCHUP THIS WEEKEND?: The Bills are 7-1 in their last eight games under Allen, and their offense will look to continue to hit big plays against an average Miami Defense. Also, Tre White and the corners will have to be on their a-game to shut down Tyreek Hill who torched the Bills defense the last two playoff matches when he was in Kansas City.
This year though, Hill will have a tougher outing being on a talented, but slumping Dolphins team as they come in at 9-8.
THE SUMMARY: The Bills have faced the Dolphins three times this year and went 1-1. In the first matchup in Miami, the Bills lost 21-19, but struggled in the hot Miami heat with the sun shining on their end of the field. Then, on Dec. 17,  Mike McDaniel got exactly what he wished for when he was walking around with a shirt reading, "I wish it was colder outside".
The freezing winds and the snow lit up the Orchard Park night sky and the Bills won on a field goal 32-29. Well, guess what Coach McDaniel, it's now playoff time and you're coming into Highmark Stadium on a Sunday afternoon where it will be 30′ F. You might want to wear your shirt again? So hopefully he will lose again.
THE PICK Buffalo by 13 WHY? The Bills are double digit favorites at home and rookie QB Skylar Thompson is staring for the Fins in place of concussed Tagovailoa who failed to clear a few of the protocol steps remaining. Plus, Coach McDaniel already wore out his "I wish it was colder outside t-shirts" last time and still lost the game by 3. It doesn't matter if he wears it this time, the Bills will win comfortably, if they take care of their own business.
For More Great Football Content
Follow us on Twitter at @GridironHeroics for more great content. We appreciate you taking time to read our articles. To interact more with our community and keep up to date on the latest in Football news, JOIN OUR FREE FACEBOOK GROUP by CLICKING HERE
Checkout our latest podcast!
[powerpress_playlist limit=1]