The Cleveland Browns will operate the rest of their season without franchise quarterback Deshaun Watson, leaving their season outlook cloudy. However, NFL analyst and former Offensive Rookie of the Year quarterback Robert Griffin III has a simple answer to the Browns' newfound problem. Cleveland should sign him so he can lead them to the Super Bowl. That's right, the Browns should open up their pocketbook and sign RGIII to the active roster, although he last played in 2020. 
𝗨𝗽𝗱𝗮𝘁𝗲: ESPN's analyst RGIII says the #Browns should sign him and make him the starting QB this season following Deshaun Watson's season-ending injury.

"I still run a 4.3 40 time."

Do you think the Browns should sign him?
(via @rg3andtheones)pic.twitter.com/cCBvF56OGd https://t.co/yg6P1xDjJY

— Dov Kleiman (@NFL_DovKleiman) November 16, 2023
Robert Griffin III: Wants Another Chance in the NFL, specifically with the Cleveland Browns
"At 33 years old, I understand the game better than I ever have in my entire career," said Robert Griffin III on the RG3 and The Ones podcast. He also mentioned that he learned how to slide, something he could have done during his first few seasons in the NFL. However, the Cleveland Browns would probably have more worries about his production than his ability to not fight for extra yards in the name of safety. 
Griffin continued, saying, "Of the 14 passes, there weren't really any of them that you would say were $230 million passes. All they needed him (Deshaun Watson) to do was manage the game because of them dawgs that they have over there on defense. Guess what? I can do that; I can go out there and manage a game for the Cleveland Browns and help them go on the Super Bowl run they want to go on." Browns quarterback Deshaun Watson went 14-of-14 in the second half of his team's 33-31 win over the Baltimore Ravens. However, he announced a season-ending shoulder injury earlier this week. Meanwhile, Griffin completed just 33-of-58 passes in his final three NFL seasons.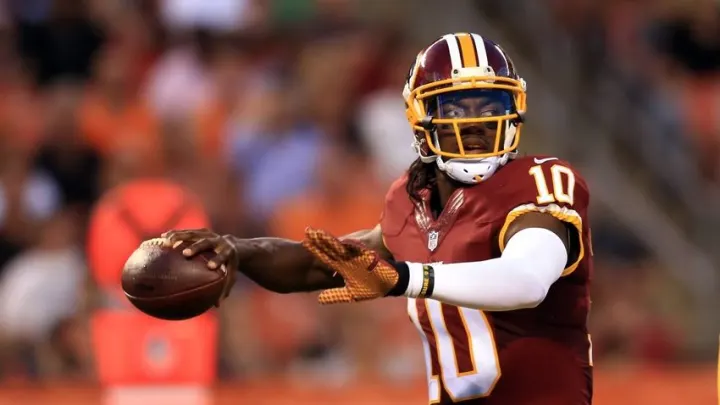 "I still run a 4.3 40, people. I can throw a football 80 yards. I train every week like an NFL player so I can be ready for moments just like this, so they need to hit my line." The second overall pick in the 2012 NFL draft, Griffin took the football world by storm as a rookie, using his running and throwing ability to win AP Offensive Rookie of the Year. He threw for 3,200 yards and 20 touchdowns against five picks while running for 815 yards and seven scores. However, injuries took their toll on RGIII, who never eclipsed 200 rushing yards in his final five seasons.
"If they don't bring me in to be the starter, they should bring me in to be the backup so I can help him (Dorian Thompson-Robinson) in the same ways that I helped Lamar Jackson." Griffin played with the Baltimore Ravens for three seasons, playing behind Jackson and Joe Flacco. Meanwhile, rookie Thompson-Robinson will start on Sunday.
RGIII: Played with the Cleveland Browns in 2016
After missing the entirety of the 2015 season, The then-Washington Redskins released Griffin before he signed with the Cleveland Browns. He started five games, compiling a 1-4 record while completing 59% of his passes for 886 yards and two touchdowns with three picks. The former Heisman Trophy Award winner ran for 176 yards and a score while fumbling once.
For More Football News:
Follow me on Twitter at @alec_musa. You can also reach out to me via email at musaalec@gmail.com. To read more of our articles and keep up to date on the latest college and NFL news, click here!