After an unbelievable night of New Year's Eve games, trying to follow the College Football Playoff Semifinals almost feels unfair. Last night is what makes college football so special. You don't get that level of drama and emotional investment like that in the NFL. Reliaquest Bowl, your move.
With that said, there are only five bowl games remaining, and it is my duty to inform you to soak up every last minute of botched trick plays, controversial hits, and career-defining plays. The first of the last and the first game of the 2023 calendar year belongs to this season's ReliaQuest Bowl.
The game will air January 2nd on ESPN2 at 11 AM CST. It will feature an elite Illinois' top ranked defense vs the legendary air raid offense coined by the late Mike Leach. <– Please check out our Kevin Perry's ode to the legendary football coach.
Here's an everything you need to know guide to the ReliaQuest Bowl's history and the two entirely opposite teams set to clash on Monday.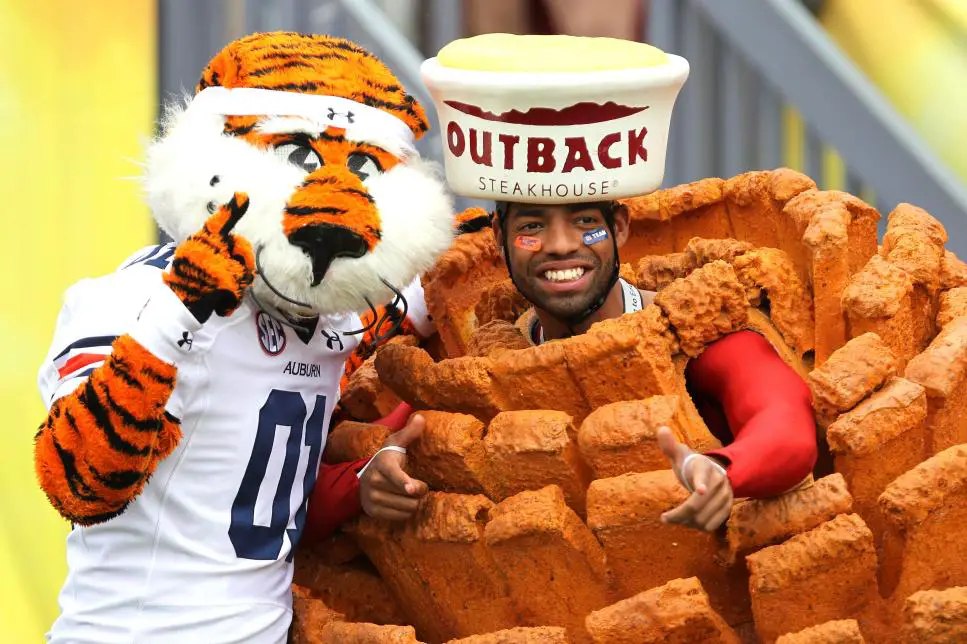 ReliaQuest Bowl History
Formerly known as the "Outback Bowl" from 1995 until the spring of 2022 the ReliaQuest Bowl is one of the most iconic bowl games in college football. Getting it's start in 1986 (the only year it wasn't played after New Years) it has been played as part of the New Years day lineup for 36 consecutive seasons.
Traditionally the SEC has been the host conference and plays either the Big Ten or the ACC if a Big Ten team is playing in the Orange Bowl. Overall records for each conference: SEC (19-13) Big Ten (13-20) ACC (4-3)
The SEC is on a two game win streak.
One of the more unique mascots and traditions of the Bloomin Onion man made the game even more special in addition to some of the most memorable plays in bowl history, including this beauty:
10 years ago today, Jadeveon Clowney had one of the most electric plays in college football history. 🔥
–
Where were you when The Hit happened? ⬇️ pic.twitter.com/6V4W5BOWaw

— Gamecocks Today (@GamecocksToday) January 1, 2023
How has it already been a decade since the hit heard around the world? Time flies.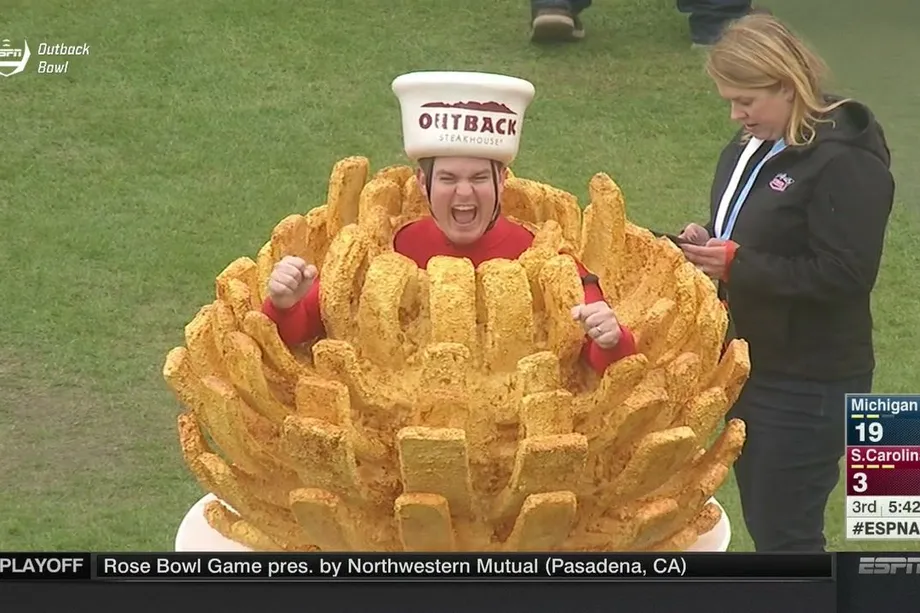 Sometimes its not only the players and coaches living out their lifelong dreams.
It is truly unfortunate the Outback Bowl is no more. These bowl games have gone more and more corporate with each expiring sponsorship, and the ReliaQuest Bowl is just the most recent victim of it.
Tale of the Tape
Illinois Fighting Illini
In the school's first bowl game since their 35-20 loss to the California Bears in the 2019 Redbox Bowl Bret Bielema's Illini will be looking to earn their first postseason victory since defeating UCLA 20-14 in the Fight Hunger Bowl.
Illinois will be without three of it's top three players; running back Chase Brown, safety Sydney Brown, and corner Devon Witherspoon. Two of those three are Walter Camp All-Americans. An immense amount of talent and leadership that will be missing as they've begun their senior bowl and draft prep.
The Illini come in to the game being the only team that hasn't allowed 21 or more points in a half this year. Will they be able to maintain that level of dominance against the most prolific passing offense they've played all year coupled with key players in their secondary missing the game.
If the #Bears draft a CB early this year, I want it to be Devon Witherspoon from Illinois.

• 3 INT, 14 PBU this year
• 92.0 PFF coverage grade, best in FBS
• 29.8% completions allowed, 1.0 QBR against
• Makes hits like this pic.twitter.com/yza0A3vJFu

— Jacob Infante (@jacobinfante24) December 15, 2022
The Fighting Illini have lost three of their last four games, all by one possession despite their defense doing everything right. The offense has struggled in key moments down the stretch which has been part of the reason they're playing in the ReliaQuest Bowl instead of a Rose Bowl.
Illinois lack of consistent pass catching ability from both the receiving corps and their underwhelming tight end room has been a major liability.
While Illinois only gives up a stout 12.3 points per game (leads FBS), they are only scoring 25.4ppg (85th among FBS). It will be a matchup of the titans watching the country's eighth ranked offense square off against the top defense.
I suspect that Illinois will be able to add a few wrinkles in their offense and take advantage of a middling Mississippi State defense. Question is, will it be enough to keep up with the opposing offense.
Player Spotlight
QB Tommy DeVito – The senior quarterback will be playing in the final game of his collegiate career on Monday. After being denied his waiver for another year of eligibility and Illinois landing a commitment from Ole Miss transfer quarterback Luke Altmyer it is written in stone this will be it for Tommy.
The Illinois quarterback told reporters he had no intentions of opting out the ReliaQuest Bowl when asked during media week. Can't blame the guy for wanting to go one more round with his brothers and putting one more game of film on the resume. In a run-heavy offense it's hard to amass gaudy numbers as a QB, but DeVito parlayed the lack of pass attempts into one of the most efficient passing seasons in Illinois history.
Illinois will be relying a bit more on their veteran quarterback with the likes of Chase Brown and a good portion of their elite defense missing the game.
Mississippi State Bulldogs
There is not a team in the country that will be playing with a heavier heart than the Bulldogs. After the sudden passing of their head coach Mike Leach on Dec. 12 the team unanimously decided they would in fact play in the ReliaQuest Bowl to honor their late head coach stating "it's what he would expect us to do".
Hard to imagine anyone outside of Champaign, IL won't be rooting for MSU, and most in Illinois will certainly be quietly cheering them on as well.
The Bulldogs will be coached by defensive coordinator Zach Arnett in their bowl game and moving forward. The 36-year old coordinator was quickly announced with the early singing period looming.
Led by Junior quarterback Will Rogers, MSU comes into the ReliaQuest Bowl with one of the most prolific passing offenses in college averaging 314.3ypg good for 8th in the country.
Rogers stat line of 3,713 yards, 34 touch downs, and only 6 interceptions is among the best in the country. His passing yards are currently good for 9th, and he is in position to surpass the 4,000 yard benchmark.
The willingness to spread the ball around is what has made this passing attack so difficult to defend — eight players have at least 250 receiving yards and 10 have caught at least one touchdown pass.
Leading the way for the MSU receiving corps was Rara Thomas with 626 yards and seven touchdowns, but he recently hit the transfer portal and signed with the Bulldogs out of Georgia.
With a depleted Illini secondary, due to injuries and draft opt-outs, coming to town it will be interesting to see which of these two forces blinks first.
Player Spotlight
QB Will Rogers – With his coach and mentor now gone, nobody will be looking to play his best game more-so than Rogers will be. With the extra motivation, the thin Illinois defense could fall victim to the situation. Three more touchdown passes would eclipse his career best of 36 touchdowns from last season.
With his top receiver being out it will be a next man up situation for the well rounded Bulldogs receiving corps. A big time ReliaQuest Bowl performance against the best defense in the country could lead to legitimate Heisman and draft hype for Rogers.
ReliaQuest Bowl Betting Nuggets
Money Line
Miss State -140 — Illinois +118
Point Spread
Miss State -2.5 — Illinois +2.5
Over/Under
46 Points
For More Great Football Content
Follow us on Twitter at @GridironHeroics for more great content. We appreciate you taking time to read our articles. To interact more with our community and keep up to date on the latest in Football news, JOIN OUR FREE FACEBOOK GROUP by CLICKING HERE
Checkout our latest podcast!
[powerpress_playlist limit=1]