For the first time in over a decade Illinois fans had a reason to tune into the college football awards show. With several players potentially up for All-American honors and two finalists for individual awards there was plenty to be excited about, but most Illinois fans and players alike walked away with mixed feelings last night.
It's a sign of the good times when you find yourself getting upset on behalf of your favorite team's players getting "snubbed' for national awards. From a program standpoint it was a massive success to have multiple All-American selections and position award finalists.
Ultimately, Chase Brown and Devon Witherspoon walked away empty-handed in their quest for their positional awards despite both earning Walter Camp All-American honors, along with Johnny Newton to round out the most All-American selections in a single season for the Fighting Illini according to University of Illinois Stats & Info.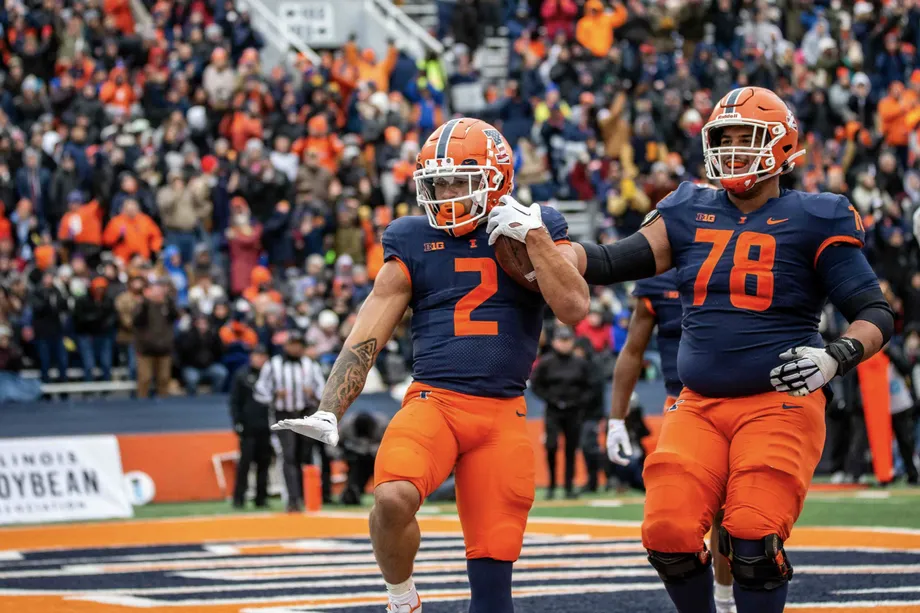 Walter Camp All-American Selections
First Team All-American: DB Devon Witherspoon – The University's first team selection since Whitney Mercilus in 2011 and first ever Illini defensive back to win the award. "Spoon" was also a finalist for the Jim Thorpe award, but fell short to TCU cornerback Tre'Vius Hodges-Tomlinson. Witherspoon will likely be Illinois' first first round draft pick since 2012.
Second Team All-American: DL Johnny Newton – You have to go all the way back to 1990 (Moe Gardner) to find the last time an Illinois defensive lineman earned a Walter Camp selection.
Second Team All-American: RB Chase Brown – The first Illinois offensive player to earn All-American selection since David Williams was selected in 1984 & 1985, and the first Illinois running back to earn the honor since Jim Grabowski in 1965. Brown was also Illinois' first ever finalist for the Doak Walker award, but Texas running back Bijan Robinson was the one to walk away with the hardware Thursday night.
Capitalizing on the National Stage of the College Football Awards Show
Despite not winning any individual position awards Illinois was well in the national spotlight of the College Football Awards Show. Having two finalists for such awards, and three All-American selections – good for third most in the country is the most recruiting material the program has ever had.
— Zachary Tobe (@OZtobe) December 9, 2022
While players and fans were locked in on the awards show defensive coordinator Ryan Walters, Broyles Award Finalist, was hot on the recruiting trail. Walters was in the state of Florida visiting with three-star safety, and Illinois commit, Zachary Tobe. 
The Illinois coaching staff has proven they are capable of developing players into the best at their positions and will elevate you to the next level no matter; how many stars they have, what their pedigree is, or where they come from. Devon Witherspoon is the greatest testament to this because he bought in and put in the work — from no stars to the best corner in the country and future first round draft pick.
Sustained success is a self-feeding machine that relies on success to produce success. This Awards season will prove to be the launching pad for the program.
The transfer portal has become almost more important than the initial high school recruiting process. Players want to go places that not only will provide playing time, but that will compete on a national stage and develop them into an NFL caliber talent.
No team has propelled themselves into that caliber or program faster than Illinois has with Coach Bret Bielema at the helm. This team will always be looked at the team that started it all, much like the Ayo Dosunmu, Da'Monte Williams and Trent Frazier-led Illinois basketball teams in Brad Underwood's early going in Champaign.
Soon too, Bielema's teams will be "cutting down the nets" of a Big Ten Championship.
For More Great Football Content
Follow us on Twitter at @GridironHeroics for more great content. We appreciate you taking time to read our articles. To interact more with our community and keep up to date on the latest in Football news, JOIN OUR FREE FACEBOOK GROUP by CLICKING HERE
Checkout our latest podcast!
[powerpress_playlist limit=1]