The Fighting Illini are bowling for the 20th time in program history. Illinois (8-4) was invited to play in the ReliaQuest Bowl, formerly known as the Outback Bowl from 1996-2022, against 22nd ranked Mississippi State (8-4). The game is scheduled to kickoff at 11:00 a.m. cst, on January 2nd and will air on ESPN2.
Since there is nearly a month between now gameday lets take a look at Illinois bowl game history to pass the time — From Illinois' bowl debut in the 1947 Rose Bowl to their most recent appearance in the 2019 RedBox Bowl, and everything in between.
Before we dive into Illinois bowl game history, lets take a brief look into the origin of bowl games.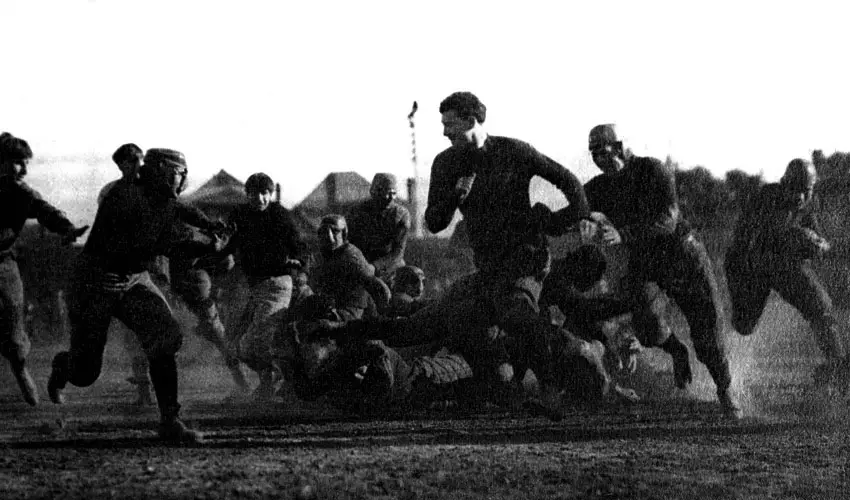 Origin of the "Bowl Game"
The very first bowl game was played on January 1st, 1902 between Michigan and Stanford, seeing Michigan win 49-0. The game was referred to as the 'Tournament East-West Football Game", and would begin the tradition of New Year's bowl games.
According to the Rose Bowl official website, after Michigan's rout over Stanford it was decided football would be replaced with Roman-style chariot races, but would return to football permanently in 1916 and be sponsored by the Pasadena Tournament of Roses Association. In 1923 the game would become affectionately known as the Rose Bowl played in the newly built Rose Bowl Stadium in Pasadena, California. The trophy handed to the annual Rose Bowl victor is known as the Leishman Trophy named after the Tournament of Roses Association president, William L. Leishman according to Pasadena Tournament of Roses.
As of 1930 the Rose Bowl was the only bowl game, "The Granddaddy of Them All". Once cities and schools alike realized the revenue bowl games could generate they began to create their own festivities similar to that of the Rose Bowl Game and the Tournament of Roses Parade.
By 1940 there were five major bowls, all of which are still played today: the Rose Bowl, the Sugar Bowl, the Cotton Bowl Classic, the Orange Bowl, and the Sun Bowl. As of today that number has blown up to 41 bowl games played over a three week period starting in mid-December.
Illinois Bowl Game History
With a very brief background of how the New Year's bowl game tradition began, which you may or may not have known already let's dive into the good and bad of Illinois bowl game history.
Rose Bowl, 1947 – Illinois 45, UCLA 14
Illinois wins it's first ever bowl game appearance and the inaugural Big Ten/Pac-12 Rose Bowl. The 1947 Rose Bowl was the first of 75 straight sellouts. Illinois head coach Ray Eliot would win his first of two Rose Bowls with the Illini.
Rose Bowl, 1952 – Illinois 40, Stanford 7
After a five year absence coach Ray Eliot wins his second Rose Bowl win as he leads 9-0-1 Illinois to an undefeated season. This would be the school's only appearance for just over a decade.
Rose Bowl, 1963 – Illinois 17, Washington 7
The last Rose Bowl appearance the Fighting Illini would make until 1983 was led by coach Pete Elliott. The 7-1-1 Fighting Illini won the 50th annual Rose Bowl on the backs of All-American running back Jim Grabowski's two touchdowns and center/linebacker Dick Butkus' interception and fumble recovery.
Liberty Bowl, 1982 – Illinois 15, Alabama 21
"Bear" Bryant sailed off into the sunset at the expense of the Illinois faithful winning the final game he'd ever coach. Future New England Patriot quarterback Tony Eason (lost Super Bowl XX to the Chicago Bears) threw for 423 against Bryant's defense, but was intercepted four times in the game, three of which were to Jeremiah Castille.
Rose Bowl, 1984 – Illinois 9, UCLA 45
The Bruins returned the favor of the beatdown Illinois gave them in 1947 by drubbing the #4 ranked Fighting Illini in the 70th annual Rose Bowl. Illinois wouldn't gain a single yard on the ground and threw four interceptions despite half of the UCLA team battling food poisoning that morning. One of the biggest upsets in Rose Bowl history and a dark day for Illinois on the national stage.
Peach Bowl, 1985 – Illinois 29, Army 31
Illinois' third bowl game defeat came at the hands of the Army Cadets. In a back and forth game that was played by two teams with drastically different styles Illinois had a chance at the end of the game to tie on a two-point conversion, but failed. Illinois quarterback Jack Trudeau had a much better showing, but still threw two back-breaking interceptions that would lead to Army scores.
All-American Bowl, 1988 – Illinois 10, Florida 14
Emmitt Smith would be all the offense the Gators would need to sneak by the Fighting Illini. The list of Illinois quarterbacks struggling in the postseason continued as Jeff George threw two interceptions and no touchdowns. The Illini would go winless in four bowl games in the 80s. Promising, but frustrating decade that would turn out to be the height of Illinois Football.
Florida Citrus Bowl, 1990 – Illinois 31, Virginia 21
The only major bowl game victory in the modern era. Illinois quarterback Jeff George sticks with his New Year's resolution and finally breaks the bowl game losing streak. The future first overall draft pick throws for over 300 yards and three touchdowns in a game that was never really close. 11th ranked Illinois held a three score lead for most of the game until trash time in the fourth quarter.
Hall of Fame Bowl, 1991 – Illinois 0, Clemson 30
Not much to say about this one. 16th ranked Illinois got pantsed on the national stage yet again.
John Hancock Bowl, 1991 – Illinois 3, UCLA 6
Another stinker of a game. Illinois and UCLA remained tied at three until an Illinois fumble on their own 11-yard led to UCLA's game winning field goal.
Holiday Bowl, 1992 – Illinois 17, Hawaii 27
Hawaii running back Travis Sims tore up the Kevin Hardy, Simeon Rice led Illinois defense in a game that was never as close as the score indicates. Illinois' fifth straight bowl appearance was yet again spoiled for a fourth time. Hawaii would earn their first AP ranking (20) after their dominance over the Illini.
Liberty Bowl, 1994 – Illinois 30, East Carolina 0
From kickoff to the final whistle Illinois completely dominated ECU as Illinois quarterback Johnny Johnson throws for four touchdowns. The Illini's defense pitched the only shutout in the school's bowl game history.
MicronPC.com Bowl, 1999 – Illinois 63, Virginia 21
Illinois' offense exploded for 611 yards of offense and nine touchdowns on the night. Their 63 points was second most in bowl game history at the time. Ron Turner seemingly put Illinois back on the map with their monster win over Virginia.
Sugar Bowl, 2002 – Illinois 34, LSU 47
Illinois was never really in this game from the start. Nick Saban's LSU jumped out to a 34-7 halftime lead and essentially put it in cruise control. Credit to the Illini for making it respectable cutting it to a two score game by the end of it, but a depleted LSU team was the better team that day despite Kurt Kittner's solid day throwing four touchdowns, two each to receivers Brandon Lloyd and Walter Young. An incredibly successful season that saw Illinois win the Big Ten outright comes up short.
Rose Bowl, 2008 – Illinois 17, USC 49
The Illini never really got out of the gates in this one. A great season that was boosted by a victory over #1 Ohio State earlier in the season. Illinois had a handful of great players, but Pete Carrol's Trojans had an entire roster of equal or better talent and ultimately should have been in the BCS championship game against the Florida Gators that year had they not inexplicably lost to Stanford . Mendenhall's 79-yard touchdown was the pinnacle of the game for Illinois fans.
Texas Bowl, 2010 – Illinois 38, Baylor 14
Illinois takes down RGIII just before he takes off for his Heisman winning campaign the following season. Illinois running back Mikel Leshoure put on a show scoring three touchdowns and rushing for 182 yards.
Fight Hunger Bowl, 2011 – Illinois 20, UCLA 14
This one was a unique scenario in which both teams were led by interim coaches, and it showed. Illinois infamous season that saw them win their first six games to become bowl eligible and then remarkably lost the final six games of the year until their bowl win. Talk about a Jekyll and Hyde season.
Feels like when these teams meet up if it's not a blowout then it's a rock fight. Unfortunately this boring rock fight would be the Fighting Illini's last bowl game victory so far. That can obviously change come January 2023.
Heart of Dallas Bowl, 2014 – Illinois 18, Louisiana Tech 35
Somehow, someway a Tim Beckman team snuck their way (hey that rhymed) into a bowl game. I still can't wrap my mind around it, but every website I check does confirm my brain didn't make this up. Despite outgaining the Bulldogs Illinois lost pretty handily to the better coached team.
Redbox Bowl, 2019 – Illinois 20, California 35
After sneaking into a bowl game, the only one of the Lovie Smith era, Illinois once again outgained its opponent while managing to lose by two scores. Illinois' defense just couldn't force Cal to make the big mistake. This was Illinois' last time in a bowl game until this season, and hopefully its the last of the "mid-major" type bowls for quite sometime. Nothing worse than scraping your way into a bowl game that nobody has heard of just to get beatdown by a G5 school.
Reliaquest Bowl, 2023 – TBA
For More Great Football Content
Follow us on Twitter at @GridironHeroics for more great content. We appreciate you taking time to read our articles. To interact more with our community and keep up to date on the latest in Football news, JOIN OUR FREE FACEBOOK GROUP by CLICKING HERE
Checkout our latest podcast!
[powerpress_playlist limit=1]