If there's one person who knows all about life as a San Francisco 49ers quarterback, it's Jimmy Garoppolo. Before the two-time Super Bowl champ took his talents to the Las Vegas Raiders this summer, he spent an eventful six seasons in San Francisco. During that time, he got a chance to play alongside Trey Lance, who just like Jimmy, has now made his Niners exit.
Jimmy Garoppolo on Trey Lance Trade to Cowboys: 'Always Pulling For Him'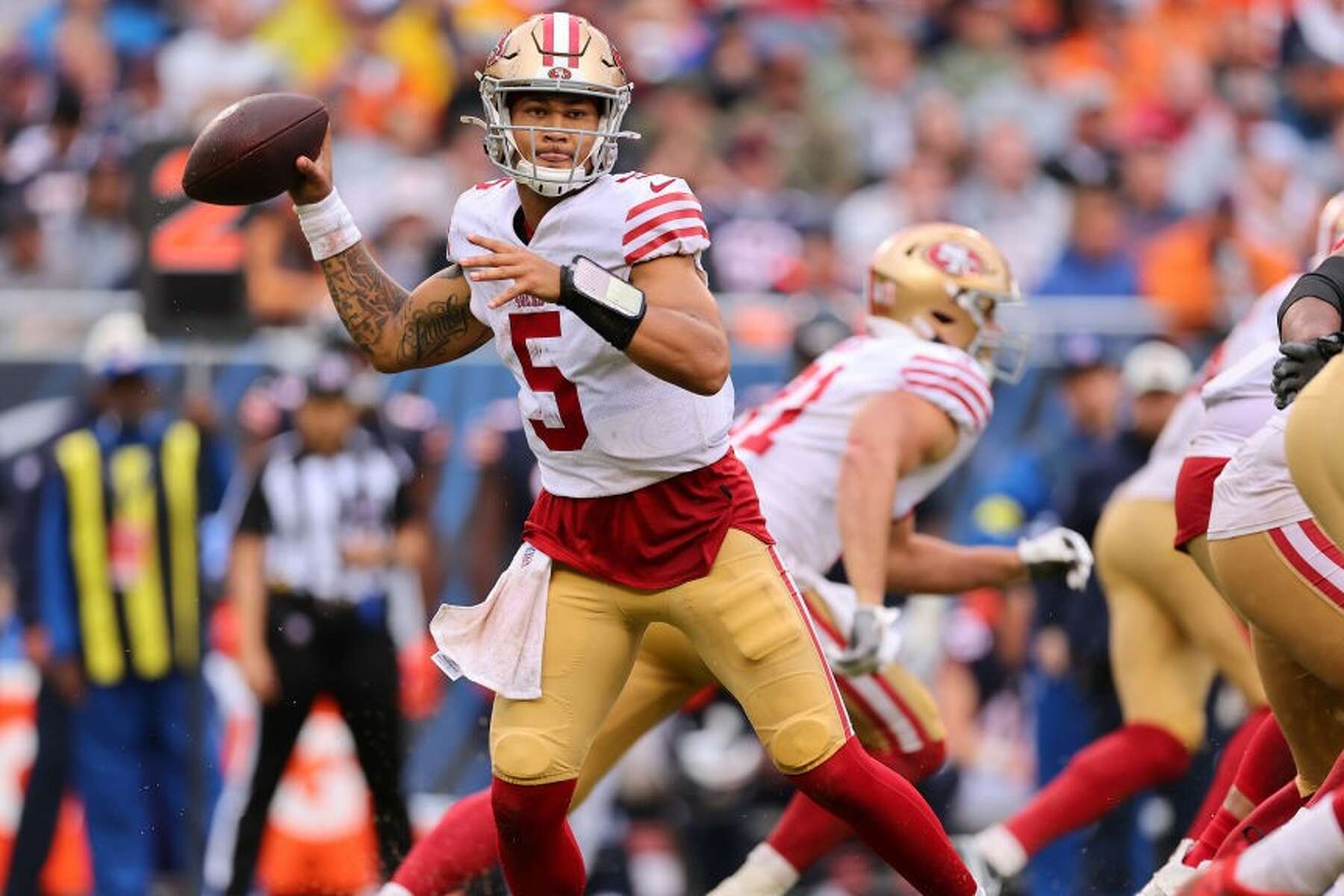 Garoppolo has now shared his thoughts on Lance's recent trade to the Dallas Cowboys. This is after the former No. 3 overall pick lost the QB2 role to Sam Darnold, thereby forcing him to move on to greener pastures.
Jimmy G had nothing but good things to say about his former protege, while also expressing how he hopes nothing but the best for the 23-year-old:
"Excited for Trey. Just a new opportunity for him," Garoppolo said on NFL Total Access in an interview that airs Tuesday at 7 p.m. ET, via Eric Edholm of NFL.com. "Things didn't work out in San Francisco for whatever reasons, but glad that he gets another shot, man. This league's all about opportunities, and when you get a fresh one like that, you've just got to take advantage of it.
"Everyone has their own path and everything like that. It's never going to be easy, but it's how you come out the other end of it. So I'm always excited for him, man. He's a brother of mine. Always pulling for him."

"… "Trey's a brother of mine, man, so like I said before, I'm always pulling for him. I think he's got a bright future in this league. Dude's got talent. Just got to get him out there."
Jimmy G Also Looking Forward to Fresh Start With Raiders
Much like Trey Lance, Garoppolo is also getting a fresh start with the Raiders. Last season, Jimmy G ended up conceding the QB1 role to Brock Purdy after suffering a season-ending injury. Purdy played so well in Garoppolo's absence that the rookie QB ended up leading the 49ers to the playoffs. Purdy headed into 2023 as the new starting quarterback in San Francisco, thereby leading to Jimmy G's departure.
The Raiders pounced on the opportunity by handing Garoppolo a three-year deal worth $72.8 million, while also naming him as the squad's new QB1. It's a change in scenery for the 31-year-old heading into the new campaign, and both Garoppolo and the Raiders are hoping that the fresh start is exactly what Jimmy G needs to come back even stronger in 2023.
Our Partners
Mayfield Sports Marketing
Call Mayfield Sports Marketing at 262-366-8188 to schedule Green Bay Packers players or alumni for your corporate appearance or product promotion.  Our booking agents will work on your behalf to get you the best price for your desired sports speaker.
Mayfield Sports Marketing has earned a reputation of being the one to call for booking top athletes to speak at events and trade shows. To learn more about Packers players or alumni appearance cost and booking fee, please call us today. www.MayfieldSports.com.
Radtke Sports
Wisconsin Sports Heroics is proud partner with Radtke Sports to offer autographed memorabilia. Brett Favre, Rob Gronkowski, Giannis Antetokounmpo, and MORE Guaranteed Authentic Collectibles and Memorabilia including signed jerseys, photos, and more at www.RadtkeSports.com USE promo code: WSH for FREE SHIPPING on your purchase. Some restrictions may apply.
For More Of My Content
Follow me on Twitter at @PaoloSongcoNBA. You may also reach out to me personally at pao.songco@gmail.com.