Zach Wilson finally showed up for the New York Jets on Sunday night. Unfortunately for him, his eye-opening performance against the defending champs was put to waste after he committed a crucial turnover late in the game to allow Patrick Mahomes and the Kansas City Chiefs to escape with a 23-20 victory at the MetLife Stadium.
Zach Wilson Takes Full Responsibility for Loss
This was without a doubt Wilson's most outstanding performance in the four games he's played this season so far. In fact, some might even argue that it was the best we've seen from the former second-overall pick since he entered the NFL.
Wilson completed 28-of-39 passes for 245 yards, two touchdowns, and zero interceptions. It was the 24-year-old who looked like the better QB in this one, as he outplayed reigning MVP Patrick Mahomes.
In a brutal turn of events, however, Wilson ended up committing a game-deciding error in the fourth quarter:
A dropped snap gives the ball back to the @Chiefs 👀

📺: #KCvsNYJ on NBC⁰📱: Stream on #NFLPlus https://t.co/cLJQ8MOopx pic.twitter.com/LqzxwzaAZv

— NFL (@NFL) October 2, 2023
Wilson was visibly dejected after the game and he was seen being consoled by his teammates. We don't know what exactly was said during this moment, but it is clear that Wilson's teammates were giving their young quarterback some words of encouragement after the heartbreaking loss:
Plenty of support for @ZachWilson 🤝 pic.twitter.com/lfElUKkqvA

— NFL (@NFL) October 2, 2023
After the game, Wilson was quick to take full responsibility for the loss:
"Yeah, that's on me," Wilson said, via NFL on CBS on Twitter. "Critical situation, I can't play like that. I cannot drop the ball. This team is sacrificing a lot. Guys are making plays, defense was making plays, o-line was protecting, receivers were making plays. To be driving right there and to drop a snap, I cannot do that. I lost us this game and I cannot do that.

"I was making it clear to those guys that I need to be better. I need to be better on the little things, the details. It can't happen."
"That's on me… I lost us that game."

– Jets QB Zach Wilson on his fumbled snap pic.twitter.com/ZFjwLUF1ue

— NFL on CBS 🏈 (@NFLonCBS) October 2, 2023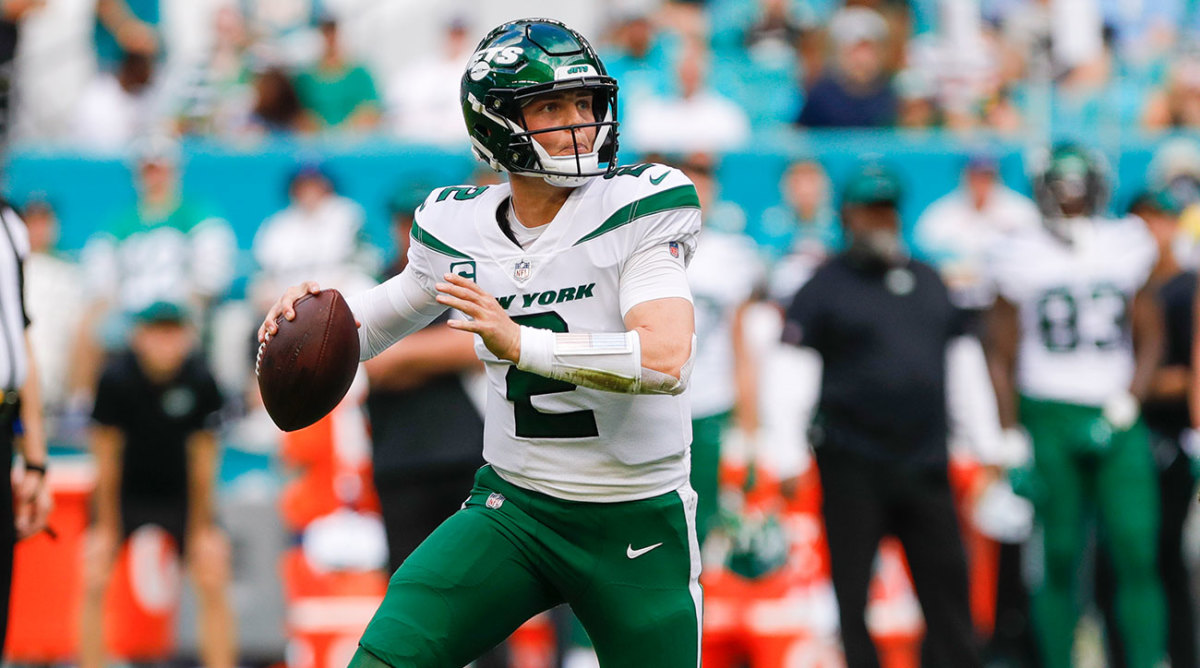 New York Jets Coach Robert Saleh Reacts to Zach Wilson's Performance
Jets head coach Robert Saleh was also asked to comment on his quarterback's performance after the game. The New York shot-caller took the opportunity to heap praise on Wilson:
"I thought he was really good," Saleh said. "He gave us a chance to win the game. He brought us back. If he plays like that, we're gonna win a lot of football games."
"If he plays like that, we're gonna win a lot of football games."

Coach Saleh on QB Zach Wilson pic.twitter.com/idoxH4Qz1e

— New York Jets (@nyjets) October 2, 2023
It was an undeniably deflating loss for New York, but there's a lot to take away from Wilson's performance here. The Jets, as well as their fans, are hoping that this loss becomes a turning point for them ahead of what is going to be a long season ahead.
For More Of My Content
Follow me on Twitter at @PaoloSongcoNBA. You may also reach out to me personally at pao.songco@gmail.com.