The Minnesota Vikings are 6-4 and looking to keep their Wild Card position alive.  In fact, the Vikings could very well challenge the 7-2 Detroit Lions for the NFC North crown as the two teams still play twice this season.
However, the Vikings are focused on the Denver Broncos this week and, unfortunately, won't have one of their best players available.
The Minnesota Vikings Refuse To Activate Star Wide Receiver Justin Jefferson For Matchup Against The Denver Broncos
Justin Jefferson was originally listed as "questionable" for their matchup against the Broncos on Sunday.  However, that has since changed in a drastic way.  According to NFL Media:
The Minnesota Vikings wide receiver is not going to be activated from injured reserve ahead of Sunday night's game against the Denver Broncos, NFL Network Insiders Ian Rapoport and Tom Pelissero reported Saturday. Jefferson was questionable coming into the game but remains on injured reserve. The Vikings later announced the move, declaring Jefferson as ruled out for the game.

Jefferson, whose practice window was opened Nov. 8, will miss his sixth consecutive game due to a right hamstring injury sustained in a Week 5 loss to the Kansas City Chiefs.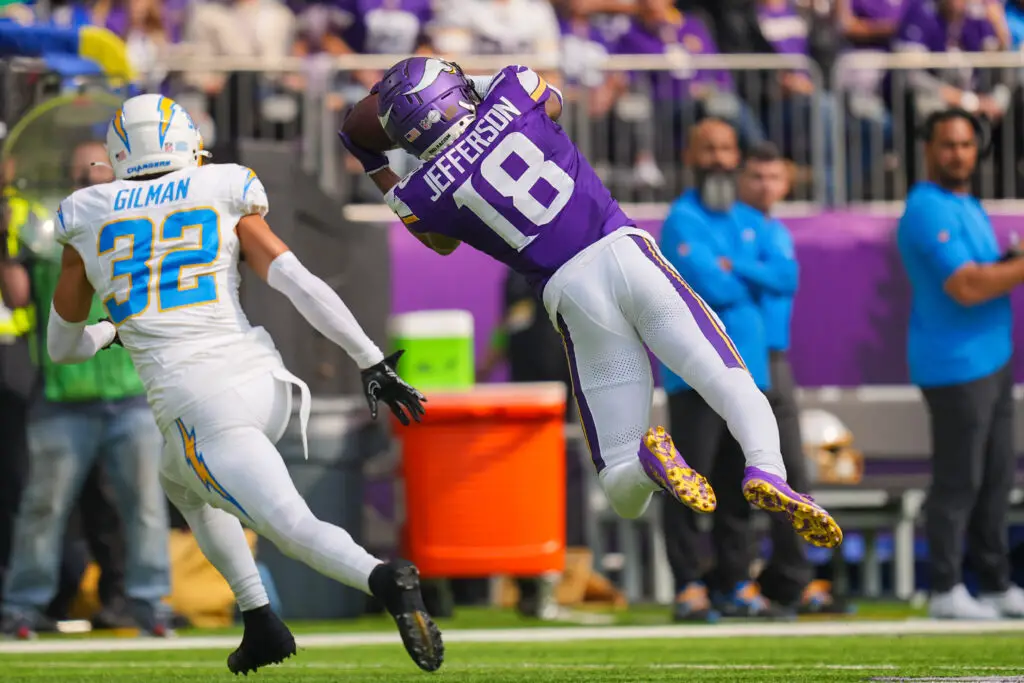 While the Broncos sit at 4-5 and last place in their division, they are coming off back to back wins against the Kansas City Chiefs and Buffalo Bills.  In fact, Denver has won three straight games.  Jefferson would've been a huge addition against a team who has a ton of confidence right now.
Jefferson is likely to return to the Vikings' lineup for Week 12 when they host the Chicago Bears.    After losing to the Chiefs — as well as losing Jefferson — Minnesota was 1-4, but has since won five straight games.  In five games this season, Jefferson recorded 36 receptions for 571 yards and three touchdowns.
Our Partners
Mayfield Sports Marketing
Call Mayfield Sports Marketing at 262-366-8188 to schedule Green Bay Packers players or alumni for your corporate appearance or product promotion.  Our booking agents will work on your behalf to get you the best price for your desired sports speaker. Mayfield Sports Marketing has earned a reputation of being the one to call for booking top athletes to speak at events and trade shows. To learn more about Packers players or alumni appearance costs and booking fees, please call us today. www.MayfieldSports.com.
Radtke Sports
Wisconsin Sports Heroics is proud to partner with Radtke Sports to offer autographed memorabilia. Brett Favre, Rob Gronkowski, Giannis Antetokounmpo, and MORE Guaranteed Authentic Collectibles and Memorabilia, including signed jerseys, photos, and more at www.RadtkeSports.com USE promo code: WSH for FREE SHIPPING on your purchase. Some restrictions may apply.
For More Of My Content
Follow me on Twitter at @mcquadewarnold.  Reach out to me personally at mcquadewarnold@gmail.com.  To read more of our articles and keep up to date, click here!  –  JOIN OUR FREE FACEBOOK GROUP by CLICKING HERE