Gridiron Heroics partners with Draft Scout to give each school's Top 5 NFL Draft prospects in the Pac 12. Welcome to a list of the California Top 5 NFL Draft prospects for 2023, as seen by Draft Scout.
Each week brings us closer and closer to one of the most anticipated days on the sports calendar — the NFL Draft. This year's draft will be held in Kansas City, Mo. from April 27-29. Starting today? We take a look at the PAC12 seniors, the class of 2023. Since we don't know yet which underclassmen will declare, we'll reconfigure the rankings when that it all official, so be sure to revisit us.
Our PAC12 Draft prospect series will run soon and will run for the next week, with three schools running per day in alphabetical order. A master conference list of the Big 12's Top 20 NFL draft prospects will wrap things up afterwards. Please check the team links below frequently so you can check out the other schools' top prospects as the week progresses.
PAC12 TOP 20 PROSPECTS: Overall PAC12 Top Prospect List
PAC12 PROSPECTS:  Arizona | Arizona State | California | Colorado | | Oregon | Oregon State | Stanford | UCLA | USC | Utah | Washington | Washington State
RELATED STORY: The Top ESPN 30 for 30 Shows in College Football — We Rank Them
So, we all know that not every team in the country has five surefire draft picks on it. Some programs do, especially in some of the more elite conferences, but the vast majority don't have that many top-flight prospects. But, we also know that the definition "top-flight" doesn't always pan out, and at the same time that strong undrafted free agent everybody forgot? He ends up making an NFL and flourishing.
Below is a look at the California Top 5 Draft Prospects, and how they project in the eyes of Draft Scout. Again, for now, we'll go strictly with seniors (c/o 2023), as no underclassmen have been allowed to officially clear the declarition deadline yet, though when they do? We'll update the lists below.
CALIFORNIA TOP 5 NFL DRAFT PROSPECTS
NO. 1 PROSPECT
NAME: Jackson Sirmon (ILB)
DRAFTSCOUT PROJECTION: 7th Round-HPFA
CAREER STATISTICS: Sirmon is a special talent at ILB for many unique reasons. He originally committed to Washington where from 2018-2021, he played in 45 games and started in 28 of them. He then transferred to California where he made a name for himself and a potential NFL draft prospect.
THE TRUTH: The truth about being one of the first players to enter the portal is it's scary.  It's a bit of a free-for-all, but Sirmon has handled it with class. He is a speedy linebacker who can get into the backfield and make tackles on the ball carrier. At 6'2″, 240 lbs, he is also a great pass rusher with fast speed and acceleration to put the opposing signal callers on their backs. While most base defenses run a 4-3, there are also multiple schemes where Sirmon could be sacking the quarterback too. Pro teams will have to figure out where to line him up in a passing league like the NFL.  Right now, he is projected to be drafted in the seventh round or be a HPFA (undrafted) prospect, but I think he could go in the third or fourth round as he has the talent to do so.
NO. 2 PROSPECT
NAME: Slater Zellers (LS)
DRAFTSCOUT PROJECTION: 7th Round-HPFA
CAREER STATISTICS: Zellers has 1 career tackle during his time as the Golden Bears Long Snapper.  The redshirt senior has played in 38 career games in his three-years of active eligibility. He was redshirted as a true freshman in 2018. In 2022, he played in 8 games off the bench and was the active long snapper on duty during all of the punts and field goals.
THE TRUTH:  There is a rising increase in College Long Snappers entering the draft today. Why is this? It's because of the uptick in long distance soccer-style kicking and Australian rugby-style punters. Zellers has done well holding the ball for a really good kicker in Dario Longhetto who can kick from 50+ yards.
NO. 3 PROSPECT
NAME: Matthew Cindric (C)
DRAFTSCOUT PROJECTION:  HPFA-1
CAREER STATISTICS: Cindric has had a solid career since his first start as a redshirt freshman in 2019. He has played in 34 games and has started in 33 of them. This past season, he was one of three Cal Big Hogs to start all 6 games along with Ben Coleman and Brian Driscoll before suffering a season-halting injury at Colorado.
THE TRUTH:  Scouts are underestimating their draft projections of Cindric.  The 6'4″, 295 lb. Offensive lineman has been a durable leader and starter for the Golden Bears for his entire career. He only has had one injury and it came at a bad time. To me, he is a 1st round or a 2nd round talent despite being projected to be an undrafted HPFA-1.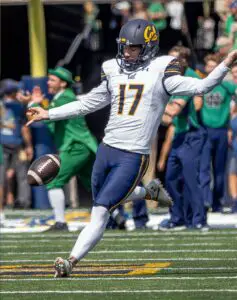 NO. 4 PROSPECT
NAME: Daniel Scott  (SS)
DRAFTSCOUT PROJECTION: HPFA-2
CAREER STATISTICS: Scott has been a very productive safety for the Golden Bears and has shown Scouts why he deserves a shot at the NFL. The Pasadena native has played in 49 games and has made 28 starts over five seasons after redshirting his true freshman year in 2017. He also has collected 207 tackles, seven of them for a loss, one sack, and seven interceptions.
THE TRUTH: Scott is another prospect being under evaluated as Scouts have him going undrafted as a HPFA-2. He is a 2nd or 3rd round talent in my view and if needed could start at SS day one. His size is great too for a SS at 6'2″, 215 lbs. As they say, it's a passing league and you need a lot of big proficient quality safeties like Scott to cover receivers or grab those int's.
NO. 5 PROSPECT
NAME: Jamieson Sheahan (P)
DRAFTSCOUT PROJECTION: HPFA-3
CAREER STATISTICS: The next great Australia Punter to dominate college, Sheahan has kept the trend of successful college Punters who came from this great nation. He has played in 28 career games and averaged 43.51 yards per punt during his three-years at Cal. This past season, he boomed a career high 45.1 yards during his senior year.
THE TRUTH: The truth is Australian Punters are here to stay. When you have big legged soccer-style kickers in the NFL, you need rugby-style punters to play field positions. Sheahan fits that mold as he is a coffin corner style kicker which makes the ball harder to catch for the returner. Alabama has had a run of Aussie punters and now other FBS teams are following the trend of pinning their opponents deep on their own side of the field. Also, he is 6'0″, 205 lbs., and runs a 4.90 forty-time. While he is projected to be a HPFA-3, I look for him to be drafted in the 6th or 7th round, around the same time where kickers have recently been drafted.
For More Great Football Content
Follow us on Twitter at @GridironHeroics for more great content. We appreciate you taking time to read our articles. To interact more with our community and keep up to date on the latest in Football news, JOIN OUR FREE FACEBOOK GROUP by CLICKING HERE
Checkout our latest podcast!
[powerpress_playlist limit=1]