Seattle Seahawks star quarterback Geno Smith is officially good to go for tonight's game against the New York Giants. Smith is said to have suffered a knee injury in the second quarter of the game, prompting the backup quarterback Drew Lock to come in for the remainder of the second quarter before Smith returned in the second half.
Geno Smith back in the second half like…

(via @NFL)
pic.twitter.com/VkHKtnKGaA

— Bleacher Report (@BleacherReport) October 3, 2023
Geno Smith Game Stats
Smith was off to a hot start, going for 67 passing yards and a touchdown. The Seahawks currently lead the Giants going into the second half 14-3 and look to continue to dominate on both sides of the ball. He left in the second quarter of the game after landing awkwardly out of bounds while being tackled by a Giants defender. Smith was visibly upset as it looked like this injury may have been more serious than it was.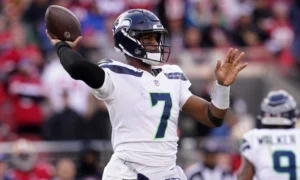 Geno Smith 2023
Geno Smith has had a decent start to the 2023 season, throwing for 736 yards and four touchdowns with a passer rating of 98.2. He has led Seattle to a 2-1 record this season, leading the Seahawks to second place in the NFC West so far only trailing the San Francisco 49ers.
Smith's absence would have been detrimental to Seattle, though, as they have a tough stretch of games coming up, including the Cincinnati Bengals, divisional rival Arizona Cardinals, and the Cleveland Browns in their next three games. This is an ongoing situation and will be updated throughout the night and the week.
For Additional Content
Please go and follow me on Twitter @TaylorHartmaNFL for more NFL news and updates. If you have any further personal questions or comments for Taylor, connect with him on Linkedin. For more articles on the NFL, go to this site here!