Pittsburgh Steelers quarterback Kenny Pickett suffered an injury just before halftime in the game against the Jacksonville Jaguars. The quarterback took a huge hit to his right side and he immediately went off of the field in a lot of pain. He looked to be holding on to his ribs which is not a good sign for Steelers fans. Backup Mitchell Trubisky is now in at quarterback for Pittsburgh.
Steelers' QB Kenny Pickett leaving the game, holding his right rib area.

Mitchell Trubisky has replaced him.

— Adam Schefter (@AdamSchefter) October 29, 2023
Kenny Pickett Injury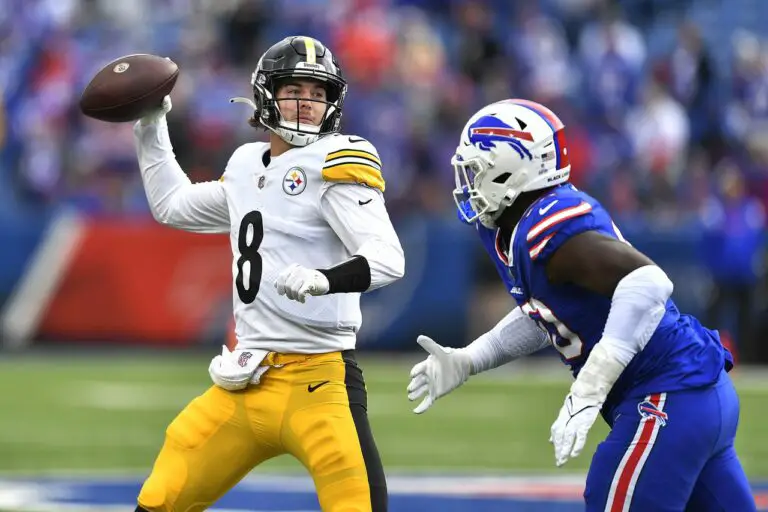 Pickett and the Steelers are down 9-3 to the Jaguars at halftime and now it looks as if they will be without their starting quarterback for possibly the rest of the game. The quarterback has 73 passing yards so far in this one, and we will see if he can come back in the game.
So far this season, he has amounted to 1,257 passing yards and five touchdowns along with four interceptions. Pickett and the Steelers' offense have struggled this season and are ranked in the bottom half of the league in total yards. Throughout his career, Pickett has gone for 3,661 passing yards and 12 touchdowns along with 13 interceptions.
Updated Status
Update: Pickett has been evaluated for a rib injury and has been officially ruled out for the rest of the game.
The quarterback's status for the game and the severity of his injury are still unknown. This is an ongoing situation and will be updated throughout the game, and possibly the week depending on the severity. We will make sure to keep you updated on this post as the situation progresses.
For Additional Content
Please go and follow me on Twitter @TaylorHartmaNFL for more NFL news and updates. If you have any further personal questions or comments for Taylor, connect with him on Linkedin. For more articles on the NFL, go to this site here! Also, go check out our podcast @FSHeroics!