New York Jets quarterback Aaron Rodgers and Las Vegas Raiders wide receiver Davante Adams have finally reunited with each other in Las Vegas. The two ex-teammates have said how much they miss each other throughout the season and have been brought back together before Sunday's matchup.
The #Jets play the #Raiders tonight, and here's Aaron Rodgers with Davante Adams last night in Las Vegas….

Old buddies reunited. pic.twitter.com/C60EmuZPzJ

— Ari Meirov (@MySportsUpdate) November 12, 2023
Davante Adams
Although the two will not be playing together on the same team, they posted this picture that went viral of them hanging out. The two have been vocal about how much they miss each other, which has sparked a lot of rumors during the season about a possible reunion. Well, they have reunited finally, but not in the way that fans have hoped.
Adams earlier in the year was rumored to possibly be traded to New York after he voiced his frustrations with the Raiders, however, since the firing of ex-head coach Josh McDaniels, the energy in Las Vegas seems to have changed for the better. The Jets tried to trade for the star receiver during the trade deadline on October 31, but could not make a good enough offer for him as the Raiders said they did not intend to trade him away.
Aaron Rodgers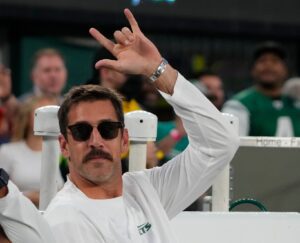 As for Rodgers, he has been on the sidelines all season long recovering from a torn Achilles that he suffered on the first offensive drive for New York this season. He has made incredible strides in his recovery effort which has sparked speculation on a potential return date in 2023. He has been seen throwing during the Jets' pregame warmups in the past couple of weeks and has even thrown 50-yard bombs.
Aaron Rodgers throwing BOMBS 👀😤#NorthJet🇨🇦 #TakeFlight #NFL #NYJets #NYJetsCanada #Jets

— 𝙅𝘑𝘦𝘵𝘴ˣ (@JJetsX) November 6, 2023
The Jets are 4-4 and currently sit in third place in the AFC East. As for the Raiders, they sit at a 4-5 record and are in third place in the AFC West. The two will square off tonight as each team will look to get to at least a sub-.500 record on the year. As for these two ex-teammates, there will most likely be a lot of storylines coming out about the two reuniting.
For Additional Content
Please go and follow me on Twitter @TaylorHartmaNFL for more NFL news and updates. If you have any further personal questions or comments for Taylor, connect with him on Linkedin. For more articles on the NFL, go to this site here! Also, go check out our podcast @FSHeroics!