It's NFL combine week and draft season is about to pick up steam in a big way. Free agency is less than a month away and mock drafts are being pumped out daily by the boatload. I have already completed my first mock (which you can find here) and it has undergone some changes since then, and a few more trades than the first iteration.
The way I decide when trades happen is how the board looks at the time, if a team can't get a great value player for a needed position then we look at which teams are the most likely to trade up to get someone on their big board. The only trade I truly see happening before draft day is when the Bears offload that first pick and the current frontrunner seems to be the Colts. All that being said, I thought there would be more than five.
Because of NIL deals stealing away draft eligible prospects for "one more bite at the apple", you could say there is a drought at a number of positions this year and that might make teams reluctant to leave their positioning to settle for players with a lower projected ceiling.
Now, on to the selections.
1. Indianapolis Colts (via CHI)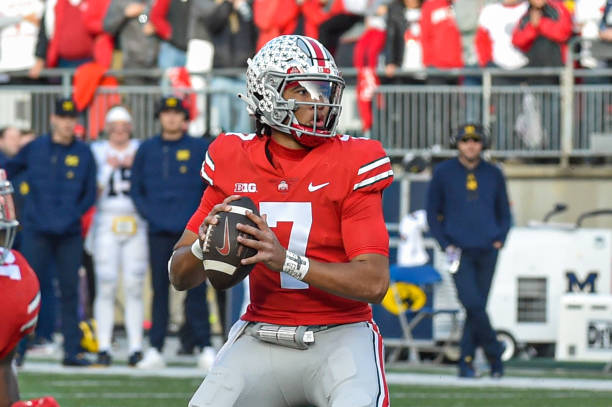 IND receives 2023 1st overall
CHI receives 2023 1st (4) and 4th round (106), 2024 1st and 2nd round
If we know one thing about the Indianapolis Colts, it's that they want a young QB to develop. After all, Jim Irsay said it directly into the microphone during Shane Steichen's introductory press conference. He tried to play it off by talking about Bryce Young's ability, but I don't buy that the Colts are in on Young. Indy is very particular about their quarterbacks and they must be at least 6'1″ to ride. That leaves three options for the number one overall pick and they choose the safest choice with the most upside.
Stroud is a pocket passer who has enough awareness to sense incoming pressure and adjust. In terms of throwing, he has both the arm talent and accuracy to make most throws and has excellent anticipation. His isn't a scrambler by nature, but can rely on his athleticism to extend plays or pick up yards with his legs.
A downside of his is being overwhelmed by pressure on occasion and being guilty of letting it affect his play. When he feels the defense a little too much, he can bail quickly out of a clean pocket or force inaccurate passes.
He may be better off sitting for the first half of the 2023 season, but he will be the starter by the end.
2. Houston Texans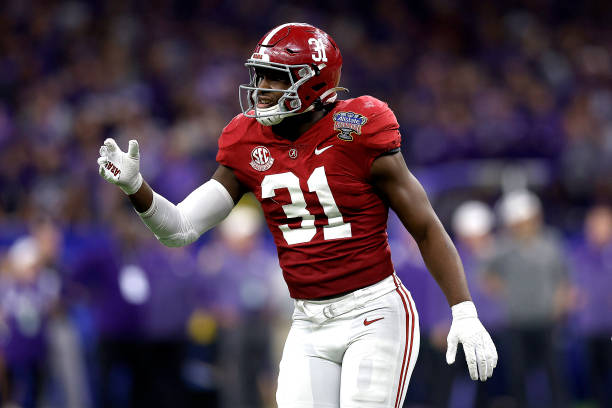 Of all the offseason positions, Houston's is by far my favorite; with the second selection they are positioned well in this draft to have their pick of the litter. Most project they take a quarterback with this pick but I see no reason to. The decision makers know that they are in no state to compete in the upcoming season even when considering the lack of competition in the AFC South. In my opinion, it doesn't make nearly as much sense for them to take a quarterback this year, when they could wait a year and be in the running for Caleb Williams or another rising star.
Will Anderson helps the Texans becomes a key piece in what will become a formidable defense overseen by newly hired HC DeMeco Ryans. Ryans was previously the DC of the defensive juggernaut 49ers, and now he looks to take that mentality to Texas. Anderson's speed and strength are his selling point, but he has far more room to grow. His arsenal of pass rushing moves are a bit lacking, but given both time and coaching under Ryans, he could find himself playing like the 49ers' elite pass rusher, Nick Bosa.
3. Detroit Lions (via ARI)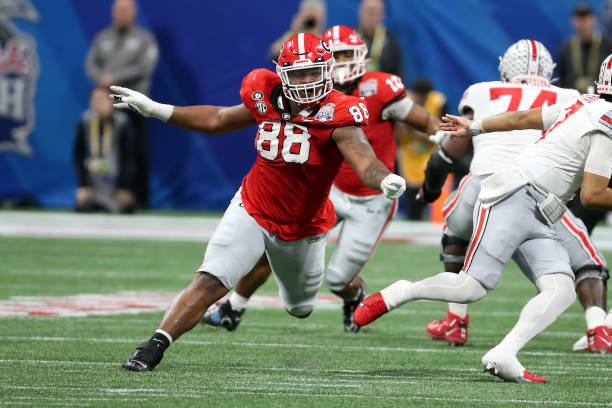 DET receives 2023 3rd overall
ARI receives 2023 6th overall and 2nd round (48), 2024 3rd round (via MIN)
I audibly cackled when I saw this opportunity. The Bears could've made a trade with the Panthers and received a lot more draft capital, but decide to deal with the Colts and expect to take one of their top two targets. Instead, the Texans swerve at the last second and their division rivals use capital from the Hockenson trade to make a luxury pick.
What makes Jalen Carter so special as a nose tackle is his ability to get to the quarterback while being doubled on every play. His addition to an ascending Lions team enhances their pass rush far better than any other player in this draft.
4. Chicago Bears (via IND)
This is a bitter sweet moment for Chicago as they lament the players they missed out on in Anderson and Carter, but recover quickly after taking Tyree Wilson here. In the end, they got the draft capital they wanted and are still able to improve their pass rush. Champagne will still be popped.
What makes Wilson a home run is his natural athleticism and strong build. He is nearly 99th percentile in all measurables while lacking the polish that a top five pick typically has. At Texas Tech, he was able to bully opposing blockers with ease and take down players with his massive reach, but will need a little coaching to combat the better taught NFL tackles. Nonetheless, an impressive player who is a day one starter.
5. Carolina Panthers (via SEA/DEN)
CAR receives 2023 5th overall
SEA receives 2023 9th overall and 2nd round 61st, 2024 2nd rounder
If you have no height requirements, then you have to take Bryce Young, and in this case Frank Reich is in agreement. Young is the best quarterback in this class bar none, because of the immense football knowledge and acute spatial awareness he possesses at all times.
While not able to make all the throws downfield because of a lack of arm strength, he is extremely precise with his ball placement and has a "spidey-sense" to dance in the pocket to avoid pressure. Given space, Young has the ability to either extend plays or take advantage and run for extra yardage.
His only real downsides are his smaller frame and lack of throwing power, but there should be very little problem with his coaches formulating a scheme around his abilities. Young is a starter and offensive rookie of the year candidate on day one.
6. Arizona Cardinals (via DET/LAR)
There are a few questions as to how the new regime in Arizona will build on the roster, but the first move should be to add another cornerback to the DB room. At six, the Cardinals are able to choose their favorite of the litter, and that is Porter.
He has tremendous upside in his speed and man coverage skills, as well as his able to play both on the outside or in the slot depending on need.
7. Las Vegas Raiders
Could the Raiders take one of the rookie quarterbacks here? They could, but with McDaniel's picky scheme, I don't know for certain how well any of them would fit. I assume they look to free agency and hope to bring in a guy like Jimmy Garoppolo, perhaps opting to go QB with a day two or three selection, and use this premium pick to take the top tackle.
Skoronski is whip smart and built with a strong anchor. He's a gifted athlete with the only drawback being his undersized arm length. That combine measurement may drop his draft stock to later in the first round, but he's been highly touted for a reason.
8. Atlanta Falcons
The Falcons are one of the teams in need of a little bit of everything. 2022 wasn't necessarily a great year for them, but I also don't think they can stop moving forward to try and rebuild. Their division is wide open right now, so they need to build on the fly. Desmond Ridder is their quarterback and he could be losing as many as three receivers in free agency, so that is the position they go with here.
For the second year in a row the Falcons take a receiver from USC, and while the two might not have played together since Addison transferred from Pitt, they should compliment each other well. While Drake London can be the physical player, winning contested catches over the top, Addison can be the speed machine creating gaps of separation before turning upfield.
9. Seattle Seahawks (via CAR)
The depth on Seattle's defensive line leaves a lot to be desired and the best way to improve on that front is by taking one of the top edge rushers. Though Murphy's stock has been falling in a number of mocks, it is likely due to his playstyle being more raw ability than pro ready.
He has shown a lot of prowess with his lethal spin move and savvy hands. His athleticism is top notch and should be enough to show his new HC that he is a missile ready to be directed.
10. Philadelphia Eagles
After a tough loss against the Chiefs, the Eagles find themselves in a slight retooling mode. They are set to lose James Bradberry in free agency and could use a cheaper option to offset Jalen Hurts' extension that is on the way sooner rather than later.
Arguably the best corner of the class, Witherspoon has the physical traits in length and speed that make him an ideal day one contributor. At 180 pounds, he is a bit lighter than might be optimal for a corner, but he will be able to keep pace with deep threat opponents and beat them at the line of scrimmage.
11. Tennessee Titans
The hammer has fallen and Taylor Lewan has officially been cut by the Titans. As such, Tennessee finds themselves in need of a young tackle to take over and Johnson should be able to take over.
A massive human who often plays through the whistle, Johnson possesses a lot of traits that HC Mike Vrabel will fall in love with. Reliable strength, high football I.Q., what he lacks is experience but that should make him a better student. Better to start with a fresh canvas than needing to paint over bad habits.
12. Houston Texans (via CLE)
Again, Houston is going to control the controllable. The team may not be selecting their franchise quarterback this year, but that doesn't mean they shouldn't start loading up on weapons for the day he finally arrives. There isn't a lot of depth in the Texans' wide receiver room, but the addition of Johnston is a great start.
Addison is the deep threat WR1 of the class, but Johnston is the receiver for every occasion. He has incredible downfield speed paired with phenomenal agility to run crisp routes and shake defenders. His catch radius is the best of the class, meaning if the ball is thrown close to him, there is a good chance he comes down with it.
13. Minnesota Vikings (via NYJ)
MIN receives 2023 13th overall and 3rd round (74th overall)
NYJ receives 2023 23rd overall, 2024 1st and 4th round, 2025 2nd round
As it currently stands, the 2023 season will be Kirk Cousins' final season while under contract in Minnesota. And per Tom Pelissero, it seems that the Vikings are not interested in signing him to a one year extension. Which means Cousins is either given a three to four year extension or he plays out the 2023 season before leaving in the following free agency. I believe this means that the Vikings are going to be drafting their new franchise quarterback either this year or the next, so it makes sense that they would trade up here to make it so.
If the Vikings' GM and HC decide that Richardson is the guy, I wouldn't be surprised to seem them trade up as high as the Falcon's pick at eight, but find great value for him at thirteen. Richardson's playstyle excites many because of his raw athleticism and rocket of an arm. He has been among the quarterbacks compared to Josh Allen, but he is the prospect most deserving of it.
At 6'4″, he can stand in the pocket and throw over the mountains just in time for the ball to re-enter the atmosphere in the back corner of the endzone while also being able to take off and ruin teams with his feet. What could prevent him from being selected in the top five is his accuracy as Richardson hasn't had as much playing time as the other quarterbacks in his class. But should he find himself falling this far in April, a QB friendly team such as the Vikings under HC Kevin O'Connell, he has the best chance to reach his superstar potential.
14. New England Patriots
I don't see many projecting a safety to the Patriots with this pick, but Branch is no mere safety. With his skill set, he provides versatility as his skills can be used interchangeably at safety or corner.
He has excellent ball tracking skills but prefers to swat the ball rather than attempt an interception. HC Bill Belichick should be thrilled to coach up Branch, and could put him at safety should he want to move on from the aging Devin McCourty.
15. New Orleans Saints (via GB)
NO receives 2023 15th overall
GB receives 2023 29th overall and 2024 1st round
If I was the Saints, I wouldn't draft a quarterback until either the second or third round, but they have been desperate ever since Drew Brees retired so I won't be surprised to see them trade up if one of the top five fell this far.
Levis has been projected as a top three quarterback since the college season ended, but has slowly been sliding since then. He has the proto-typical size and skills teams look for in a NFL signal caller and many still project him going in the top ten, but he has a lackluster sense of pressure in the pocket and teams with higher picks may fall out of love with him.
16. Washington Commanders
I'm a fan of Washington's defense, their pass rushers are the highlight while the linebackers clean up what's left. But the biggest gap in my eyes is their air defense. The defensive backfield has some holes that could easily be field by the safest cornerback in the draft.
For my money, Gonzalez is the surest bet you will find among his class. Plug and play, he is a day one starter who has the highest floor but not necessarily the highest ceiling. Not to say that he won't become an elite star for the Commanders, but Porter and Witherspoon have the bigger boom potential in my eyes.
17. Pittsburgh Steelers
It's time for the Steelers to get younger on the defensive line, and Ojulari is an intriguing prospect to consider. What separates him from the pack are his rushing instincts and numerous moves in his arsenal.
He may not be as big as Pittsburgh might look for in an edge rusher, but I think he can bring a different approach to opposing offenses especially in regards to matching speed against speed. He hasn't played much with his hand in the dirt, but that hasn't stopped great pass rushers in the past like fellow LSU edge rusher, Danielle Hunter.
18. Detroit Lions
As a growing unit, the Lions' defense is coming along nicely with their picks last year of Aiden Hutchinson and Malcom Rodriguez, but they still lack a great secondary. After trading up to grab Jalen Carter, they forfeit the chance to take their top corner and instead grab one with high upside.
Banks is good in press coverage and is able to track the ball well while holding his own. Playing opposite Jeff Okudah, Banks brings a wealth of experience from Maryland and will be a riser on draft night.
19. Tampa Bay Buccaneers
I debated whether or not Tampa Bay should decide to replace Tom Brady with a new quarterback or go elsewhere with this pick. Similarly to the Texans, they stick with who they have and work on rebuilding the rest of the team.
As a prospect, Carter is incredible. 6'7″ and 250 pounds (with room to put on more), his speed and athleticism alone are a reason that he should be considered a top pick. He's quick and violent in the pass rush, needing only some guidance to become a problem on the field.
20. Seattle Seahawks
Earlier the Seahawks took an edge rusher to help fill out their d-line but don't stop there. In this mock draft, Bresee ends up falling to pick twenty, and is reunited with Clemson teammate, Myles Murphy.
Bresee is slightly smaller than other DT prospects and has some questioning his ability to play post ACL injury, but he has shown an aptitude for disruption and should provide problems for opposing interior blockers.
21. Los Angeles Chargers
What the plan with Keenan Allen is, I don't know. What I do know, is that the Chargers are in the running for another pass catcher regardless. I could see them choosing a tight end here as well, but the pool seems to be rather deep for that position and the value for taking Smith-Njigba here is too much to pass up on.
The Ohio State product's elusiveness lends himself well to shaking defenders after the catch and is able to create separation with his fluid route running and speed. Because of his hamstring injury, teams may be more hesitant to take a shot on him but he should be a day one starter with a high ceiling.
22. Baltimore Ravens
Whether or not at this point Lamar Jackson ends up being the Ravens' long-term answer at quarterback is one thing, but the lack of talent in the wide receiver room remains a problem.
Hyatt's stock shot skyward due to the Heisman campaign put forward by teammate, Hendon Hooker, and has still intrigued many since. His speed and ability to leave opposing corners in a cloud of dust has wowed the crowd but has scouts wondering if he is a one trick pony. Does it ultimately matter? I don't think so, in time he should be able to learn all aspects of the job. In the meantime, let him do what he does best.
23. New York Jets (via MIN)
The longer the Jets wait to find their quarterback and the worse off they will be. In this case they could've drafted either Will Levis or Anthony Richardson, but they are in win now mode and need to target a veteran QB such as Aaron Rodgers or Derek Carr. My best guess is Rodgers returns to Green Bay, so they can't afford to lose out on Carr.
After securing their veteran quarterback, the Jets are now able to address their weak linebacker core by drafting Sanders. After not seeing starting time at Alabama, he transferred to Arkansas and began dominating as an inside rushing threat. The Jets will be giddy as they draw up plays for Sanders.
24. Jacksonville Jaguars
Jacksonville has shown that they can find receivers in free agency, and I trust them to do so again. That being the case opens the board to allow them to bring in the best guard in the draft.
Torrence is an absolute monster, strong and capable in his assignment and should be a day one starter for the Jags. He can struggle by getting in his own head and getting too mechanical by oversetting, but that should be fixed with time.
25. New York Giants
Losing four productive receivers would be a massive loss for the Giants, and while they likely will reason at least one, they need to recoup their losses here. Zay Flowers would be an interesting pick here, and I don't doubt coach of the year, Brian Daboll, would have problems scheming him the ball.
Like others in this draft, Flowers is a deep threat with plenty of agility to pair with his speed. His drawback is his slight frame at 5'9″ and 180 pounds, this could turn away teams from this potential playmaker. But as the position evolves, so too do the decision makers. Flowers will likely only see play from the slot even though he played outside at the collegiate level, regardless, an interesting player to keep an eye on.
26. Dallas Cowboys
Dallas needs a true complement to Micah Parsons. Let Parsons do his best by rushing the passer while Simpson is the cleanup crew. Simpson was a great tackler and can be used as a coverage backer, as such, he couldn't seem to do himself any favors in the pass rush.
Let Dan Quinn work his magic in developing Simpson into a true run stopper and coverage man, and linebacker is no longer a Cowboy problem.
27. Buffalo Bills
Jordan Poyer almost certain leaves the Bills in free agency, unless he believes that the Bills are still strong contenders and takes a pay cut. But I don't know how likely that scenario is currently.
Instead, Buffalo gets younger at safety and takes the Texas A&M standout. He should be able to provide the over the top coverage and have plenty of time to improve his tackling throughout the season.
28. Cincinnati Bengals
If this was 2007, Robinson would be a top five pick and no one would bat an eye. But the appeal of a workhorse running back has declined and now someone wouldn't touch Robinson until the second round, but the Bengals will have an opening that could be filled with such a special talent.
Robinson is the type of back to shoulder the workload and pay dividends to the Bengals should the Longhorn fall into their lap. Also providing versatility in the pass game, Robinson likely ends up the leading back with Joe Mixon becoming a background player.
29. Green Bay Packers (via NO/DEN/MIA/SF)
The Packers love a lot of positions in the draft, and none of them are skill spots like receiver, tight end, or running back. At least, not in the first round. What they absolutely adore are defensive positions and linebacker is one of them.
Campbell is a player whose stock is sure to rise after the combine kicks off and scouts are able to see him compared to the other linebackers of his class. A monster in the run game, teams will love his ability to wrap up runners and clean up as a pass rusher.
30. Philadelphia Eagles
Had the Eagles not drafted Cam Jurgens as Jason Kelce's heir when he eventually decides to hang up his cleats, John Michael Schmitz would be the choice. Instead, they are faced with potentially resigning the soon-to-be 30 year old, Isaac Seumalo. I wouldn't be surprised to see them say goodbye to their old guard and welcoming in a younger one.
Mauch played tackle during his time with NDSU, but he has the traits teams look for their interior positions so I expect him to be kicked inside should he be selected by Philadelphia.
31. Kansas City Chiefs
At this moment, the Chiefs are set to lose both tackles, Orlando Brown Jr. and Andrew Whylie to free agency. Unfortunately for KC, it seems as though Brown will be payed a truckload in free agency that they can't match. So unless they make a move for recently released Taylor Lewan (or perhaps in addition to), they will have to look for a replacement in the draft.
Jones is a massive prospect with not a lot of starts at the college level, but that shouldn't deter the Chiefs one bit. Given his raw potential, it could mean that they could slot in Jones on either side as needed without suffering too much from his adjustment.
Like the article? Read more of my writing here!
For More Great Football Content
Follow us on Twitter at @GridironHeroics for more great content. We appreciate you taking time to read our articles. To interact more with our community and keep up to date on the latest in Football news, JOIN OUR FREE FACEBOOK GROUP by CLICKING HERE
Checkout our latest podcast!
[powerpress_playlist limit=1]