In the aftermath of championship weekend, all but two teams are looking to the horizon and enter the season of pre draft speculation. With the Senior Bowl less than a week away, it is high time we jump into mock draft season.
Now, before we head into the mock there are a few pieces of key information. First and most obvious, there are only 31 picks after Dolphins forfeited their first round pick due to tampering and thus are not in this iteration of my mock. And secondly, there are trades. Not many, but a few and likely more in future versions.
All formalities observed, it is time to begin.
1. Carolina Panthers (via Chicago)
Bryce Young, QB, Alabama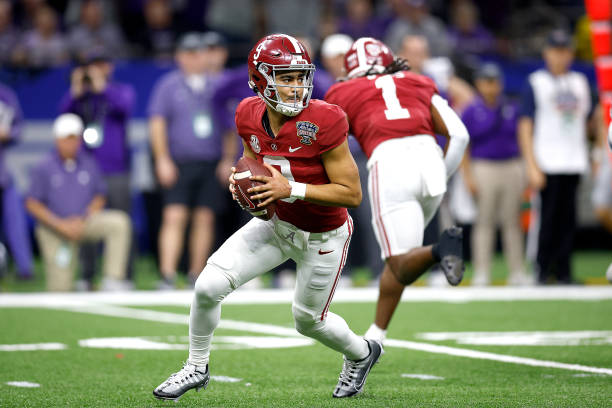 There are a number of possible trades that could be made for this pick, but I think Carolina has a great chance to get the deal done. In the Deshaun Watson sweepstakes, it was made repeatedly clear how willing they were to meet the Texans' asking price. Now in 2023, they find the bar a little lower to hurdle and give new head coach, Frank Reich, the Panthers' franchise player.
Young has all the attributes and intangibles scouts look for in a starting quarterback except size. This may deter other teams, but Carolina is not one of them. Young's decision making separates him from the other quarterbacks of his class and will enable him to be a week one starter.
2. Houston Texans
C.J. Stroud, QB, Ohio State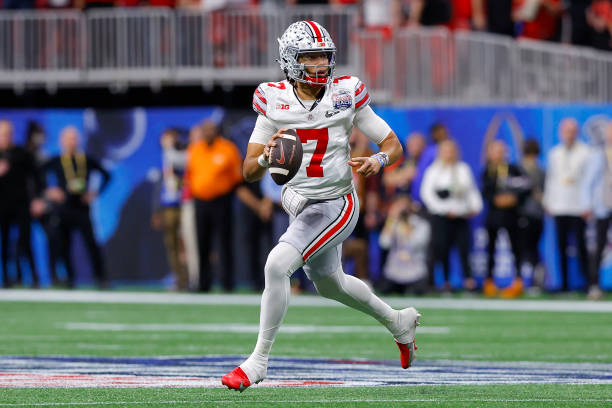 The Texans are still in rebuild mode, but need to start developing a quarterback now. In their case, Stroud is the ideal candidate to sit his rookie year and work on fundamentals before taking over in 2024. There is very little reason to throw him to the wolves when the entire team is still in their rebuild mode. For now, accept that they aren't contenders in 2023 and let the young team find their identity to become monsters in time.
3. Arizona Cardinals
Jalen Carter, DT, Georgia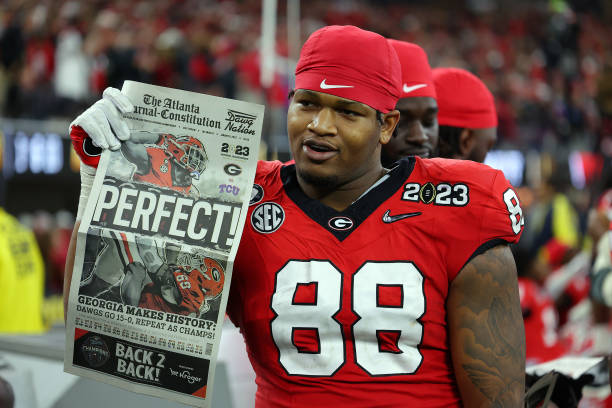 Carter is a monster disruptor all by himself and his value is too much for Arizona to pass up. Though the temptation to slot in Will Anderson Jr. for J.J. Watt is certainly alluring, the edge rusher class is very deep and I believe the Cardinals will find his replacement in the second or third round.
4. Indianapolis Colts
Will Levis, QB, Kentucky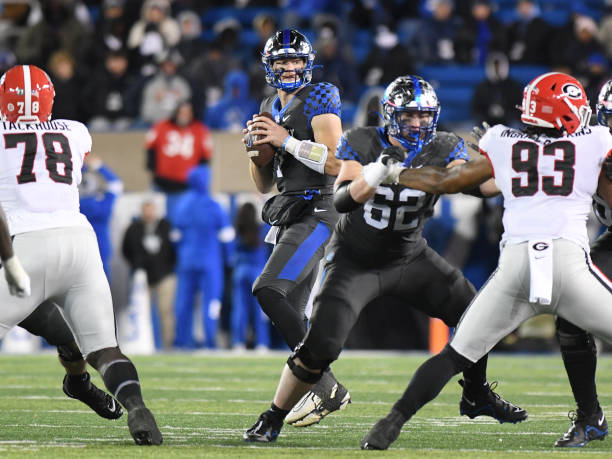 Two things in Indianapolis are certain at the beginning of each season: the Colts are looking for a quarterback, and he better start right away. Levis is the quarterback that scouts can agree is the foremost day one starter among his class. Which means hands-on-owner, Jim Irsay, will be happy with the selection, and GM Chris Ballard will sigh in relief knowing he didn't need to trade up to select Levis.
5. Seattle Seahawks (via Denver)
Will Anderson Jr., EDGE, Alabama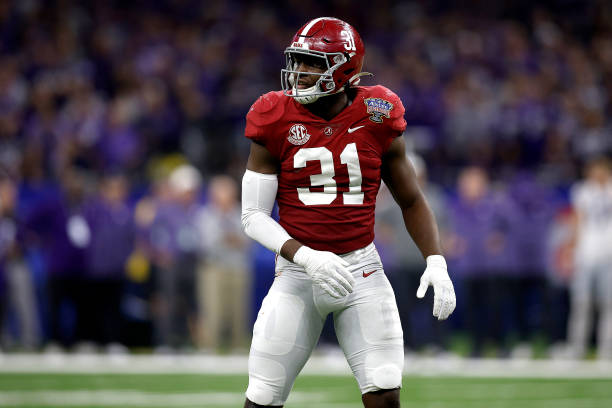 A slight fall for Anderson, but barring any injury, this is likely the furthest he drops. The Seahawks finally begin to reap the rewards from the Russell Wilson trade and bring in an elite pass rusher who is a certified day one starter.
6. Detroit Lions (via Los Angeles)
Bryan Bresee, DT, Clemson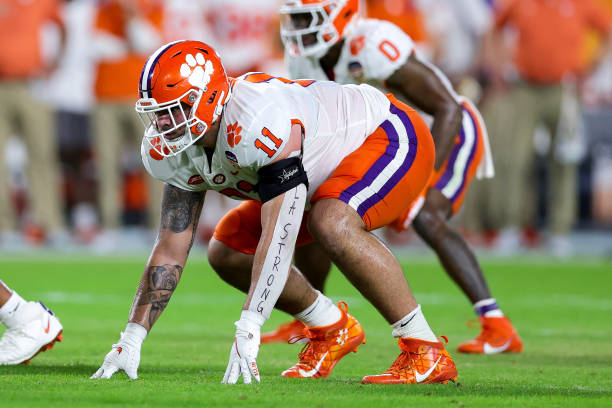 Detroit finds themselves in an interesting position and could be willing to trade away the pick should the right suitor make the call. In this case, the board falls unfavorably in that regard. Instead, the Lions add an intriguing prospect in Bresee and weaponize the interior.
7. Las Vegas Raiders
Paris Johnson Jr., OT, Ohio State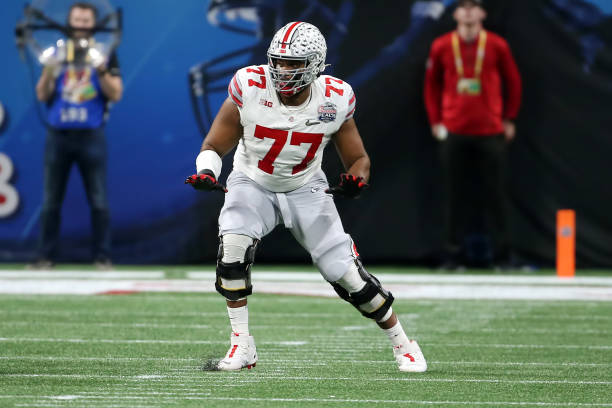 Some have the Raiders selecting a quarterback here, but I would disagree. I think they either move forward with Jarrett Stidham or bring in Tom Brady. The only move left to make is to add protection. Johnson brings with him elite size and a willingness to bully defenders at the perimeter.
8. Atlanta Falcons
Tyree Wilson, EDGE, Texas Tech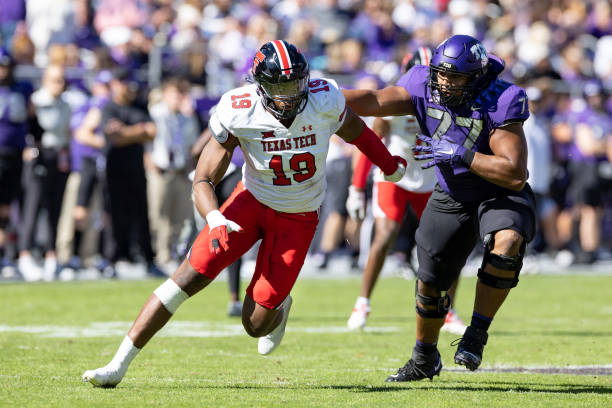 Cornerback? Safety? Edge rusher? What don't the falcons need at this point? Atlanta needs to take the best player available, and they find it with Wilson. Wilson should be able to bring the pressure to opposing quarterbacks
9. Chicago Bears (via Carolina)
Joey Porter Jr., CB, Penn State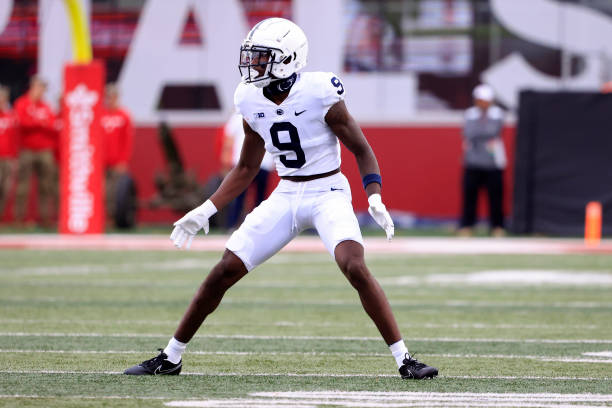 When you have a team that has been purposefully stripped of firepower like the Bears have been, just about anything is on the table. At this position in the draft, you could take a chance on a top five edge rusher or you could take your favorite corner. I think they choose the later and bring in Porter to bolster a unit that is on the rebound when Jaylon Johnson returns from injury next season.
10. Philadelphia Eagles (via New Orleans)
Christian Gonzalez, CB, Oregon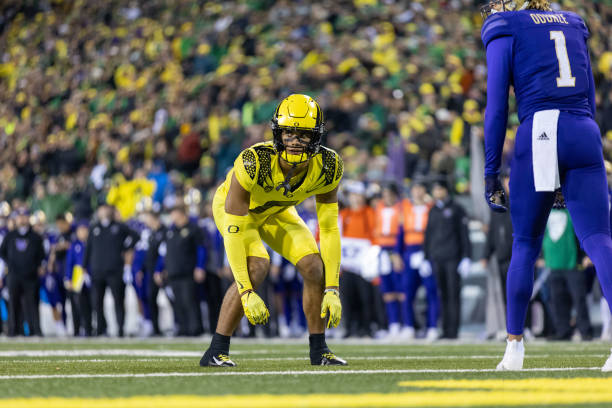 Once the first corner is off the board, it will be a mad scramble for the other teams to draft the next best. In this case, Philly is in a prime spot to inject youth into their aging secondary. Gonzalez might be the prospect with the lowest floor given his combination of length and agility. Plus, if Slay continues playing for the Eagles, Gonzalez would benefit from playing next to a veteran of his caliber.
11. Washington Commanders (via Tennessee)
Devon Witherspoon, CB, Illinois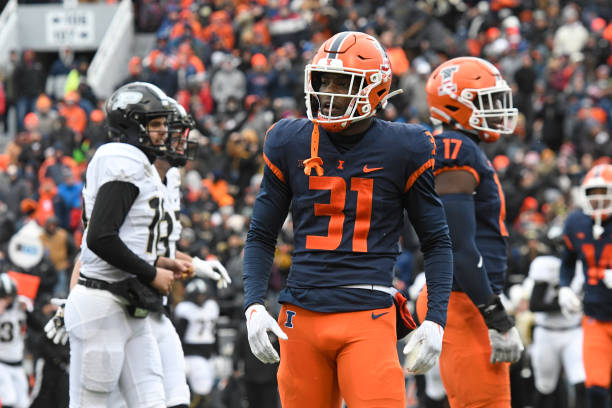 The second big trade of the draft arrives with the Commanders looking to jump on the chance to get younger in their cornerback room and they find a partner in Tennessee. Witherspoon is similar to Gonzalez is certain aspects but lacks the same wherewithal that the Oregon prospect has. Nonetheless, a very high ceiling that Washington will fall in love with.
12. Houston Texans (via Cleveland)
Quentin Johnston, WR, TCU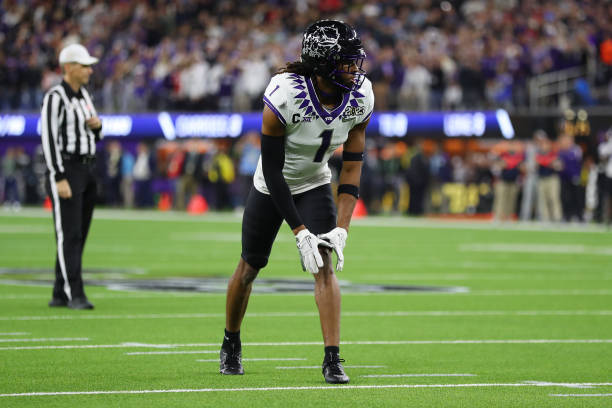 Besides Brandin Cooks, Houston's wide receiver room is a bit sparse. If they want a roster in a position to compete when their quarterback finally takes the field, then you might as well take the best players available in the draft. Johnston is a big-bodied deep threat that will be exactly what any team would look for as a number one receiver. Keeping this player in the lone star state is just an added bonus.
13. Seattle Seahawks (via NYJ)
Cam Smith, CB, South Carolina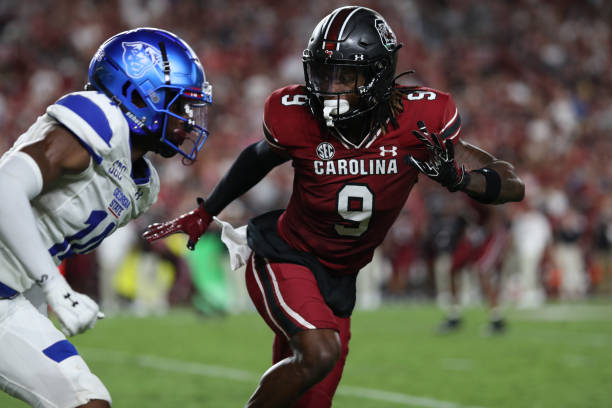 Another trade, another corner. I think the Jets would be willing to make this very selection, but in this case, they don't like the way the board fell and decide to move back. As such, they find the Seahawks looking to move up and take a corner with tremendous upside. Legion of Boom 2.0 anyone?
14. New England Patriots
Brian Branch, S, Alabama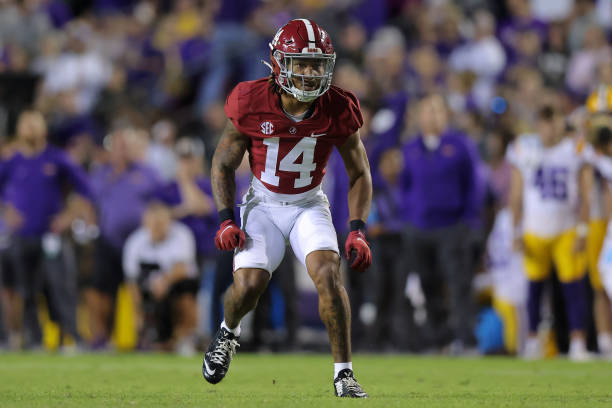 The Jets attempt to remove an option from New England's board, but I don't think Bill Belichick lost his pick. Devin McCourty is 35 years old and a free agent I don't see being resigned. Bringing in the top safety of the class becomes a no-brainer, especially since he comes from Nick Saban's defense.
15. Green Bay Packers
Myles Murphy, EDGE, Clemson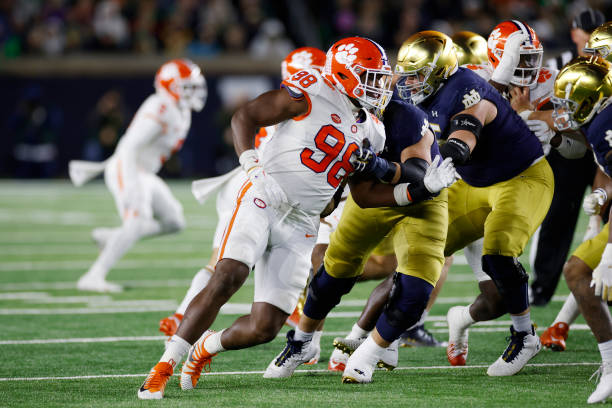 Aaron Rodgers or Jordan Love? As far as I'm concerned, it doesn't matter who the starting quarterback is, they aren't getting a weapon in the first round. The Packers love drafting defenders in round one and they continue their streak with Murphy. And given how Murphy is generally a consensus top ten selection, Green Bay will be celebrating his selection well into day two.
16. Tennessee Titans (via WAS)
Jordan Addison, WR, USC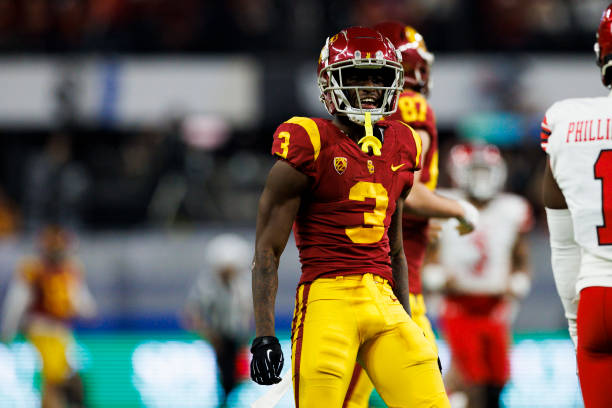 Unlike the Packers, the Titans select two receivers in back to back drafts to make up for the hole left by A.J. Brown after his trade to the Eagles. Addison might not have the size that Johnston possesses, but he makes up for it in speed. This gives Tennessee a little more time to figure out their quarterback situation while building for the future.
17. Pittsburgh Steelers
Peter Skoronski, OT, Northwestern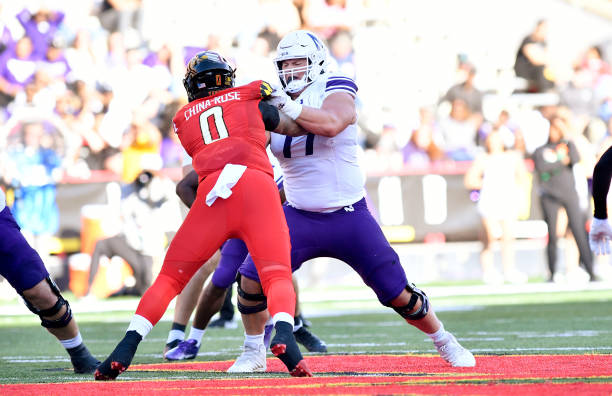 Pittsburgh is a gritty city with a toughened exterior. Leave the flashier picks to flashier teams, all Mike Tomlin needs is a meat and potatoes blocker with an attitude. 'Nuff said.
18. Detroit Lions
Nolan Smith, EDGE, Georgia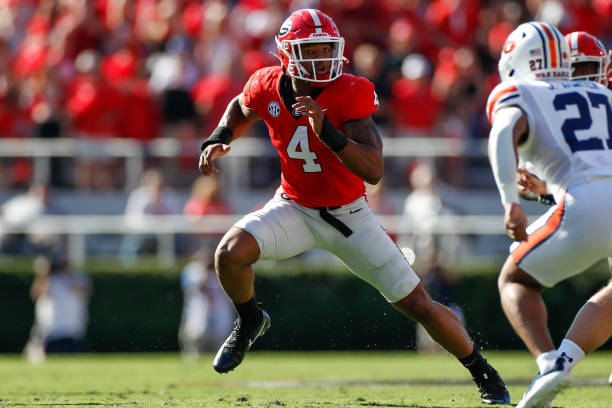 The rich get richer, and the Lions add another first rounder to their d-line. Though Smith was sidelined by injury, he should be more than capable to match up opposite former second overall, Aiden Hutchinson. Adding both Smith and Bresee should be enough to prove that these are the Brand. New. Lions.
19. Tampa Bay Buccaneers
Kelee Ringo, CB, Georgia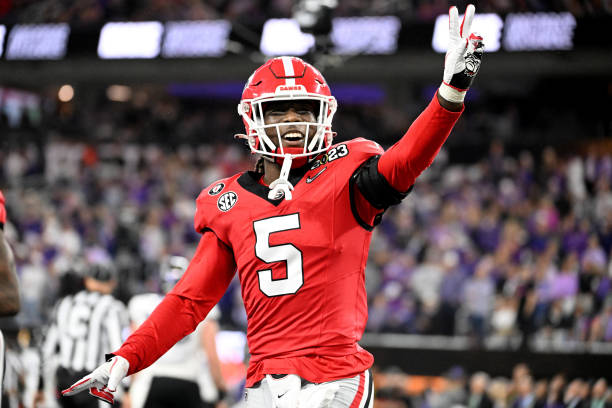 As Tom Brady exits the bay for a better shot at one more Super Bowl, there are a few gaps that can be addressed in a two year rebuilding phase. They could pick Anthony Richardson here, but the cornerback room is looking a little empty, so they fill it with Ringo. Formerly thought to be the best corner in his class, he has certainly fallen a bit in the previous months, but he finds a home in Tampa's young secondary.
20. New York Jets (via Seattle)
Broderick Jones, OT, Georgia
The Jets trade back in a gamble that they player they want will still be on the board and they are rewarded big time. Ending the mini run on Georgia players, Jones' addition continues New York's ambition to get younger on their line and hopefully establishes himself as a franchise bookend.
21. Los Angeles Chargers
Drew Sanders, LB, Arkansas
I see the mocks having LA take a tight end here, which I'm not opposed to, but I see the amount of linebackers that are leaving in free agency and believe the Chargers replace at least one of those spots here. I see them putting Sanders into Kyle Van Noy's role and using him as a hidden rusher to disrupt opposing passers.
22. Baltimore Ravens
Jaxon Smith-Njigba, WR, Ohio State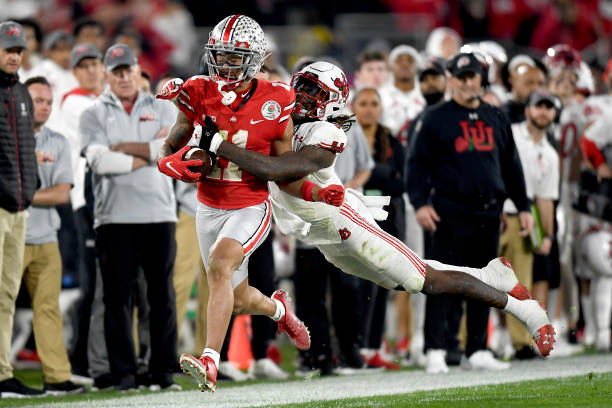 The Ravens are trying to spell out how much they want Lamar Jackson to be their quarterback without writing it out in the form of a generous extension. Instead, they will hire an offensive coordinator that Jackson approves and they'll draft him a weapon. With the addition of Smith-Njigba, Jackson shouldn't be too upset about playing on a franchise tag.
23. Minnesota Vikings
Deonte Banks, CB, Maryland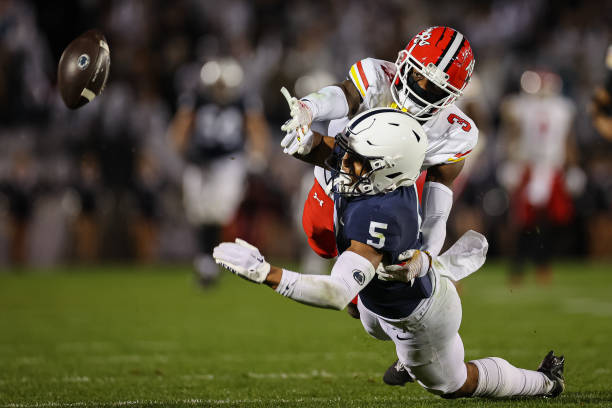 I really like the Vikings trading down from here, but I don't see anyone willing to move here just yet. In that case, they stand pat and select the best player on their board. Banks looks like he could be a first round talent or early second rounder, and if they neglect choosing him here, they likely would miss out given their lack of a second round pick to leverage in a trade.
24. Jacksonville Jaguars
O'Cyrus Torrence, G, Florida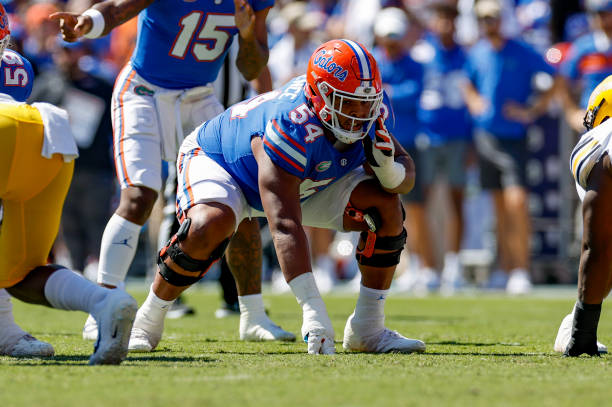 The Jacksonville Jaguars will return to the playoffs, especially in a division that is completely up for grabs. But just to be safe, they add to Trevor Lawrence's o-line with the best guard in the draft. Receiver could also be in play, but the Jaguars have shown that they are willing to sign them in free agency, so o-line is the move here.
25. New York Giants
Jalin Hyatt, WR, Tennessee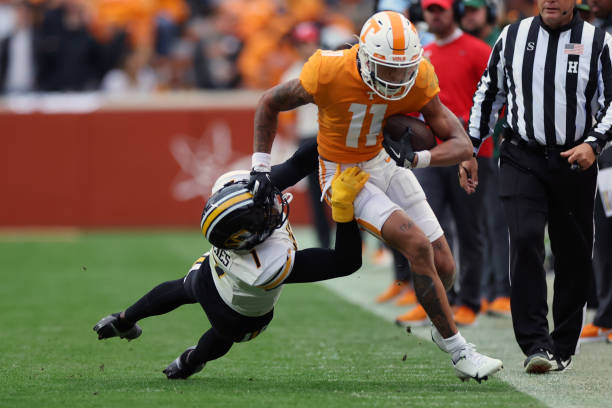 Speaking of receivers, it seems that the Giants are going to be losing some. With Sterling Shepard and Darius Slayton both on the free agent chopping block, the Giants will need someone on a rookie-scale contract. That's where the speedy Tennessee Volunteer comes in. He will give the likely extended, Daniel Jones, another body to target at any point on the field.
26. Dallas Cowboys
Josh Downs, WR, North Carolina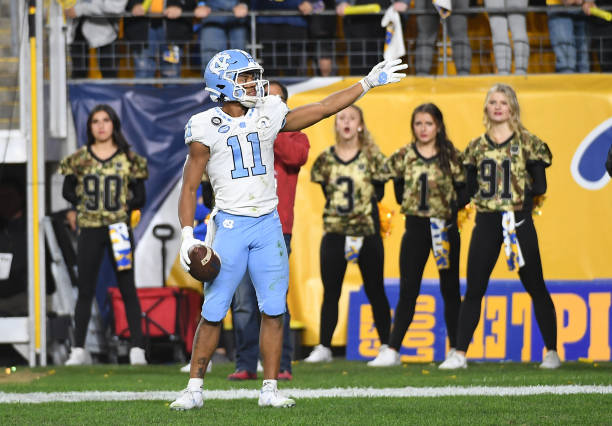 Dallas misses Amari Cooper. But they don't miss him enough to pay another receiver to take his spot on the depth chart. Instead, they mirror the Giants by taking Downs. A strange repetition of NFC East rivals playing copy cat (CB to CB, and WR to WR), but nonetheless a pick for Cowboys fans to love.
27. Buffalo Bills
Antonio Johnson, S, Texas A&M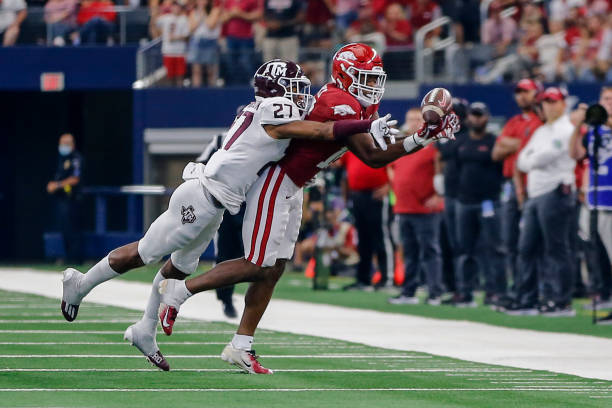 Let's go (younger) Buffalo! Jordan Poyer likely doesn't return next year given his age and expiring contract, so Brandon Beane allows the veteran to test the waters in free agency as he selects his replacement in Johnson.
28. Cincinnati Bengals
Bijan Robinson, RB, Texas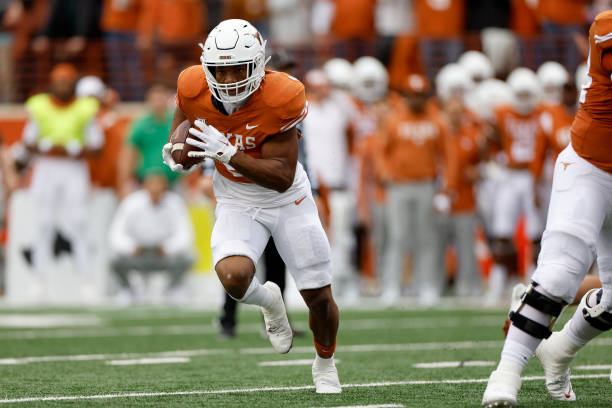 Samaje Perine has been a huge factor in the Bengals offense the past two playoff runs, but with an expiring contract as a running back, it's fair to guess that his time in Cincinnati is at an end. But the Bengals love the dual attack that Perine's power back nature gave pairing with the elusive utility Joe Mixon has, so they bring in Robinson to fill that role with ease. In this case, the former Longhorn takes over most of the load and Mixon becomes a dedicated passing weapon for Burrow.
29. Denver Broncos (via Miami/San Francisco)
Jack Campbell, LB, Iowa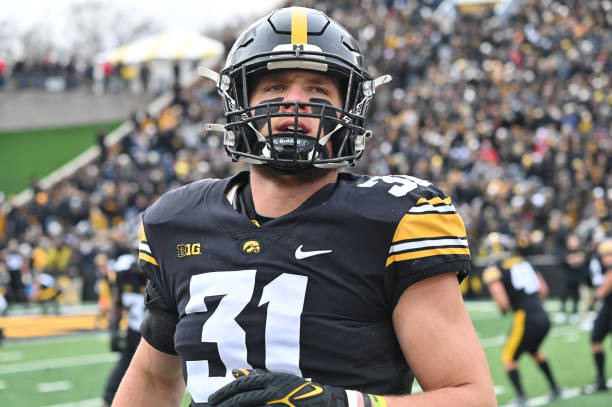 There are always a few surprises in the draft and picking a Hawkeye over a Clemson Tiger is the newest one. Though Trenton Simpson is the higher graded linebacker, Denver is looking to replace some depth at the position with one who could offer more pass rush help than Simpson would.
30. Kansas City Chiefs
Anton Harrison, OT, Oklahoma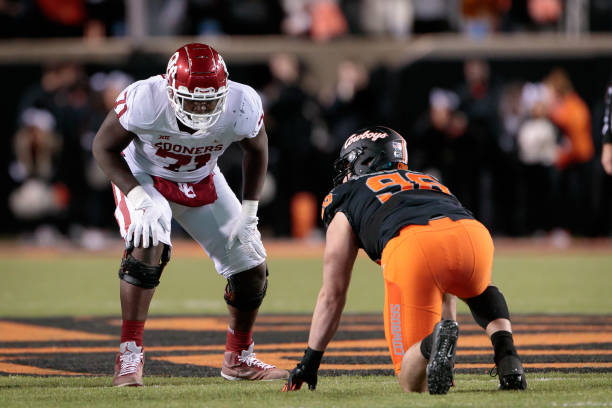 I assume that the Chiefs bring back Orlando Brown Jr. while letting Andrew Whylie go in free agency, but it could be the other way around. Regardless, I have a feeling one of them end up not returning, so tackle has suddenly become a need. In this case, Kansas City brings in Harrison to fill that need for the next five years.
31. Philadelphia Eagles
Siaki Ika, DT, Baylor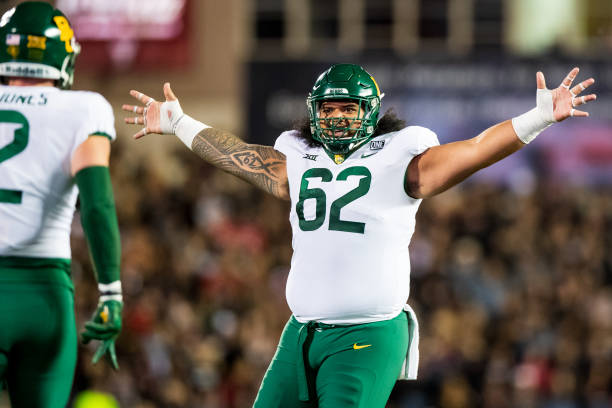 Last year, the Eagles added behemoth Jordan Davis to get younger at defensive tackle but they still lack that young core as Fletcher Cox is likely nearing retirement. Ika provides youth and the disruptive upside that you want to get out of a defensive lineman.
Like the article? Read more of my writing here!
For More Great Football Content
Follow us on Twitter at @GridironHeroics for more great content. We appreciate you taking time to read our articles. To interact more with our community and keep up to date on the latest in Football news, JOIN OUR FREE FACEBOOK GROUP by CLICKING HERE
Checkout our latest podcast!
[powerpress_playlist limit=1]