The Miami Dolphins are looking to bounce back after a disappointing loss last week as they welcome the New York Giants to Hard Rock Stadium.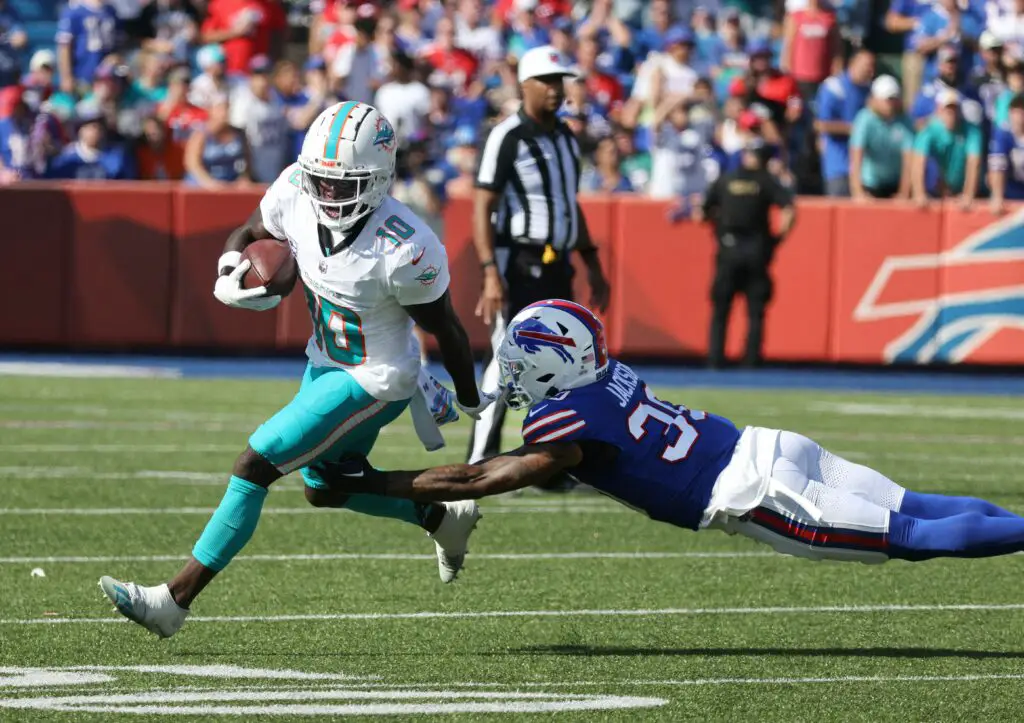 Tua Tagovailoa and the Dolphins had a humbling moment when the Buffalo Bills overpowered them, defeating the Phins 48-20. After taking down the Denver Broncos and scoring 70 points, it was a snap back to reality for Miami as they took on their AFC East top rival.  De'Von Achane continued to stay hot, scoring two touchdowns, but QB Tagovailoa was sacked one time and only threw one touchdown.
The New York Giants are 1-3 on the season after an embarrassing 24-3 home loss to the Seattle Seahawks. In their last two games, the Giants have scored just one touchdown. Their sole win comes against the Arizona Cardinals, where they won 31-28 in a comeback fashion. Quarterback Daniel Jones, who was signed to a four-year contract before the beginning of the season, has scored only three this year. The Giants have also been without their star running back Saquon Barkley the past two weeks, but according to some reports, head coach Brian Daboll said that Barkley will start to participate in practices since sustaining an ankle injury.
Dolphins Still One of the Best in the League
Going into week 5, the Dolphins remain at the top of the league in several statistical categories, including rushing yards, passing yards, and points. Heading into this matchup with the Giants, it's very possible that the Dolphins could repeat their Week 3 success and blow New York out of the water.
With players like De'Von Achane on their roster, who is ranked 6th in the NFL with 309 rushing yards on only 27 carries, and he's the fourth player in NFL history to score six touchdowns in the first three games of his career.
Miami has the speed and the dominance to take over the Giants, and even after the humbling loss, they continue to have some of the best players in the league perform in super-human ways. If the Giants offensive line doesn't come and do their jobs, they might as well not even bother to show up on Sunday, because even though Miami's defense has allowed the fifth-most points, they'll be able to stop New York.
Ready to Put Loss Behind Them
The Dolphins are ready to move on, continue to be one of the best in the NFL, and put the Week 4 loss behind them. Tagovailoa says there's plenty of football left, and the team needs to work on things that need to be corrected.
"There's a lot of football left, continue to look at the guy next to you, continue to trust him, continue to keep playing, and remember what you play for. It's tough when you lose and you lose like this, but we're not going to blink. We're going to continue to do what we do. We're going to go back in."
Dolphins / Giants Injury Reports
At Thursday's practice, offensive tackle Terron Armstead (knee) was the only Dolphins player who did not participate. Head coach Mike McDaniel said on Monday that Armstead will be out for Sunday's game and that he'll make a return this season but his recovery from his injury will be measured out in weeks, not days.
UPDATE AS OF 10/6: LT Terron Armstead has been placed on injured reserve due to the knee injury sustained in Week 4. Good news is that the injury isn't season ending, but Armstead is expected to miss at least four games.
The #Dolphins are placing LT Terron
Armstead on injured reserve because of a knee injury suffered in Sunday's loss to the #Bills, sources tell me and @RapSheet.

The good news is it's not expected to be season-ending. But Armstead will miss at least four games. pic.twitter.com/JHV9HryNKV

— Tom Pelissero (@TomPelissero) October 6, 2023
Both Raheem Mostert and Justin Bethel were back after getting a vet rest day on Wednesday. Players that were limited on Wednesday- WR Braxton Berrios, S DeShon Elliot (groin), G  Lester Cotton (ankle), DB Nik Needham (Achilles), G Robert Jones (knee), C Connor Williams (groin), LB Jaelan Phillips (oblique), G Robert Hunt (knee), and RB Salvon Ahmed (groin) were all participants in practice on Thursday.
Elliott, Williams, and Phillips all missed the Week 4 loss against the Bills, but are likely to be back for Sunday's home game.
As far as the Giants go, G Shane Lemieux (groin), C John Michael Schmitz (shoulder), and OT Andrew Thomas (hamstring) were all inactive at practice on both Wednesday and Thursday. New York did have Saquon Barkley with limited participation on both days, so it's likely that whether or not he'll play this weekend will be determined by game time.
Linebacker Micah McFadden for New York was listed as a limited participant on Thursday due to a new ankle injury. TE Daniel Bellinger (knee), OL Evan Neal (hand/ankle), and WR Wan'Dale Robinson (knee) were also listed as limited participants on Thursday.
For More Football News:
Follow me on Twitter at @sarahspooon. My written work can be found here on Gridiron Heroics and also on Wisconsin Sports Heroics.