After days of news coverage reporting uniform changes and helmet redesigns in the NFL, the UVA Cavaliers are officially on the redesigned bandwagon. In an effort to look and play their best, the Hoos' helmets are throwing it back in 2022. Going retro,  these helmet designs are a throwback to a design used by the Cavs in the 80s and 90s.
Going Retro: Less is More
This year, the Cavaliers' helmets are taking on a more minimalist approach.
The team's blue helmets have been redesigned to eliminate the orange and white stripes down the middle. These will feature orange and white V-sabres on each side. An upgraded look no matter the jersey, the blue helmets for 2022 will look particularly slick paired with the team's orange jerseys.
Virginia's white helmet for 2022 maintains some similarity to 2021's white helmet. But, replacing the players' numbers on each side will be blue and orange V-sabres. These helmets will have an orange stripe and a blue stripe running down the middle.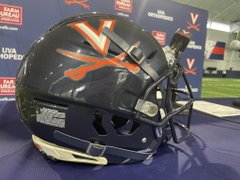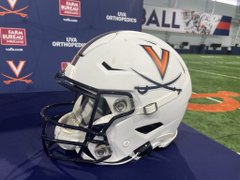 More to Come?
Virginia is embarking on the Tony Elliott era in 2022. With a talented roster and new strategies for improvement on both sides of the ball, the team is undergoing changes meant to push the players to their full potential. Elliott's strategy, AD Carla Williams' enhanced investment in football, and new helmet designs could also signal more changes to come for the Hoos' uniforms.
Tom Ford once said, "People will stare. Make it worth their while." In 2022, the Cavs are taking this advice very seriously. Going retro could have the Cavs looking and playing their best in no time!
For More Great Football Content
Follow us on Twitter at @GridironHeroics for more great content. We appreciate you taking time to read our articles. To interact more with our community and keep up to date on the latest in Football news, JOIN OUR FREE FACEBOOK GROUP by CLICKING HERE
Checkout our latest podcast!
[powerpress_playlist limit=1]