Kansas City Chiefs tight end Travis Kelce recently appeared on the "Paper Route" to talk about his career and life. In the interview, he was asked by Brandon Marshall if he would come back to playing football if his team won the Super Bowl this season.
— Cristhian Jesus (@Wulf2412) October 24, 2023
Travis Kelce Comments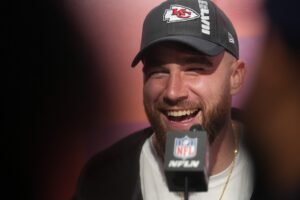 Kelce responded to the question by saying that he intends to "Try and play until the wheels fall off." He also added that has been taking it all in and just enjoying his time with the Chiefs and he does not plan to quit anytime soon.
He goes on to say, "I've been blessed that I've been here, been able to be fortunate enough to be on the field more times than not." He said that these opportunities come rarely and that he wants to keep playing as much as time allows him. Everyone has different perspectives about retirement and Kelce still wants to keep playing for as long as he can.
Taylor Swift Factor
Kelce most likely has another reason to keep playing that he did not mention in the interview: Taylor Swift. His new girlfriend has shown up to most of his games this season and has certainly given him a newfound energy while playing. In games that Swift has attended, Kelce averaged 108 receiving yards in all four of those games and looks to continue that trend.
So far this season, the star tight end has amounted to 525 receiving yards and four touchdowns in the six games he has played in this season. The Chiefs are one of the hottest teams in football right now with a 6-1 record. Other than quarterback Patrick Mahomes being great no matter what, Kelce has been a key factor in the team's success story this season.
For Additional Content
Please go and follow me on Twitter @TaylorHartmaNFL for more NFL news and updates. If you have any further personal questions or comments for Taylor, connect with him on Linkedin. For more articles on the NFL, go to this site here! Also, go check out our podcast @FSHeroics!