Roster cuts are coming. The final week of preseason is the last chance for players to make their case before a huge amount of roster cuts happen. Many of these are fringe players that will end up on a practice squad somewhere but there are some that teams should give more time to develop. For the Packers, one of these players is Caleb Jones. The Packers need to keep Caleb Jones on the 53 man roster.
Who Is Caleb Jones?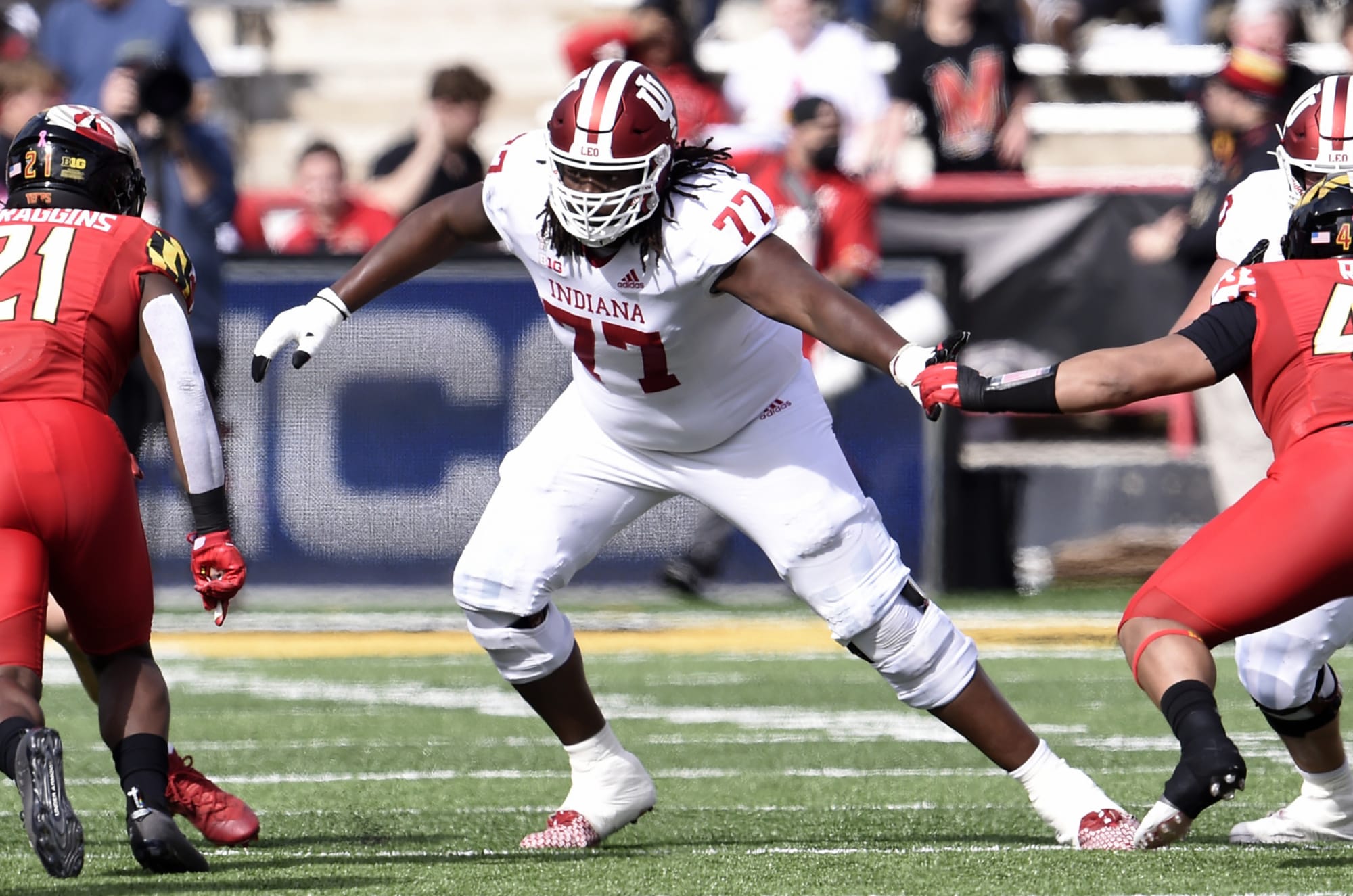 Jones is an undrafted free agent out of the University of Indiana. As a Hoosier he lead a line that allowed the least amount of sacks per game in the Big Ten. He is impossible to miss on the field. Why? He stands 6-foot-9 and weighs 370 pounds. Pair that with a massive 86 5/8 inch wingspan and the raw talent is there. He has often had problems with his weight but he is aware of it and is taking steps to slim down. If he were to play, he would be the tallest player in franchise history. His size alone is a reason for the Packers to keep him but his play has also been impressive.
Caleb Jones Highlights
Jones has been a monster in the preseason. He hasn't simply been a one hit wonder either. In the game against the Saints, he is facing off against a 6 year veteran edge rusher who stands 6-foot-7 and 290 pounds. Check out what Jones does to him.
Tanoh Kpassagnon is a 6'7" 290 lbs EDGE who's played in the NFL for 6 years, and LT Caleb Jones handles him easily. That length is eye-popping pic.twitter.com/CbB01AFKac

— Sam Holman (@Sam_DHolman) August 22, 2022
He handles him easily. Completely shut down. The veteran looks completely overmatched by Caleb Jones. In this next play, he displays some of his strength by completely knocking the Saints player off balance. He clearly has a knowledge of how to move his body in order to generate power.
Caleb Jones is a powerful man. Just knocks Granderson completely off balance pic.twitter.com/WwXwiOOyar

— Salvatore (@Fear_Jaire) August 21, 2022
It isn't just the passing game where Jones has been great. He has shown some flashes of doing well in run blocking and more specifically zone blocking.
I would not want a man the size of Caleb Jones running at me on a sweep play pic.twitter.com/SOOTDa8b1p

— Joey Van Zummeren (@JoeyGPG) August 20, 2022
Caleb Jones can clearly move people without much problem. It seems like Jones could turn into one of those lineman that would be an immovable force. He needs to work on his footwork but plays like the one above shows he is capable of doing so. It is clear that the Packers have done a great job of developing him. This is not a surprise as the Packers always seem to find and develop offensive line talent.
Why Keep Caleb Jones?
The Packers have a glut of offensive lineman but the Packers should keep Caleb Jones for 2 reasons. First, Bakhtiari and Jenkins could still have some lingering injury time. With both being off the PUP list, they will count towards the 53-man roster. It would not be a bad idea for the Packers to keep him on to possibly fill in early in the season. Second, Jones is too good of a raw talent to let out of the building. It is unlikely he clears waivers where the Packers could just sign him to the practice squad. Some team will see Jones' size and not be able to resist. Keeping Jones on the roster means the Packers keep the raw talent in the building.
The Packers should keep Caleb Jones. It is possible he could become the next great tackle for the Packers. If not, there is very little risk the Packers are taking by holding onto him. It'll be interesting to see him in the final preseason game against the Chiefs. I for one look forward to seeing Caleb Jones manhandle some more defensive players.
For More Great Football Content
Follow us on Twitter at @GridironHeroics for more great content. We appreciate you taking time to read our articles. To interact more with our community and keep up to date on the latest in Football news, JOIN OUR FREE FACEBOOK GROUP by CLICKING HERE
Checkout our latest podcast!
[powerpress_playlist limit=1]