Los Angeles Rams head coach Sean Mcvay is said to possibly miss the week six matchup against the Arizona Cardinals due to a family emergency. He will become a father at any moment, which is why there is a chance he might not be on the sidelines with his team. This would certainly shake up the odds for the Rams, but this seems like a much more important matter.
UPDATE: #Rams head coach Sean McVay's wife is due "any day now," and he will NOT coach Sunday if she goes into labor.

Defensive coordinator Raheem Morris will likely be the HC in McVay's, due to his past coaching experience.

(h/t @ProFootballTalk & NY Post) pic.twitter.com/O3zYgXeI8R

— MLFootball (@_MLFootball) October 13, 2023
Sean Mcvay is Going to be a Dad!
The head coach spoke to reporters on Friday announcing that his wife, Veronika, is due at any minute now. He added that if his wife does go into labor before Sunday, he will not be coaching this week.  McVay told reporters this:
"Really feel fortunate that it has been a smooth pregnancy, my wife has been incredible, and so it hasn't quite hit me yet. He's active right now, it seems like he's ready to come at any moment. What a blessing that will be."
What This Means for the Rams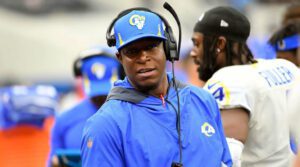 McVay has not yet given any indications on who will act as the head coach if this were to happen. The most likely option would be defensive coordinator Raheem Morris, given his previous head coaching experience with the Tampa Bay Buccaneers and the Atlanta Falcons. This would certainly shake up the odds as far as the outcome of the game, but Los Angeles should be able to hold their own against a struggling Cardinals team.
The Rams recently got their star receiver Cooper Kupp back from an injury after missing the first four games of the season. Once he made his return, you could tell that this offense was reignited, as Kupp and standout rookie Puka Nacua have been on a tear. It will be interesting to see how all of this plays out, and a special congratulations goes out to Sean McVay and his wife Veronika!
For Additional Content
Please go and follow me on Twitter @TaylorHartmaNFL for more NFL news and updates. If you have any further personal questions or comments for Taylor, connect with him on Linkedin. For more articles on the NFL, go to this site here!