Riggs' Redhawks Red Zone. Red Birds Battle for a Bowl Game
A Special Game to a Football Fan from Butler County, Ohio.
I've been a football fan for a very long time. Since I was Steve Young in my backyard because we were both left-handed and of the same faith. To rooting for Eddie George in his Heisman-winning season when I was nine years old. To rooting for George in the Buckeyes to beat Tennessee and Peyton Manning on New Year's Day 1996 in the Citrus Bowl, even though my Dad, Grandpa, and another brother were pulling for the Vols because that's where Dad and Grandpa were born and raised. Dad later became a Buckeye fan because as he put it "Ohio has been better to me than Tennessee, and I still love Tennessee."
Then watching BYU win the Cotton Bowl after the 1996 season. Hating Brett Favre and the rivalry the Pack had with Young and the Niners. Seeing Young retire, Eddie George dominate for the Tennessee Titans, and BYU run wild with Luke Staley, Tennessee beat Florida in 2001, and in that same year a guy in a sweater vest do something with the Buckeyes that they hadn't done since I was one; win in Ann Arbor. Watching Tressel take the Buckeyes to a title, Ben Roethlisberger rewrite Redhawk record books and then despise him for being a star in Pittsburgh.
In the subsequent 20 years rooting for Ohio State, BYU, and Miami I always had dreams of somehow getting closer to those programs, to the games, to the teams. I went to as many games as my means could get me, and then in 2016 got a job ushering in legendary Ohio Stadium for Ohio State. Getting up when it was still dark and driving over a 100 miles was a small price to pay to be in the Shoe and be even more a part of the greatness that is football in Ohio.
I got my associate's degree at a little community college in Dayton, Ohio in 2017, my second season working at Ohio State and began to write about the teams I love. That I live and die with every Saturday (and sometimes on Tuesdays and Wednesdays). In 2022 I got a chance with a scrappy upstart football site, here at GridironHeroics.com and was getting paid to cover football. And this month my boss said "How would you like to go to a game as a credentialed member of the press? You'll get in for free and it's right in your backyard." I jumped at the chance even though I had already bought a ticket in September to go to this game as a fan.
It wasn't my first time going into Fred C. Yeager Stadium, but it was my first time going into any stadium as a professional writer covering a football game and a team I've always loved. May it be the first of countless more. While I was living a dream come true, the Redbirds were making it all the sweeter by playing a heck of a football game, in a playoff setting. Win and you get one more. Lose and your season is over.
The Red Bird Rivalry
Redbird Respect
First off, I want to give a shout out to Ball State who played their tail feathers off. Especially standout sophomore fullback/running back Carson Steele and freshman backup quarterback Kiael Kelly. The duo had 34 carries for 263 yards and two touchdowns. If Ball State had wanted to go old-school and run a triple-option offense, teams would have a tough time stopping these two.
Steele was also the leading receiver with six catches for 35 yards for the Cardinals. The all-star from Greenwood, Indiana has 26 carries for 180 yards and two touchdowns to go with those receiving yards to have 32 touches for 215 yards and two touchdowns. He averaged 6.7 yards per touch of the football.
He'll carry Ball State even further in the years to come if he stays in Muncie. The only problem is with the transfer portal and how well Steele played this season, it would be hard to blame the man if he went to greener pastures. His future is bright and he gave Ball State a special season with 318 touches for 1,722 yards and 15 touchdowns.
Ball Redhawks
No that's not an amalgamation of the Red Bird Rivalry, it's what the Redhawk defense was doing Tuesday night. The Redhawks did what I refer to as the Pistol Pete strategy. Pistol Pete Maravich was a great basketball player who played at LSU in college. When LSU would play Kentucky, Kentucky knew they couldn't stop him, so they stopped everyone else, and while Pistol Pete still had a good game, LSU lost. That's what the Redhawks did with the Cardinals' running game.
They knew they'd have a tough time stopping Ball State's run, so they focused on eliminating their passing game and making the Cardinals one dimensional. The Cardinals passing game was shut down. They were 20 of 33 for `142 yards no touchdowns and two big interceptions. Ball State averaged only 4.3 yards per passing play as opposed to 7.4 per running play. Here are the Redhawks interceptions.
The first:
INTERCEPTED 🗣️🗣️🗣️ pic.twitter.com/mc4FIGLED6

— Miami Football (@MiamiOHFootball) November 23, 2022
The second and game ender:
‼️ PICKED OFF ‼️ pic.twitter.com/JE8fc4nYmt

— Miami Football (@MiamiOHFootball) November 23, 2022
The Quarterback
Aveon Smith is a third year freshman from Lexington, South Carolina and he puts the dual in dual-threat quarterback. He is the future for Miami an the future is now. With Brett Gabbert transferring (more on that later) It's Smith's team and despite some ups and downs this season (and there are more ups than downs) he put this team on his back in the last two games to get the Redhawks to a bowl. He was 29 of 69 for 403 yards and two touchdowns passing and 28 carries for 189 yards and three touchdowns.
Smith is doing it as the primary threat to both pass and run the ball. In those two must-win games he had 189 of 301 rushing yards. The other 128 rushing yards were split between four different ball carriers. He was also clutch in the passing game connecting with deep touchdowns to Miles Marshall and Mac Hippenhammer. How he's played this season is big for the future in Oxford, Ohio and these extra bowls practices he's helped earn for the team in route to the Bahamas Bowl will have the Redhawks building for a MAC Championship run in 2023.
THERE HE GOES!!!

TOUCHDOWNNNNN REDHAWKSSS!!! pic.twitter.com/XZnaP8EPzO

— Miami Football (@MiamiOHFootball) November 23, 2022
Miles and Miles!
No doubt this was the play of the game and my goodness what a play it was. Miles Marshall made the play with the defender right in his face the whole time (had the defender looked back for the ball he likely knocks it away). That didn't bother Marshall as he focused in like a laser and hauled in the big grab for the lead. The Smith to Marshall connection looks to big in the Bahamas and in 2023.
MILES MARSHALLLLL!!!!!

TOUCHDOWN!!!!!!!!!!!!! pic.twitter.com/85Dlq4lN1G

— Miami Football (@MiamiOHFootball) November 23, 2022
That beautiful touchdown pass and catch was brought to you by this equally beautiful stop against one of the best rushing attacks and toughest backs in America by the Redhawks defense! As mentioned earlier, Steele got his yards and a couple of scores but the Redhawks played with a fire hot enough to bend Steele to their will and win the game!
𝐌𝐎𝐌𝐄𝐍𝐓 𝐎𝐅 𝐓𝐇𝐄 𝐆𝐀𝐌𝐄‼️

The HUGE 4th down stop that led to our game-winning drive!#RiseUpRedHawks | 🎓🏆 pic.twitter.com/kGceouPhr6

— Miami Football (@MiamiOHFootball) November 29, 2022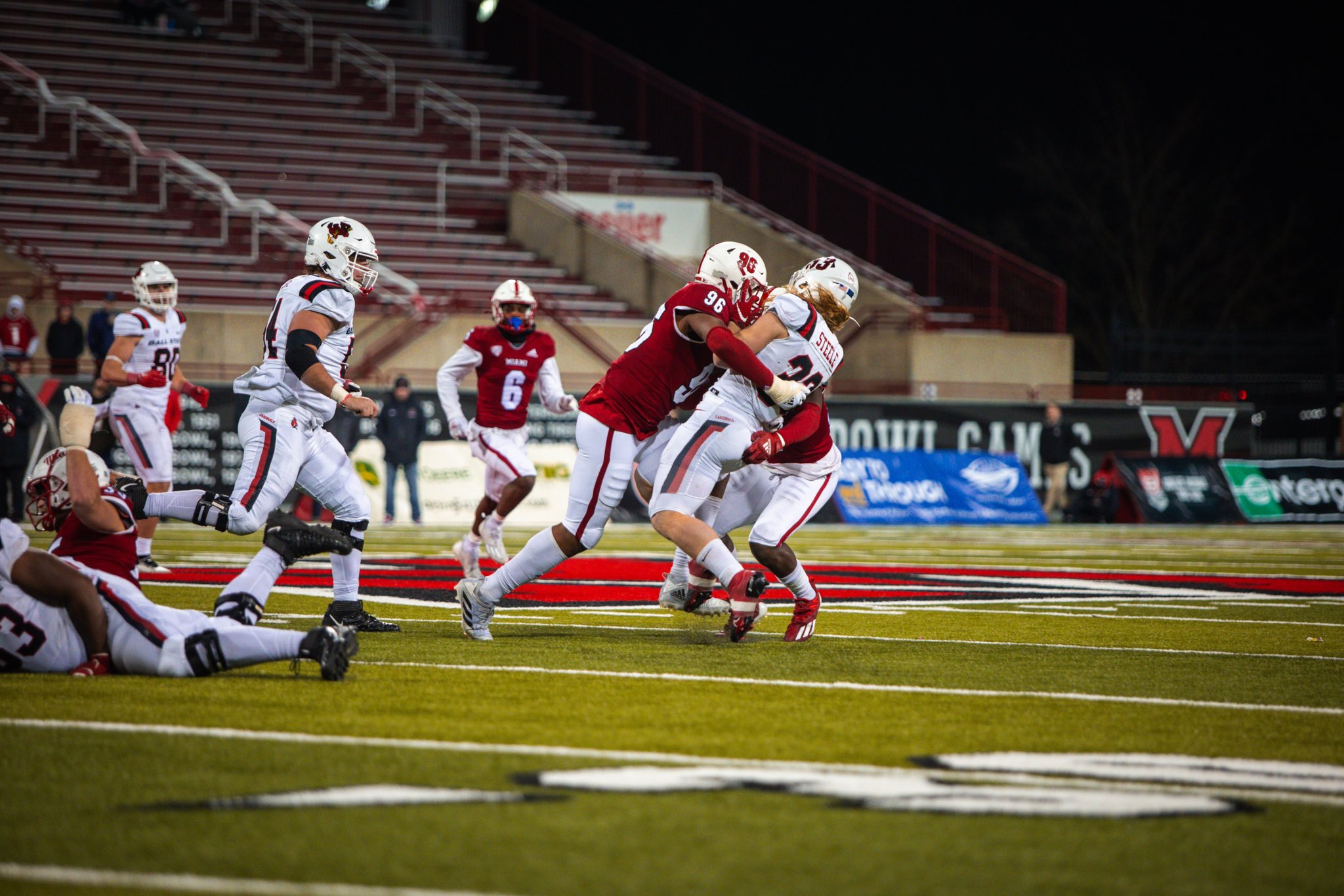 This fantastic fourth quarter had the Redhawks rocking the shades as they are headed to the beach for a bowl game against the UAB Blazers in the Bahamas Bowl. I hope these guys enjoy it! They've earned it! It'll be their fourth straight bowl in seasons they played enough games to get to bowl eligible. The culture of the Miami Redhawks has become going bowling every season and that's a high bar for any team!
We'll see you in Nassau😎#RiseUpRedHawks | 🎓🏆 pic.twitter.com/k9WkoYdtzc

— Miami Football (@MiamiOHFootball) November 23, 2022
Brett Gabbert
The signal caller for Miami is moving on but his heart will always have a part of it reserved for Oxford, Ohio. It's Aveon Smith's team now but Brett Gabbert helped make it to what it is. With two years of eligibility remaining, Gabbert will be a steal and a star to whatever program lands him. Transfer quarterbacks in this part of Ohio are always going to draw comparisons to Joe Burrow and I think with Gabbert it's a little less far-fetched than most.
It'll be a great and interesting story to see where he lands, but also to see who pursues him. I'm a little biased toward the man but I think he make all the throws necessary to make an impact at a big time program and there are going to be some big-time programs who's quarterbacks from this year will be gone next. Alabama, Georgia, Ohio State, Tennessee, and LSU to name some of them and with the right pieces in place Gabbert could find a home at one or another not mentioned. It'll be fun to follow him as his journey continues.
I will always be a Redhawk.❤️ pic.twitter.com/6cHoWRww6H

— Brett Gabbert (@BrettGabbert) November 23, 2022
Forever and a Day
"Love and honor to Miami, forever and a day." The words to the Redhawks fight song. My love and honor to the Miami Redhawks, the Ohio State Buckeyes, the BYU Cougars, to the game of college football that I have loved and honored for forever and a day. The honor has been all mine.
I apologize for the lateness of publication of this. I was nearly done with it on Wednesday the 23rd only to come down with the flu on the 24th and not feel well enough to even type until the 26th and then my duties covering Day's Debacle, the Big Ten, the Heisman Watch, and the BYU Cougars had all crashed down on me. I hope this is just the first of many articles about the Miami Redhawks and college football in the great state of Ohio. Join me on the journey through this thing we love called football.
For More Great Football Content
Follow us on Twitter at @GridironHeroics for more great content. We appreciate you taking time to read our articles. To interact more with our community and keep up to date on the latest in Football news, JOIN OUR FREE FACEBOOK GROUP by CLICKING HERE
Checkout our latest podcast!
[powerpress_playlist limit=1]