The No. 7 jersey is a special Tigers tradition that started in 2004 with linebacker Ali Highsmith. The number is passed on to an offensive or defensive player that is often thought to be the most NFL-ready on the team. On Thursday, Kayshon Boutte joined the likes of LSU legends that have worn the number proudly. With the announcement yesterday, let's rank the top five former Tigers to wear the prestigious No. 7 jersey:
#5: Ali Highsmith (Linebacker)
Highsmith would start the tradition that we see today with the No. 7 jersey being passed on to potential Tiger greats.
The Miami native went on to have a successful career with the Tigers. He played in 52 games, starting 38 times. In his freshman season in 2004, Highsmith played in all 12 games with two starts. He would finish the season with five solo tackles and 16 assists. In 2005, he played in 13 games with nine starts. Highsmith would rank second on the defense with 75 tackles, 36 of which were solo. He would lead all LSU linebackers with four sacks and forced three fumbles.
In his junior season in 2006, he went on to be one of the top tacklers for the Tigers with 63 on the year. His final season with the Tigers came in 2007 where he played and started in all 14 games. Highsmith would tie only his teammate Craig Steltz for the team-high in total tackles, 101. Highsmith had arguably his best game of his career in the national championship game against Ohio State. He registered a team-best eight tackles to go with 1.5 sacks and a forced fumble.
#4: Grant Delpit (Safety)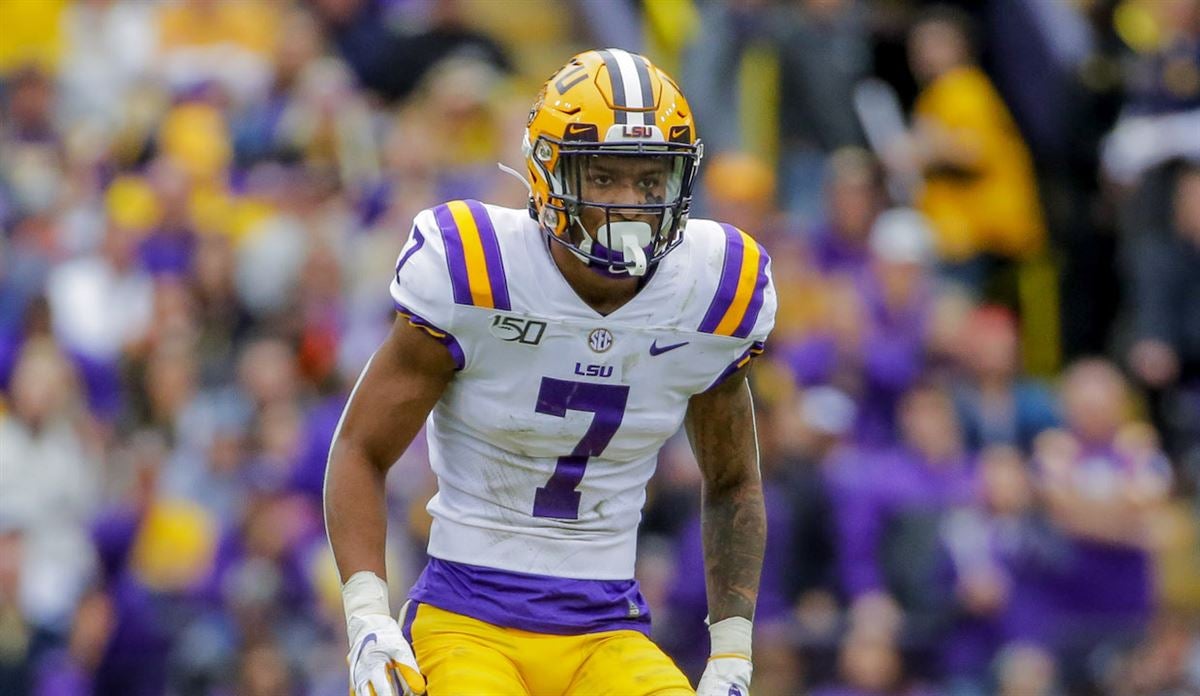 Delpit would go on to be a key part in LSU's ride to the school's four national championship. He wore the No. 7 after wearing the No. 9 for his first two collegiate seasons at LSU and looked at as one of the best to lead the defense.
In 2017, Delpit played all 13 games in his freshman year with the Tigers finishing fourth on the team with 60 tackles. His best game during his freshman season was at Ole Miss when he was the team's leading tackler with nine and also recorded his first career interception against the Rebels. In 2018, Delpit earned the honors of being a unanimous All-American where he went on to lead the SEC in interceptions (5) and finished No. 2 in the league in passes defended (14). Delpit was also a finalist for the Nagurski Award and selected to be a part of the First Team-All SEC.
During the 2019 season, Delpit would cement his legacy as one of the top defensive backs in LSU history. Hee would win the Jim Thorpe Award, which is awarded to the nation's best defensive back in 2019. In 14 games, Delpit recorded 65 tackles, 4.5 tackles for loss, two interceptions and two sacks.
Delpit would finish his career at LSU with 199 tackles, 17.5 tackles for loss, 7.0 sacks and eight interceptions.
#3: Leonard Fournette (Running Back)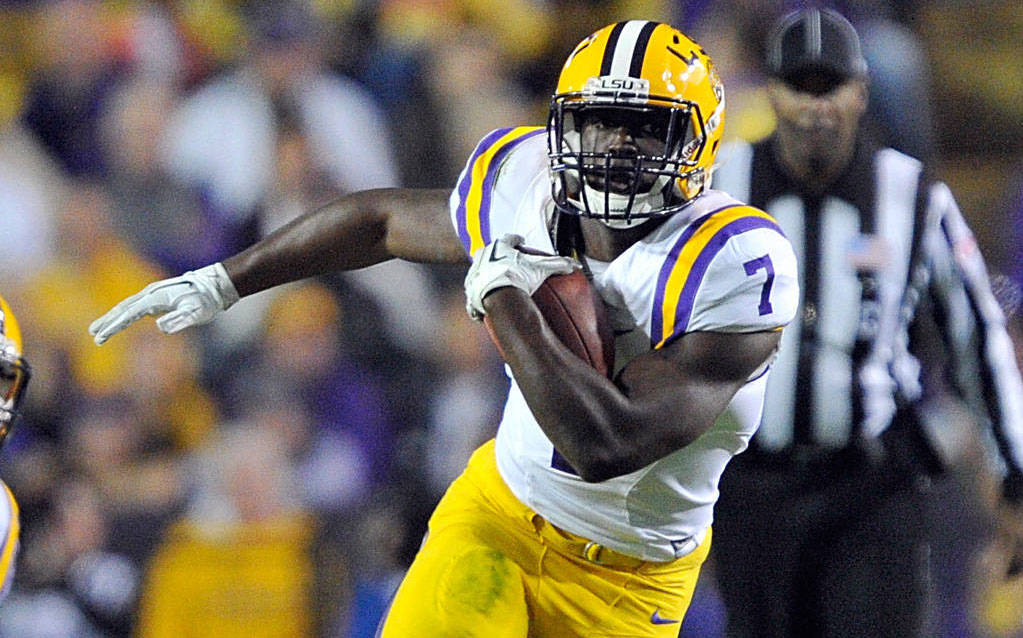 The New Orleans native elected to stay in the boot and become of the greatest LSU running backs. Fournette had many highlights throughout his career that turned many heads across the college football landscape.
In only 32 games, Fournette worked his way to No. 4 in LSU history in rushing yards with 3,830. He finished his career No. 2 in school history in all-purpose yards per game (155.7), No. 3 in overall touchdowns (42), No. 4 in rushing touchdowns (40) and all-purpose yards (4,981).
In Fournette's freshman season in 2014, he would go on to live up to the expectations that many LSU fans had for him. Fournette ranked sixth in the SEC in rushing with 79.5 yards per game and led the league in all-purpose yards with 137.4 yards per game.  Heading into the 2015 season, Fournette would carry that momentum. The New Orleans native would lead the SEC and nation in rushing with 162.8 yards a contest. He finished his 2015 campaign with 1,953 yards and 22 touchdowns (these are both current LSU single-season records).
In that same season, Fournette would become the fastest LSU player to reach the 1,000-yard mark and also the 2,000-yard mark. His final year was cut short due to an ankle injury where his game action was limited to seven games. Fournette would break LSU's single-game rushing record with 284 yards against the win with Ole Miss.
#2: Tyrann Mathieu (Cornerback)
The 'Honey Badger' would make his presence known as a true freshman where he played in all 13 games. Mathieu ranked first in the SEC and fifth nationally with five forced fumbles and tied for first in the conference in fumble recoveries with three. Mathieu would also lead the team with seven pass breakouts.
Mathieu's sophomore season has to rank as one of the best season-long performances we have seen on the defensive side of the ball. Mathieu would earn 2011 SEC Defensive Player of the Year honors. He would receive the Bednarik Award as the nation's top defensive player. Mathieu also received an invite as a Heisman Trophy finalist. He would rank No. 1 nationally in fumble recoveries and was fourth nationally in forced fumbles. The 'Honey Badger' would lead the team in total tackles with 76 and also notched 7.5 tackles for loss of 45 yards.
Mathieu also proved to be a dynamic punt returner as well, racking up a 15.6 per return average (27 returns for 421 yards) with two touchdowns. Mathieu will go down as one of the most electrifying players we have seen step into the college football landscape.
#1: Patrick Peterson (Cornerback)
Peterson would quickly become one of the best cornerbacks in the nation with his performances during the 2009 and 2010 season.
In 2009, Peterson would go on to earn second-team All-American honors. He would start all 13 games that season finishing with 52 tackles, 43 of which were solo.
Peterson's best season came in 2010 where he was chosen as a consensus First Team All-American. He was also named the winner of the 2010 Thorpe Award as the top defensive back in college football. In 2010, Peterson would finish the season with 42 tackles, four interceptions and six pass breakups.
Like Mathieu, Peterson established himself in the special teams department. In 2010, Peterson would rank first in the SEC and fourth in the nation in punt returns with a 16. 1 average. Peterson would set an LSU school record in kickoff return yards with 932 on 32 returns.
For More Great Football Content
Follow us on Twitter at @GridironHeroics for more great content. We appreciate you taking time to read our articles. To interact more with our community and keep up to date on the latest in Football news, JOIN OUR FREE FACEBOOK GROUP by CLICKING HERE
Checkout our latest podcast!
[powerpress_playlist limit=1]