Gridiron Heroics partners with Draft Scout to give each school's Top 5 NFL Draft prospects in the SEC. Welcome to a list of Notre Dame's Top 5 NFL Draft prospects, as seen by Draft Scout.
Each week brings us closer and closer to one of the most anticipated days on the sports calendar — the NFL Draft. This year's draft will be held in Kansas City, Mo. from April 27-29. Starting today? We take a look at the ACC seniors, the class of 2023. Since we don't know yet which underclassmen will declare? We'll reconfigure the rankings when that happens, so be sure to revisit us.
Our ACC Draft prospect series will run beginning Nov. 7 and will run for the next week, with three schools running per day in alphabetical order. A master conference list of the ACC's Top 20 NFL draft prospects will wrap things up on Monday, Nov. 14. Please check the team links below frequently so you can check out the other schools' top prospects as the week progresses.
ACC TOP 20 PROSPECTS: Overall ACC Top Prospect List
ACC ATLANTIC PROSPECTS: Boston College | Clemson | Florida State | Louisville | N.C. State | Syracuse | Wake Forest
ACC COASTAL PROSPECTS: Duke | Georgia Tech | Miami | North Carolina | Pittsburgh | Virginia | Virginia Tech
---
RELATED STORY: The Top ESPN 30 for 30 Shows in College Football — We Rank Them
So, we all know that not every team in the country has five surefire draft picks on it. Some programs do, especially in some of the more elite conferences, but the vast majority don't have that many top-flight prospects. But, we also know that the definition "top-flight" doesn't always pan out, and at the same time that strong undrafted free agent everybody forgot? He ends up making an NFL roster and flourishing.
Below is a look at Notre Dame's Top 5 Draft Prospects, and how they project in the eyes of Draft Scout. Again, for now, we'll go strictly with seniors (c/o 2023), as no underclassmen have been allowed to declare earlier yet, though when they do? We'll update the lists below.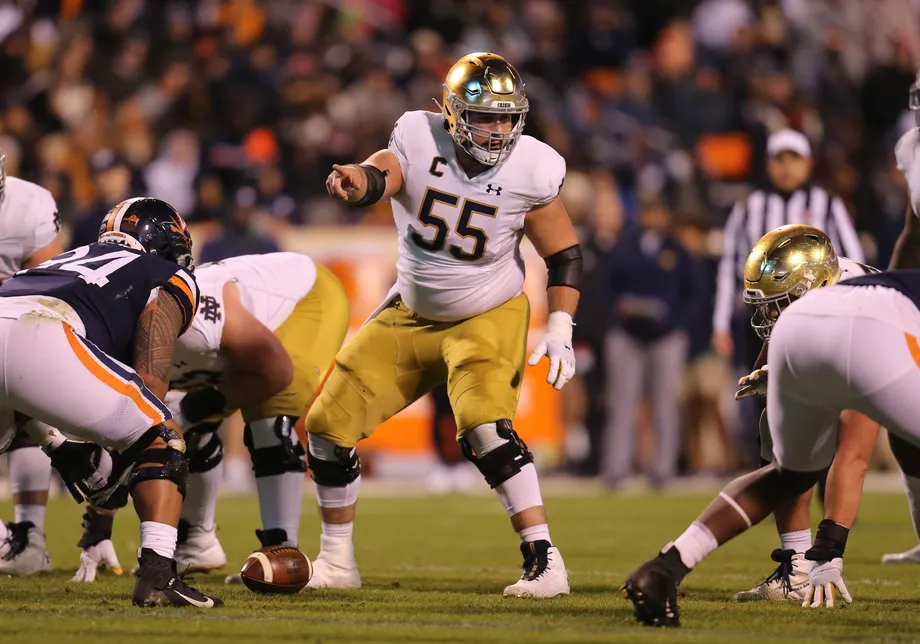 NOTRE DAME'S TOP 5 NFL DRAFT PROSPECTS
NO. 1 PROSPECT
NAME: Jarrett Patterson (C)
DRAFTSCOUT PROJECTION: 5th-6th round
CAREER STATISTICS: Patterson has been starting on Notre Dame's offensive line since 2019. His most notable stat is that, in his entire college career, he has never given up a sack. He was named third-team all-American in 2021.
THE TRUTH: Patterson has had the unfortunate curse of being a bright spot on a bad offensive line. In 2019 and 2020, he shined at center for the Irish when healthy, but 2021 and 2022 have been different stories. Still having not given up a sack, he clearly has the goods, but in the most dependent position in football, he hasn't always gotten the best from the guys around him. Patterson's biggest concern, though, is his health. His 2020 season was derailed by a Lisfranc injury, and in the 2022 offseason, he suffered a partially torn pec. He's been able to play through the most recent injury, but regardless, health will continue to be his biggest concern. Outside of that, Patterson is a fantastic center who plays well above his draft projection.
---
NO. 2 PROSPECT
NAME: Michael Vinson (LS)
DRAFTSCOUT PROJECTION: HPFA (High Priority Free Agent)
CAREER STATISTICS: Vinson has been the starter at Notre Dame since 2019, having not missed a game. He was a nominee for the Burlsworth Trophy in 2020.
THE TRUTH: There's not much to say about a long snapper, but to Vinson's credit, he's been one of the more dependable ones in the nation. At 6'2, 228, he's got good size to block on field goals and make plays on punts.
---
NO. 3 PROSPECT
NAME: Jon Sot (P)
DRAFTSCOUT PROJECTION: HPFA
CAREER STATISTICS: A graduate transfer from Harvard, Sot is in his first and only season with the Irish. So far, he has 19 punts downed inside the 20-yard line compared to only two touchbacks, as well as a season-long punt of 75 yards.
THE TRUTH: Like with longsnappers, there's not much to talk about here, but similar to Vinson, Sot is as dependable as they come. Landing 19 punts inside the 20 is an impressive stat and should draw the attention of NFL scouts. According to Draft Scout, his stock has been rising throughout the season, meaning it's not out of the question that he hears his name called late in the 2023 draft.
---
NO. 4 PROSPECT
NAME: Jayson Ademilola (DT)
DRAFTSCOUT PROJECTION: HPFA
CAREER STATISTICS: Ademilola has seen action in each of his five seasons at Notre Dame, with 2021 being his best. During then, he compiled 46 tackles, 3.5 sacks, eight TFLs, three QB hits, and a forced fumble. 2022 hasn't been as productive for the fifth year as he only has 18 tackles and 2.5 sacks to his name. He was named to the all-Independent first team in 2021.
THE TRUTH: Ademilola is a bit of a tweener, not being quite big enough to play a 3-tech but being a bit too big for a defensive end. At 6'3, 285, he's definitely not a space-eater, but he still plays with a strong base and good hand usage. His two big problems are not being strong enough to take on blocks from strong o-linemen and not being athletic enough to make an impact on the edge. Finding a role in the NFL will be tough for a guy like him, but most likely, he'll be used in his traditional 3-tech role. In order for him to stick, though, he's needs to get stronger. Likely not a roster guy, but a solid UDFA acquisition.
---
NO. 5 PROSPECT
NAME: DJ Brown (S)
DRAFTSCOUT PROJECTION: PFA
CAREER STATISTICS: Brown has never truly had a starting role at Notre Dame, notably backing up first-round pick Kyle Hamilton. However, he has still found his way onto the field, even seeing some decent production in 2021. In that season, he finished with 42 tackles, three interceptions, and one pass defensed. In 2022, he has 36 tackles and one pass defensed.
THE TRUTH: Brown is a long shot to stick on an NFL roster but could find himself in a practice squad role come September 2023. At 6'1, he's a larger safety who could possibly play a hybrid linebacker role if need be. However, he's not an amazing athlete, so his ceiling is rather limited. Again, he is a long shot, but he could catch a coach's eye who wants to experiment with his skillset.
For More Great Football Content
Follow us on Twitter at @GridironHeroics for more great content. We appreciate you taking time to read our articles. To interact more with our community and keep up to date on the latest in Football news, JOIN OUR FREE FACEBOOK GROUP by CLICKING HERE
Checkout our latest podcast!
[powerpress_playlist limit=1]