Gridiron Heroics partners with Draft Scout to give each school's Top 5 NFL Draft prospects in the ACC.  Welcome to a list of the UNC Tarheels Top 5 NFL Draft prospects, as seen by Draft Scout.
Each week brings us closer and closer to one of the most anticipated days on the sports calendar — the NFL Draft. This year's draft will be held in Kansas City, Mo. from April 27-29. Starting today? We take a look at the ACC seniors, the class of 2023. Since we don't know yet which underclassmen will declare? We'll reconfigure the rankings when that happens, so be sure to revisit us. Check out one of our SEC Draft prospect articles here.
Our ACC Draft prospect series will run beginning Nov. 7 and will run for the next week, with three schools running per day in alphabetical order. A master conference list of the ACC's Top 20 NFL draft prospects will wrap things up on Monday, Nov. 14. Please check the team links below frequently so you can check out the other schools' top prospects as the week progresses.
ACC TOP 20 PROSPECTS: Overall ACC Top Prospect List
ACC ATLANTIC PROSPECTS: Boston College | Clemson | Florida State | Louisville | N.C. State | Syracuse | Wake Forest
ACC COASTAL PROSPECTS: Duke | Georgia Tech | Miami | North Carolina | Pittsburgh | Virginia | Virginia Tech
---
RELATED STORY: The Top ESPN 30 for 30 Shows in College Football — We Rank Them
So, we all know that not every team in the country has five surefire draft picks on it. Some programs do, especially in some of the more elite conferences, but the vast majority don't have that many top-flight prospects. But, we also know that the definition "top-flight" doesn't always pan out, and at the same time that strong undrafted free agent everybody forgot? He ends up making an NFL and flourishing.
Brian Anderson, Center
Brian is a graduate of UNC and platoons with Miami transfer Cory Gaynor at the center position. He is 6'3, 300 lbs and is a gritty player. He gutted out his 2021 season with a knee injury in dedication to his teammates. His emotional intelligence for the NFL is strong–he took a professional approach to competing with Cory Gaynor for the starting center job. He "said all the right things" in a pre-season press conference and welcomed Gaynor as a teammate. Throughout his career, he played a high of 903 snaps in 2019 and was the quarterback of the offensive line that averaged over 450 yards per game.
Spencer Rolland, Right Tackle
Spencer Rolland joined UNC with two years left of eligibility after graduating from Harvard University. He is a massive man standing 6'6″ and 310 pounds. He was an All-Ivy League 1st team selection in 2021 and has a degree in Mechanical engineering with a minor in Astrophysics. The UNC offensive line with him and new offensive line coach Jack Bucknell took the Tarheels from 48 sacks allowed in 2021 to 23 so far in 2022. Rolland is a native of Minnesota.
Cam'Ron Kelly, Defensive back
Kelly is a transfer from Auburn and is the "leader of the UNC defense" per an article on tarheelswire.com. He is a high energy player and likes to tackle. In 2021, he made nine starts at defensive back and was selected to the All-ACC 3rd team. He was productive in big games getting nine tackles versus Florida State and 12 tackles each against Notre Dame and South Carolina in the Duke's Mayo Bowl. So far in 2022, he has 38 tackles and 1 pass defended. He has two games of six tackles each.
Noah Taylor, Linebacker/Edge
Noah Taylor is a transfer from the University of Virginia. In playing on a bad defense, he has been a high-performer. He had 69 tackles in 2021 and a personal best of 3.5 sacks. It doesn't compare to his all-time mark of seven sacks in 2019 but his productivity is apparent. He is very quick and has the physical skills to compete for a roster spot in the NFL.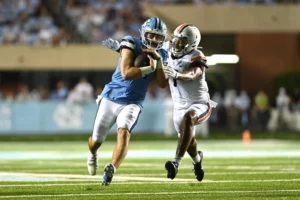 Antoine Green, Wide Receiver
He posted one of the best games of his career vs. Pitt catching 10 balls for 180 yards and two TD's. This season he has 26 catches for 597 yards and 6 TD's for the Coastal division leading Tarheels. In 2021, he was second in receptions, receiving yards and touchdowns. He got tremendous depth on routes averaging 19.7 yards a reception. He ran a 10.91 in the 100 yards in High school with a 23-2 long jump. I think the combine will be a sinch for him. See more on his player bio here.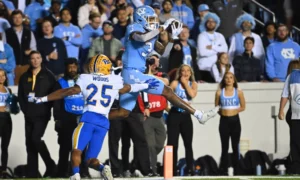 For More Great Football Content
Follow us on Twitter at @GridironHeroics for more great content. We appreciate you taking time to read our articles. To interact more with our community and keep up to date on the latest in Football news, JOIN OUR FREE FACEBOOK GROUP by CLICKING HERE
Checkout our latest podcast!
[powerpress_playlist limit=1]