This article is part one of a Lawrence Taylor player piece. Be sure to check out my co-writer Julie Miller's work on the life of Lawrence Taylor. LT is widely regarded as the greatest edge rusher of all time. Drafted with the second pick in the 1981 NFL draft by the New York Giants out of UNC, he could've gone number one overall to the Saints.

In a poll, 25 teams listed Lawrence Taylor as their first pick given a chance. The 26th vote? Bum Phillips, who the Saints just hired to be the GM and said he wouldn't pick LT. The Saints had the first pick in the draft and passed on LT for Running back George Rodgers. Great move, right?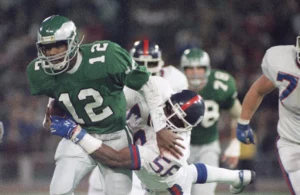 Due to the NFL not recording sacks until 1982, LT missed out on a tremendous rookie campaign in 1981. He unofficially recorded 9.5 sacks on the season and became the first and only rookie to win Defensive Rookie Of The Year and Defensive Player Of The Year. In his second season, the NFL shortened the year due to a players strike which made Taylor miss out on more official stats. Lawrence Taylor had 7.5 sacks in nine games.
That's .83 sacks per game pace, and had he played an entire season could've finished with 13 sacks. This begs the question. How many sacks could Lawrence Taylor have finished his career with?
Lawrence Taylor Career Accolades:
Lawrence Taylor had quite a few accolades on his résumé. One accolade is being a Hall Of Famer (class of 1999.) Lawrence Taylor won the DPOY award thrice by 1986 ('81,'82,'86.) LT is one of only three players to win the DPOY three times and in back-to-back seasons (Aaron Donald, JJ Watt.)
Lawrence Taylor is an eight-time first-team All-Pro selection ('81-'86,'88-'89) and a two-time second-team All-Pro selection ('87,'90.) By 1991 Lawrence Taylor was a league MVP and a two-time Super Bowl champion ('86,'91.) LT led the league in sacks in 1986 with 20.5; he was elected to 10 pro bowls and won the NFC player of the year twice ('83, '86.)
The dominance of Lawrence Taylor was rewarded when he was elected to the 1980's all-decade team. LT had seven consecutive seasons of 10+ sacks from 1984-1990 and three seasons of 15+ sacks ('86, '88-'89.) After his retirement in 1993, Lawrence Taylor was elected to the NFL 75th-anniversary team in 1994, as well as the 100th-anniversary team in 2020.
Career Retrospect:
Lawrence Taylor was a feared pass rusher who changed how offenses protected the Quarterback. But those two seasons in which he lost out on a sack totals cost him an even bigger piece of the notoriety pie. His reputation on the field could've been that much bigger and better than it is had he not missed out on a potential 22.5 sacks.
I mentioned he finished with 9.5 sacks his rookie year, and the NFL themselves doesn't officially recognize them. He also missed out on at least six more bags in 1982. Lawrence Taylor finished with 132 recognized sacks which put him 14th on the all-time list. But those missing sacks could've put him higher. According to my calculations, LT could've finished inside the top five on the all-time sack list.
Unofficially according to Pro Football Reference, which counts the sacks from 1981, LT ranks ninth on their all-time list with 142 sacks. If you combine the sacks, he missed out on officially; he could've finished with 155 sacks in 13 seasons. LT finished his career with 55 forced fumbles, 11 recoveries, two defensive touchdowns, and nine INTS in 184 games played.
LT has both his college number and his Giants number 56 retired as well as being a member of the Giants ring of honor. If you enjoyed this article, don't forget to check out my co-writer Julie Miller's article here, "Lawrence Taylor. The man behind the ball and the bail."
For More Great Football Content
Follow us on Twitter at @GridironHeroics for more great content. We appreciate you taking time to read our articles. To interact more with our community and keep up to date on the latest in Football news, JOIN OUR FREE FACEBOOK GROUP by CLICKING HERE
Checkout our latest podcast!