The Indianapolis Colts disastrous 2022 season has finally come to a close and it is time to look towards the offseason. It's no secret that quarterback play was a major weak point for the Colts and they should look to take their signal caller of the future at the top of this class. The Colts possess the fourth overall pick in the draft and will have a bevy of talented players to choose from, but Ohio State quarterback CJ Stroud has a legitimate case to be the best quarterback in the class and should be strongly considered by the Colts.
CJ Stroud has prototypical size at the quarterback position and boasts elite arm strength and accuracy that should translate well at the next level. He sees the field well and has the necessary athleticism to  escape pressure and make plays with his legs, although he often does not take advantage of this athleticism and will occasionally take unnecessary sacks.
Many scouts point to the fact that Stroud has not performed well under pressure and adversity throughout his college career, but his performance in the College Football Playoff loss to Georgia may silence some of the naysayers. Despite the questions surrounding Stroud, the talent is undeniable and he could be a long term solution for a Colts team desperate to find their quarterback.
CJ Stroud: College Career
CJ Stroud took over at quarterback for the Ohio State Buckeyes following Justin Fields transition to the NFL. Stroud was a five-star recruit out of Rancho Cucamonga, California and was rated as the third best quarterback in his class. Stroud's career got off to a shaky start, but he quickly found his rhythm at the college level and led Ohio State to the top offense of the 2021 season and a Rose Bowl victory. Stroud finished the season with 4,435 passing yards with 44 touchdowns and just six interceptions, earning himself Big 10 Offensive Player of the Year honors and a trip to New York as a Heisman Finalist.
CJ Stroud 2021 stats

4,435 Passing Yards
71.9% Comp
44 TDs
6 INTspic.twitter.com/232FJ9VXAd

— Mr. Ohio (@MrOH1O) March 29, 2022
Stroud took a slight step back statistically in the 2022 season but still produced stellar numbers. He finished with 3,340 passing yards, 37 touchdowns and six interceptions and was once again a finalist for the Heisman Trophy. Stroud led the Buckeyes to a College Football Playoff berth and gave the reigning champs in the Georgia Bulldogs an impressive fight despite falling short 42-41. Stroud played by far the best game of his career in the national semifinal game and solidified his standing as one of the top quarterbacks of his class.
Idk if a single game has ever influenced my opinion of a player like this performance from CJ Stroud pic.twitter.com/i98AzADy4z

— James Foster (@NoFlagsFilm) January 6, 2023
Despite the incredible performance to finish his college career, there are still some knocks against Stroud as he transitions to the next level. As many Ohio State fans are painfully aware, Stroud was never able to win against the Buckeyes main rival in the Michigan Wolverines and never led the Buckeyes to a Big 10 Championship. Many question his ability to face pressure and adversity and he will certainly have to improve in these areas at the next level.
CJ Stroud has also had the luxury of playing with elite level talent on offense at Ohio State. In 2022, Stroud's top two targets in Garrett Wilson and Chris Olave were selected back to back in the first round of the  NFL Draft and fellow wide receivers Jaxon Smith-Njigba and Marvin Harrison Jr. are also projected to be first round picks in their respective draft classes.
The only pair of WR's from the same school to top 1,000 receiving yards as rookies in NFL history:

• Garrett Wilson
• Chris Olave

The Buckeyes know what they're doing when it comes to WR's 🔥 pic.twitter.com/xWJLOkqNVn

— NFL Rookie Watch (@NFLRookieWatxh) January 9, 2023
Ohio State's skill position players create massive mismatches that make Stroud's life significantly easier. He will have to prove that he can still make big plays without a significant talent advantage on the offensive side of the ball. However, given the right coaching, Stroud's transition to the NFL should be seamless.
CJ Stroud: How He Fits in Indy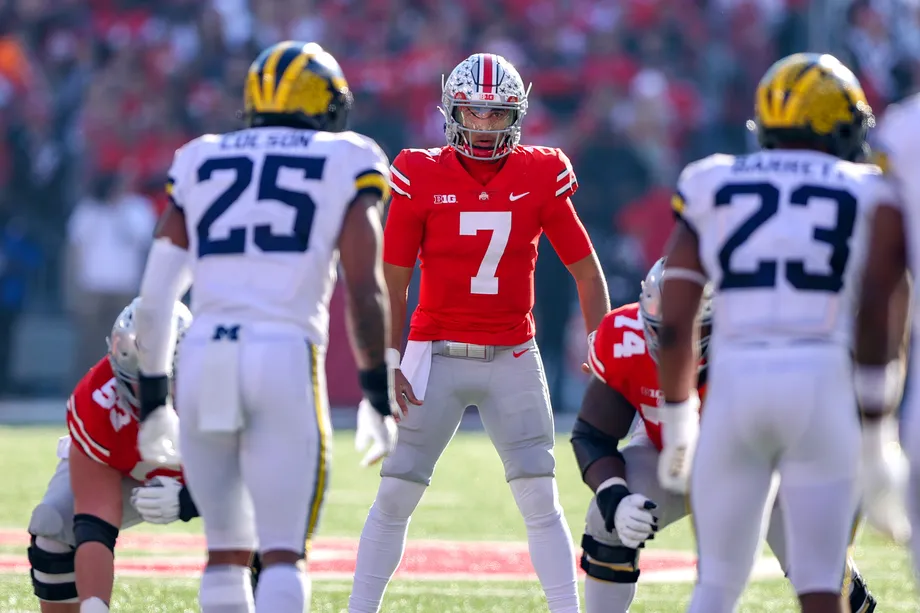 There's no doubt that the Colts quarterback situation has been less than ideal since Andrew Luck's retirement in 2019. The team has turned to aging veterans and quarterbacks searching for new homes as short term, "win now" solutions. This strategy has been an abject failure for the team as they have made the playoffs just one time since 2018 despite a talented roster.
The Colts have struggled mightily in the passing game, ranking in the bottom ten in the NFL in passing yards per game and bottom five in yards per attempt in 2022. Some of this can be attributed to poor offensive line play, but much of the blame has to fall on Matt Ryan and his inability to push the ball downfield. The Colts have talented deep threats on the outside but haven't had a quarterback who can consistently get them the ball downfield in years.
CJ Stroud has elite arm strength and possesses the accuracy and touch necessary to make tough downfield passes into tight windows. He won't shy away from the deep ball and will add a dynamic the Colts offense has been missing. The Colts receiving corps has the size and athleticism to create big plays and Stroud has the arm talent to lead a top tier passing offense.
CJ Stroud "Accurate +" Throws pic.twitter.com/l2cWRzuXTq

— James Foster (@NoFlagsFilm) January 11, 2023
The Colts offensive line struggled for much of the 2022 season, although they did make noticeable improvements after the hiring of interim coach Jeff Saturday. If these struggles continue into the 2023 season, Stroud has the requisite athleticism to avoid this pressure and make plays with his legs.
Stroud has struggled to recognize pressure at the college level and will occasionally panic in the pocket, but given the right coaching and gaining experience against NFL defenses, he can shake this problem. Against Georgia, there were a number of plays where Stroud evaded heavy pressure and made big plays for the Buckeyes. Georgia is about as close to an NFL defense that you will see at the college level, but he will need to show he can do this consistently facing NFL defenses every week.
You can't teach this. Cj stroud is a natural pic.twitter.com/YScDVsIxsw

— cj strouds burner (@ErR0rcode18) January 16, 2023
The biggest positive for Stroud in Indianapolis is that he won't need to be the focal point of the offense right away. Despite a down year in 2022, the Colts are still a run first team and Jonathan Taylor is still the focal point of the offense. The Colts will be able to lean on Taylor while Stroud transitions to the NFL game.
CJ Stroud will also be able to effectively run the RPO offense the Colts have relied on in recent years. While it remains to be seen whether the Colts offense will feature as much RPO as it did with Frank Reich at the helm, this style would allow Stroud to make quick reads, rely on the run, and limit the pressure he faces his rookie year. Stroud's arm strength will also open up the play action passing game as the Colts will be able to take more shots downfield.
Maybe they are spoiled, but Colts fans over the last two decades have grown accustomed to watching elite quarterback play. He may never be Manning, and most quarterbacks aren't, but CJ Stroud has all the necessary tools to develop into a top quarterback in the NFL. He would be an immediate boost to a struggling Colts offense and could reinvigorate a fanbase desperate for success.
Stroud also fits the mold that Chris Ballard looks for in his prospects. Ballard values prototypical size, leadership, and perhaps most important to the Colts GM is finding high character prospects. CJ Stroud checks all of these boxes. At 6'3, 220 pounds Stroud fits the typical size teams look for in quarterback prospects and can make any throw necessary. He has proven to be a spectacular player on the field but may be even better off of it.
You can get a good sense of a player's character by watching what he does once a play is over. How many times have we seen someone collide with a media person and just run back to the huddle?

Not CJ Stroud. Not even on a critical drive in the biggest game of his career. pic.twitter.com/9onYH31Ux7

— Jeff Gordon Ramsey (@RMOURz) January 14, 2023
CJ Stroud certainly seems like the kind of prospect Chris Ballard would fall in love with and would an excellent face to any NFL franchise.
CJ Stroud: The Colts Best Bet?
Stroud may not be considered the best prospect in this class but he may be the Colts best bet for their future signal caller. Alabama's Bryce Young has been labeled the top quarterback prospect of the 2023 class and nothing that happened during bowl season will change that. While he lacks the traditional size of an NFL quarterback and may struggle with durability at the next level, Young has all the tools of an elite quarterback.
Young can make any throw on the field and has an innate ability to make big plays in key moments. However, if the Colts have any intention of drafting Young, they will almost certainly have to trade up with Chicago to the first pick and pass Houston, who fell to the second overall pick with their win over the Colts in week 18 of the regular season. A move to the first overall pick would come with a massive asking price and would make it far more difficult for the Colts to fill the other holes on the roster.
There's a good chance the Colts will be able to stand pat at four and still be able able to select Stroud, although free agency may shed more insight into how the draft will play out. If teams are unwilling to match Chicago's asking price for the first pick, then the Colts will be in a prime position to select their quarterback of the future while still holding the draft capital to fill other holes in the roster.
A lot can and a lot will happen over the next couple of weeks. The NFL offseason has grown increasingly volatile over the last several seasons and there will be plenty of teams trying to make Super Bowl pushes this offseason. As things unfold, the Colts options in the draft will become more clear, but as things currently stand, they may be best suited to select CJ Stroud and finally end the quarterback carousel that has plagued the franchise in recent years.
For More Colts Content
Check out these articles!
5 Candidates For Indianapolis Colts Head Coach in 2023
2022 Indianapolis Colts Rookies: Grading Each Rookie at the Halfway Point
For More Great Football Content
Follow us on Twitter at @GridironHeroics for more great content. We appreciate you taking time to read our articles. To interact more with our community and keep up to date on the latest in Football news, JOIN OUR FREE FACEBOOK GROUP by CLICKING HERE
Checkout our latest podcast!
[powerpress_playlist limit=1]