2022 has been an abject failure for the Indianapolis Colts and it is clear the team is headed towards a rebuild. There are holes throughout the roster but perhaps the most important decision the Colts need to make will be the hiring of their new head coach. The Colts shockingly turned to Jeff Saturday as their interim coach but may look elsewhere for a long term solution. Let's look at five potential candidates for the Colts head coach job in 2023.
Shane Steichen – Philadelphia Eagles OC
This wouldn't be the first time the Colts turned to the Philadelphia Eagles coaching staff to find their head coach as they hired former Eagles offensive coordinator Frank Reich following the 2017 season. Dipping back into the Eagles coaching tree to find the next Colts head coach may ruffle some feathers in the Colts fanbase. Many felt that Reich was responsible for many of the team's failures, but Steichen is going to garner some serious interest from teams looking to fill head coaching positions and should absolutely be on the Colts radar.
Steichen has been offensive coordinator for the Eagles for the last two seasons and has helped develop them into a top tier offense in the NFL. Steichen has the ability to mold his schemes and call his offense in a way that fully utilizes the talents of his players. In 2021 the Eagles were the best running team in the NFL with 159.7 yards per game, fully utilizing the legs of their dual threat quarterback Jalen Hurts.
In 2022, the Eagles still run the ball at an impressive rate of 154.6 yards per game but have opened the passing attack more to highlight the talents of new wide receiver AJ Brown and emerging superstar DeVonta Smith. Steichen finds ways to best utilize the talent on the roster and could be a refreshing change of pace for a Colts team that seems to consistently fail to highlight their best players.
And while his time as an offensive coordinator in the NFL has been short, Steichen has an impressive track record with young quarterbacks. Steichen was Justin Herbert's offensive coordinator in 2020 helping him to a rookie of the year campaign and has been a major factor in Jalen Hurts development into the 2022 MVP frontrunner. The Colts will most likely turn to the draft this offseason to find their QB of the future, and hiring Steichen would be a major boost to this player's development.
Eric Bieniemy – Kansas City Chiefs OC
Kansas City Chiefs offensive coordinator Eric Bieniemy is an interesting candidate. From an outside perspective, he seems like he should be most team's lead candidate for head coach. However, he has gone through four consecutive hiring cycles without taking a head coach position. Many have speculated as to why Bieniemy hasn't taken a head coaching job, but the fact of the matter is he 100% deserves a shot. His resume speaks for itself and should be a leading candidate for the Indianapolis Colts head coach position.
Bieniemy was promoted to offensive coordinator in 2018 and since then, the Chiefs have never been lower than six in total offense in the NFL. Sure, a lot of this success can be attributed to Patrick Mahomes and head coach Andy Reid but Bieniemy is still a major reason for this offenses success. Bieniemy is another creative mind that understands how to utilize the talent on the roster and get the most out of his players.
Bieniemy's rapport with quarterback Patrick Mahomes should also be enticing for the Indianapolis Colts. If this season has shown us anything, its that the band-aid solution that the Colts have employed to "solve" their quarterback woes since Andrew Luck's retirement is not working. They need to look to this year's draft for a new quarterback and need to have a coach that help develop that quarterback. Bieniemy would be a benefit to any young quarterback and should be near the top of the Colts list of coaching candidates.
Jeff Saturday – Colts Interim Head Coach
Don't be surprised if the Colts roll into the 2023 season with Jeff Saturday leading the way. It is clear that Jim Irsay has strong faith in the former Colts center and believes that he can be the long term fit as the Colts head coach. The results have been mixed in Saturday's debut as a head coach but it does appear he brought new life into the building.
The Colts were able to pull out a 25-20 victory over the Raiders in Saturday's coaching debut and had the Philadelphia Eagles on the ropes the following week but eventually lost that game and have lost the following two games. Saturday was never going to magically turn things around in Indy and make this a Super Bowl caliber team but there have been improvements in some areas. The Colts offensive line has played better with Saturday as the coach and the team has returned to having Jonathan Taylor as the focal point of the offense.
Many questioned Saturday's resume, or lack thereof, when he was hired. Bill Cowher even went as far as to say that his hiring was a "disgrace to the coaching profession." And Saturday certainly doesn't have the requisite coaching experience you would expect from a head coach but his resume in the NFL speaks for itself. He played 14 seasons in the NFL and had six Pro Bowl appearances, four All-Pro selections and a Super Bowl championship in 2006. And playing center for one the best quarterbacks and smartest football minds in the history of the NFL in Peyton Manning doesn't hurt either.
So while Saturday may not have the resume you would expect from a head coach, to say he can't coach is simply not true. The team will likely look in another direction for their next head coach, but keep an eye on Saturday. He could very well be in line for the Colts head coach job.
Sean Payton – Former Saints Head Coach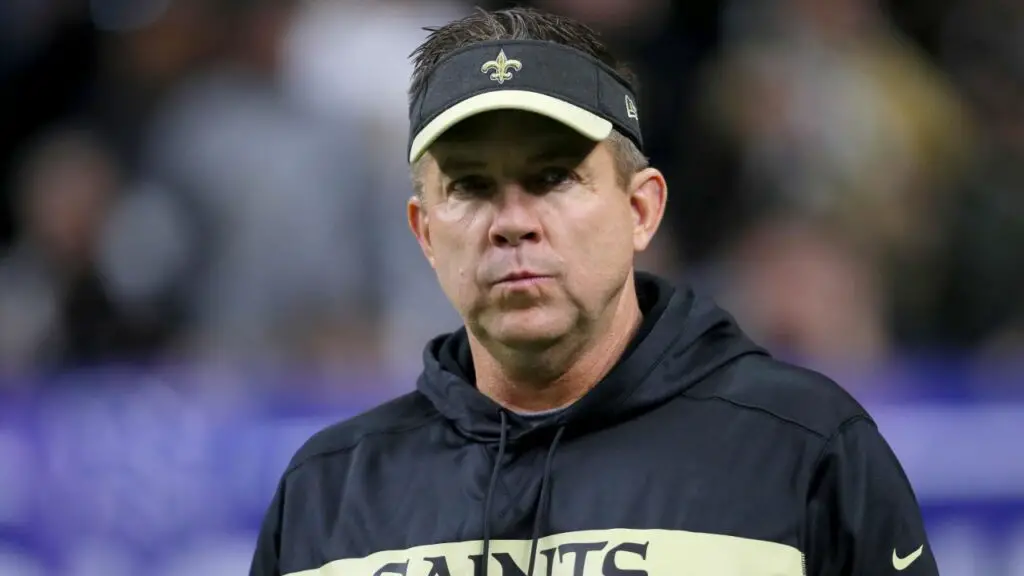 Sean Payton may be a long shot but he may also be the best available coach on the market. Payton stepped down as head coach of the New Orleans Saints in 2021 following the retirement of long time quarterback Drew Brees. Payton stepped into a role as an analyst with Fox, but would certainly be willing to begin coaching again given the right situation.
Payton isn't going to return to the NFL for just any team. It will likely take a big name quarterback, either a young rookie or an established star, to draw him back into coaching again. Matt Ryan is probably not going to be enough to draw Payton's interest as Colts head coach, but one of the top QB's in the draft may peak his interest.
It remains a mystery whether the Colts will draft a rookie QB this season or maybe wait it out another year and pick from another solid QB class in 2024, but if the Colts are able to take a big name like Bryce Young from Alabama or CJ Stroud from Ohio State, Payton could jump on the opportunity to help coach and develop the next big star in the NFL.
Payton is definitely a long shot, but the Colts would be doing themselves a disservice to not make a legitimate effort to bring in the coach that broke their hearts in Super Bowl XLIV.
Jim Harbaugh – Head Coach University of Michigan
Jim Harbaugh should be top on the Colts board for their head coach this offseason. The former Colts quarterback has had major success at every level he's coached. Wherever he goes, winning follows. Despite some significant criticism early in his tenure as the head coach of Michigan, Harbaugh has completely flipped the program around and turned them back into a college football powerhouse.
Many teams are hesitant to bring elite college coaches into the NFL as the success does not always translate to the next level. However, Harbaugh already has a solid track record in the NFL leading the San Francisco 49ers to the playoffs in each of his first three years as head coach and a Super Bowl appearance in 2012. Harbaugh ultimately lost that Super Bowl to his brother Jim Harbaugh and the Baltimore Ravens but there is no doubt he can coach at an elite level in the NFL.
Harbaugh has said that he has no interest in returning to the NFL, but he is another coach that could be enticed by the right situation. Harbaugh has a good connection with the Colts, as he played quarterback for the team for four seasons and was inducted into their Ring of Honor in 2005.
If Jim Irsay is going to follow his "all chips in" approach to the team he claimed going into the 2022 season, he needs to do everything in his power to bring Harbaugh to Indianapolis. Harbaugh could change the entire mentality of the franchise and would have a major impact as Colts head coach. He needs to be the Colts top priority this offseason.
For More Colts Content
Check out these articles!
2022 Indianapolis Colts Rookies: Grading Each Rookie at the Halfway Point
For More Great Football Content
Follow us on Twitter at @GridironHeroics for more great content. We appreciate you taking time to read our articles. To interact more with our community and keep up to date on the latest in Football news, JOIN OUR FREE FACEBOOK GROUP by CLICKING HERE
Checkout our latest podcast!
[powerpress_playlist limit=1]