Is Bru McCoy eligible to play for the Tennessee Vols? After months of uncertainty, there is still no news in Neyland. With the season opener just one week away, Vol Nation is eager to know if McCoy will take the field. There's been a lot of back-and-forth in the media but the question remains: Is Bru McCoy eligible to play for the Tennessee Vols?
The Transfer Saga of Bru McCoy
Bru McCoy's college career has been a wild ride, the kind of ride no one anticipated for a player of McCoy's abilities. McCoy entered the 2019 recruiting class as a five-star wide receiver prospect, ranked No.9 in the country with offers from every elite football program in America.
In December of 2018, McCoy committed to the USC Trojans and enrolled at the university in January of 2019. Close to home and paired with his best friend at quarterback, the Trojans could've been McCoy's perfect match. But when offensive coordinator Kliff Kingsbury left to coach the Arizona Cardinals, McCoy got cold feet and after 17 days on campus at USC, he entered the transfer portal.
Again: McCoy was a five-star wide receiver and top ten overall prospect. The University of Texas at Austin was happy to welcome Bru to the Longhorns, with McCoy set to replace wide receiver Lil'Jordan Humphrey. McCoy participated in spring practice with the Longhorns and had an impressive showing but it wasn't meant to be. Once again, McCoy entered the transfer portal and despite the best efforts of the coaching staff in Austin, he transferred back to USC.
At the time McCoy's high school coach Bruce Rollinson said, "The reality is, you've gotta do what you've gotta do. Everybody is going to have an opinion. Be ready for the blowback. The only way it's going away now is, perform at a high level for USC and everybody forgets about it." Ah, if only.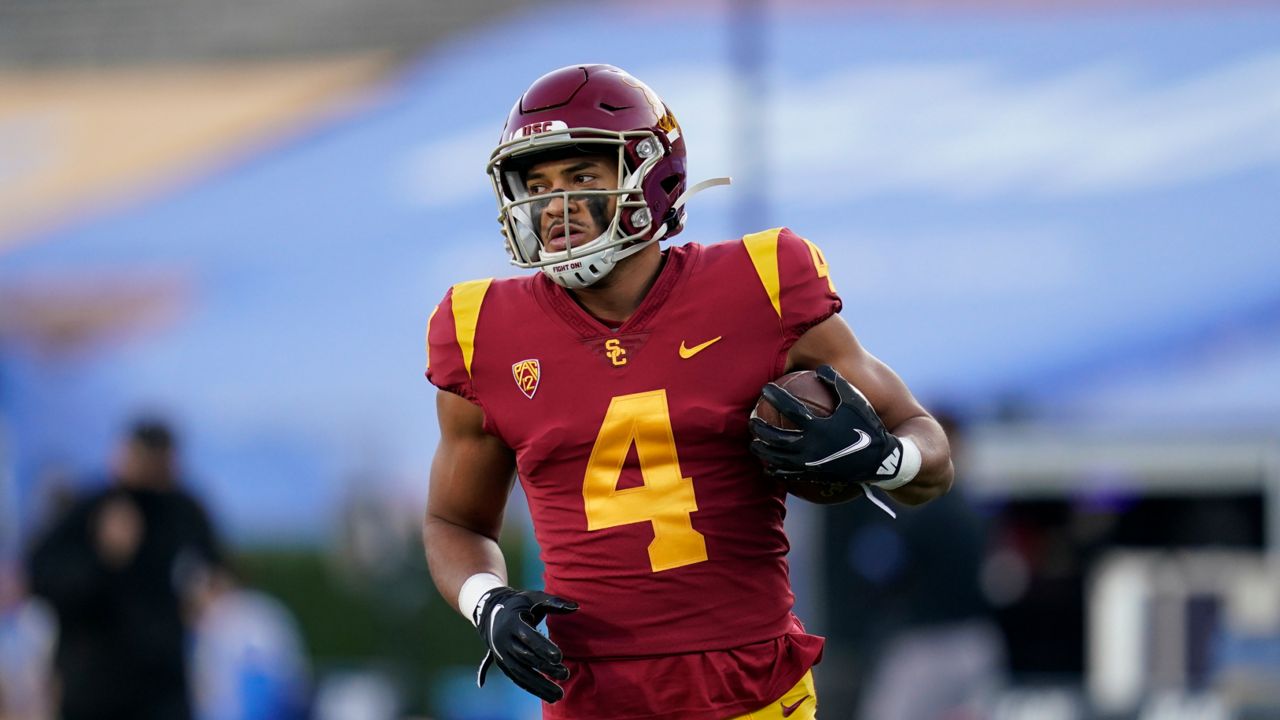 Bru McCoy's Trojan Career
After obtaining a redshirt for the 2019 season, Bru McCoy made his college debut in 2020 with the USC Trojans. He had 21 receptions for 236 yards and two touchdowns for the 2020 season. McCoy's showing for the Trojans was an impressive debut but off-field trouble derailed plans for a future with the Trojans.
In July of 2021, McCoy was arrested for alleged domestic violence, and suspended from the USC Trojans football team. Though the DA's office declined to file charges against McCoy, the Trojans continued their own Title IX investigation and barred McCoy from USC's campus entirely.
After months of failed attempts to appeal USC's rulings against him, McCoy entered the transfer portal for a third time.
Bru McCoy Commits To Tennessee
On May 3, 2021, Bru McCoy announced via Instagram that he would be transferring to the University of Tennessee. In an interview with VolQuest the same day, McCoy was asked what made Tennessee the right fit for a fresh start. To that, McCoy responded, "They're doing things the right way here. They're taking care of players the right way, they're taking care of the off-the-field-everything you could want out of a school."
Per Vols head coach Josh Heupel, Tennessee vetted McCoy before accepting his transfer. But unfortunately, the matter of McCoy's Tennessee transition is not so black-and-white. For McCoy, the transfer isn't even officially orange-and-white, as questions of McCoy's eligibility linger.
Is Bru McCoy Eligible To Play For The Tennessee Vols?
This is the million dollar question.
McCoy has been suiting up for practice with the Vols but not as an eligible player yet. With less than a week until its season opener against Ball State, Vol Nation is buzzing with anticipation-turned-irritation at the prospect of beginning the season without McCoy.
For its part, Tennessee maintains it has done everything it can to finalize McCoy's transfer to the Vols. In a statement regarding McCoy's eligibility status on Friday Coach Heupel said, "I don't have an answer on that. There's some things that are out of my control, Bru's control, and our administration's control in this process. Everybody on our side is working as hard as they possibly can to make sure we come to a resolution as quickly as possible and give a kid an opportunity to go play."
USC Responds
After much speculation that USC is refusing to greenlight McCoy's eligibility at Tennessee, the Trojans have finally issued a response:
"USC has-consistent with NCAA rules-promptly and accurately responded to all requests from the University of Tennessee related to the eligibility of Bru McCoy. At no point since Bru entered the transfer portal in January have we objected to him being made immediately eligible at Tennessee. The issue of Bru's eligibility ultimately rests with the NCAA, and we wish him the very best."
The Bottom Line
Maybe USC is to blame, or maybe it's the NCAA. Certainly the timing of USC's statement is interesting, having been issued after Heupel's confirmation that Tennessee is doing all it can.
Even if USC is holding up the process and even if his off-field issues hold blame in this case, the NCAA is in a unique position. Though the NCAA allows for one transfer without sitting out for a season, McCoy has already transferred twice. But according to a report from Trey Wallace, there are always two outcomes in situations such as this:
First, USC could have signed off on a No Participation Opportunity Form, or NPO, to allow McCoy to be immediately eligible.
Second, if USC didn't sign off, Tennessee would need to file a waiver with the NCAA, with cooperation from USC. This is a process Tennessee has already started.
If for no reason other than game planning purposes, coach Heupel would appreciate an answer sooner than later. McCoy will fill a spot in the receiver rotation immediately if he is cleared to play for the Vols and with two seasons of eligibility left, he could be an integral piece of the puzzle in strengthening the Vols' already impressive offense.
Is Bru McCoy eligible to play for the Tennessee Vols? Vol Nation will have to wait and see. Hopefully, this situation will reach a resolve prior to kickoff on September 1st. Until then, #FreeBruMcCoy!
For More Great Football Content
Follow us on Twitter at @GridironHeroics for more great content. We appreciate you taking time to read our articles. To interact more with our community and keep up to date on the latest in Football news, JOIN OUR FREE FACEBOOK GROUP by CLICKING HERE
Checkout our latest podcast!
[powerpress_playlist limit=1]