A lot of frustration has stemmed from Pittsburgh's 13-10 loss to the Cleveland Browns. Diontae Johnson was already in the thick of things for comments made about a particular incompletion during the loss. Now, The Athletic has reported that Johnson had to be separated from a coach during the second half of a game. The report states that "Broderick Jones had to pick him up and carry him away," before Johnson had another (civil) discussion with head coach Mike Tomlin.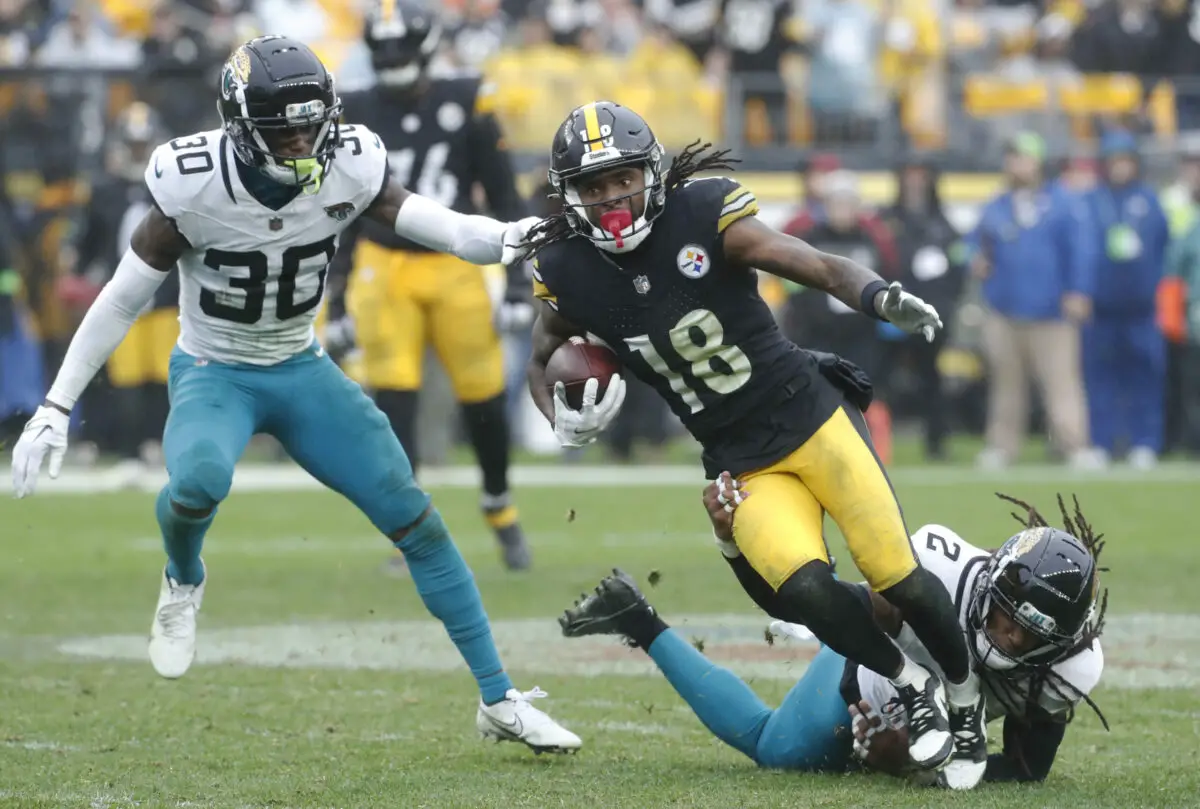 Diontae Johnson is far from alone among Pittsburgh's frustrated offensive weapons. Running back Najee Harris said after Sunday's loss "There's just a lot of stuff that just goes around that you guys don't see. I guess I'm trying to say it's just, I'm just at a point, man, where I'm just tired of this s—." George Pickens previously posted "Free me" on social media after a Week 9 win.
Kenny Pickett is getting blasted by almost everyone for his performances under center. Mike Tomlin has fielded questions about offensive coordinator Matt Canada's job security multiple times. Pittsburgh's offense has been held to 10 or fewer points four times. It's ugly in the Steel City.
Diontae Johnson is Likely Tired of a Historically Inept Offense
Being a part of an offense that's been outgained every week can't be fun, even if they were the first ever to have a winning record after that streak hit eight to begin the season. Well, the Steelers have now reached games nine and 10 without snapping it, adding to their frustrations. As a veteran on this offense, Diontae Johnson has never reached this low before.
People have been calling for Matt Canada's job (nationwide, in the most bizarre places) well before this season. Believe it or not, last year's Steelers were also outgained in their first eight games, under Matt Canada's direction. This season's Steelers are 28th in scoring and yards, so support hasn't grown. Diontae Johnson can't say "Fire Canada," like most of the world, but it's becoming increasingly clear that he (and others in the locker room) are exhausted with this offense, to the point of becoming more openly frustrated.
For More Football News:
Follow me on Twitter at @TowerTalkSports. You can also reach out to Andre Ifill via email at andre.ifill.jr@gmail.com. To read more of our articles and keep up to date on the latest in college and NFL news, click here!