College football fans, on the whole, are upset about the judges assigned to rule on Jim Harbaugh's temporary restraining order filed by Michigan.
Michigan filed the TRO following the Big Ten's decision Friday to ban Harbaugh from coaching on the Michigan sideline for the remainder of the regular season due to the sign-stealing scandal surrounding the program.
Michigan threatened to file the TRO before the Big Ten banned Harbaugh. However, the TRO doesn't appear to have been filed in time for Harbaugh to coach on the sideline against Penn State.
However, the judges assigned to the case could reinstate Harbaugh after the Penn State contest. And they have ties to Michigan. According to a report by Front Office Sports, two Michigan alum judges had been assigned to the case.
Michigan's request for a TRO was initially assigned to judge Timothy Connors — a Michigan alumnus and lecturer.

It's now in front of Judge Carol Kunhke — also a Michigan alumna.

Additionally, Kuhnke the one who ruled against Connor Stalions in his HOA's lawsuit against him. pic.twitter.com/jM4T6ahFhZ

— Front Office Sports (@FOS) November 11, 2023
College football fans claim corruption on the assignments
Many football fans were upset by the apparent conflict of interest the judges assigned to the TRO ruling for Harbaugh. However, one has to understand Michigan judges were likely to be involved with the case, as they have one of the best law schools in the region. It's also unfair to suggest judges who serve the public and have passed the bar are biased because of where they went to school.
Furthermore, the judges did not issue a ruling before the Penn State game. They will wait until next week to issue a ruling, meaning they didn't step in to allow Harbaugh to coach Saturday. But they'll still be involved in the future ruling.
Here are the best takes of fans showing concern about who will preside over the ruling for the TRO.
that is the definition of home cooking

— MSE (@MSE_in_EL) November 11, 2023
A Judge in Michigan who graduated from Michigan, imagine that .

— R.E.W.WVU (@WVwings) November 11, 2023
Yea I agree. Coach H gonna coach today. Waiting on the judges ruling who played football for Michigan. Lol

— Q (@MrQuinny3) November 11, 2023
Conflicts of interest aren't really a thing when you want your team to win. https://t.co/Tj2qd7NkFj

— Dana Holtzbert (@DanaHoltzbert) November 11, 2023
Michigan doing this restraining order, knowing they have to go to court before the osu game is dumb. Michigan grads/proffesors as the judges will push it through, but i think it'll force the ncaa to step in. Ncaa will be pissed and do that kiss of death

— Fire Tim Kelly (@blue_72) November 11, 2023
Judge Carol Kunhke has ruled against the University before. She denied TRO against striking GEO

— JJ9 for Heis〽️an (@JKSully313) November 11, 2023
Rigged

— Tony Gunk (@real_tonygunk) November 11, 2023
That's ridiculous. So corrupt. https://t.co/dTeFVjCW1S

— Mr Irrelevant (@JUhlTrucker) November 11, 2023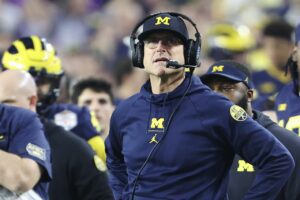 For More Football News:
Follow me on Twitter at @JordanSig. You can also reach out to Jordan Sigler via email at jordanmsigler@gmail.com. To read more of our articles and keep up to date on the latest in college and NFL news, click here!