BYU after an average year of college football still had names that stand out on draft lists and have NFL talent. Three of these names went to the senior bowl, stood out, and now have been invited to the NFL Combine at the end of February into March. This will only help these guys put their names out more so keep an eye out for them at the Combine.
Blake Freeland JR OL 6'8 312lbs
Played in 44 games and started in 41 of those 44 games. Three-year Cougar starter and a big leader for the offensive side of the ball. This year he played in all 13 games and was named AP All-American, Independent Offensive line, and All-Independent first team. He was a part of lines that held defensive to few or no sacks and made some big blocks against some big defensive lines.
Projected to go in Round 3 of the NFL Draft he put his name out there more at the Senior Bowl earlier this year. Many scouts talked about his lateral movement and his size. Freeland could improve on his footwork and that is something that he will most likely work on over the next few weeks before BYU Pro Day
The experts have talked about how he is a strong leader, his framework, how much he plays a role in passing plays, battling till the end of the play, his athleticism, and his movement in space. Many people think he could work on his run blocking, anchoring in on big plays, his recovery at getting beat, and his ability to protect the edges.
Jaren Hall JR QB 6'1 205lbs
Played in 31 games for the Cougars but not all at the quarterback position. A two-year starter at quarterback and was another big leader for the Cougar offense. This year he played in 12 games only missing the bowl game. He threw for 3,171 yards, six interceptions, and 31 touchdowns. Hall can run with the ball when needed and pick up some big gains when he does.
Hall didn't play in the Senior Bowl but was seen making some big throws in practices leading up to the game. It is unknown why he didn't play in the game. Many have talked about his athleticism and his movement of the ball. He can work on his ball placement as he is known for overshooting his wide receivers
Jaren Hall is projected to go on Day 2 of the Draft this year. Hall can be a good quarterback in the NFL as he can develop in the league and learn some things from an already-developed quarterback. He is a gifted passer but will need to work on timing and accuracy at the NFL as he struggled with those in college. His durability is another thing to worry about as he wasn't the healthiest in college but neither was Taysom Hill and he has stayed pretty healthy.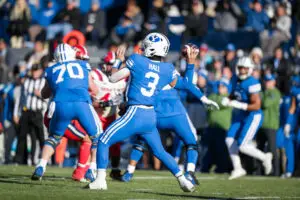 Puka Nacua JR WR 6'6 205lbs
Played in 21 games as a Cougar after transferring from the University of Washington. A two-year starter as  Wide Receiver for BYU. This season he had 625 receiving yards and five touchdowns. The Cougars also used him in the Jet Sweep plays on which he put up some big numbers.
Nacua was seen on Day 1 of Senior Bowl practices making some big catches. Scouts said he found ways to get open and made some difficult catches on several occasions. They like his hands and his sight of the ball.
Puka Nacua is projected to go on Day 3 and early in that day of the Draft. Scouts are liking his size, catch radius, speed, how he stacks up against DBs, extending beyond his frame to make a catch, physical after the catch, and his aggressiveness in making blocks.
BYU Top 5 NFL Draft Prospects
For More Great Football Content
Follow us on Twitter at @GridironHeroics for more great content. We appreciate you taking time to read our articles. To interact more with our community and keep up to date on the latest in Football news, JOIN OUR FREE FACEBOOK GROUP by CLICKING HERE
Checkout our latest podcast!
[powerpress_playlist limit=1]